BigFish Audio hat die neue Silver Concert Grand Piano Software vorgestellt. Dazu wurde ein Bosendorfer Imperial Grand 290 gesampled, welches über extra Basssaiten verfügt und so einen ganz eigenen Klang entwickelt. Die Software benötigt die UVI Workstation und einen iLok Key, bzw. die Pace Software zur Lizensierung. Der Hersteller schreibt dazu: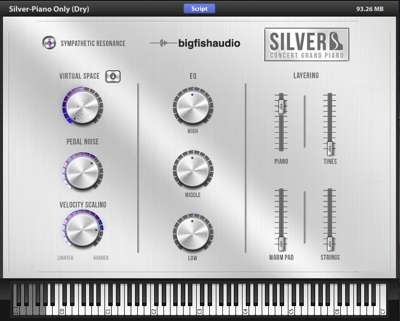 SILVER is a premium sampled Bosendorfer Imperial Grand 290 grand piano, sampled in incredible detail. This 9.5 foot concert grand piano is Bosendorfer's top of the line model, with extra lower bass strings that give superior resonance to this legendary piano. Recorded in a world-class concert hall using advanced state of the art techniques and equipment, SILVER offers astonishing clarity, fullness, and depth. Advanced features include virtual space, sympathetic resonance, and optional sonic layering to augment its usefulness when used inside a mix.
Silver is powered by the UVI engine. It is compatible with Audio Unit, VST, RTAS and AAX plug-in formats allowing it to work seamlessly within any major DAW, in addition to standalone use.
Silver is protected by Pace copy protection. The library allows up to three authorizations to an iLok key and/or to your computer using Pace's iLok License Manager software.
Version
Compressed Download Size
 
Plug-in/UVI Download includes
 
Installation Instructions:  750 KB
 
Silver Library:  1.54 GB
 
UVIWorkstation – Mac:  376.9 MB
 
UVIWorkstation – Windows 32-bit:  293.2 MB
 
UVIWorkstation – Windows 64-bit:  221.7 MB
 
iLok License Manager – Mac:  66 MB
 
iLok License Manager – Windows 32-bit:  44.1 MB
 
iLok License Manager – Windows 64-bit:  59.5 MB
Der Preis beträgt 94,79 Euro.
Weitere Informationen gibt es hier: Link