ANAHEIM, CA, USA: cutting-edge audio technologies developer Sound Magic is proud to announce availability of Nameless Grand — its latest hybrid modelling virtual instrument for Mac (AU 32-/64-bit, VST 32-/64-bit) and Windows (VST 32-/64-bit), featuring two great sounding grands with unique sound characteristics that those big-name brands do not have. — as of Mar 5th , 2021.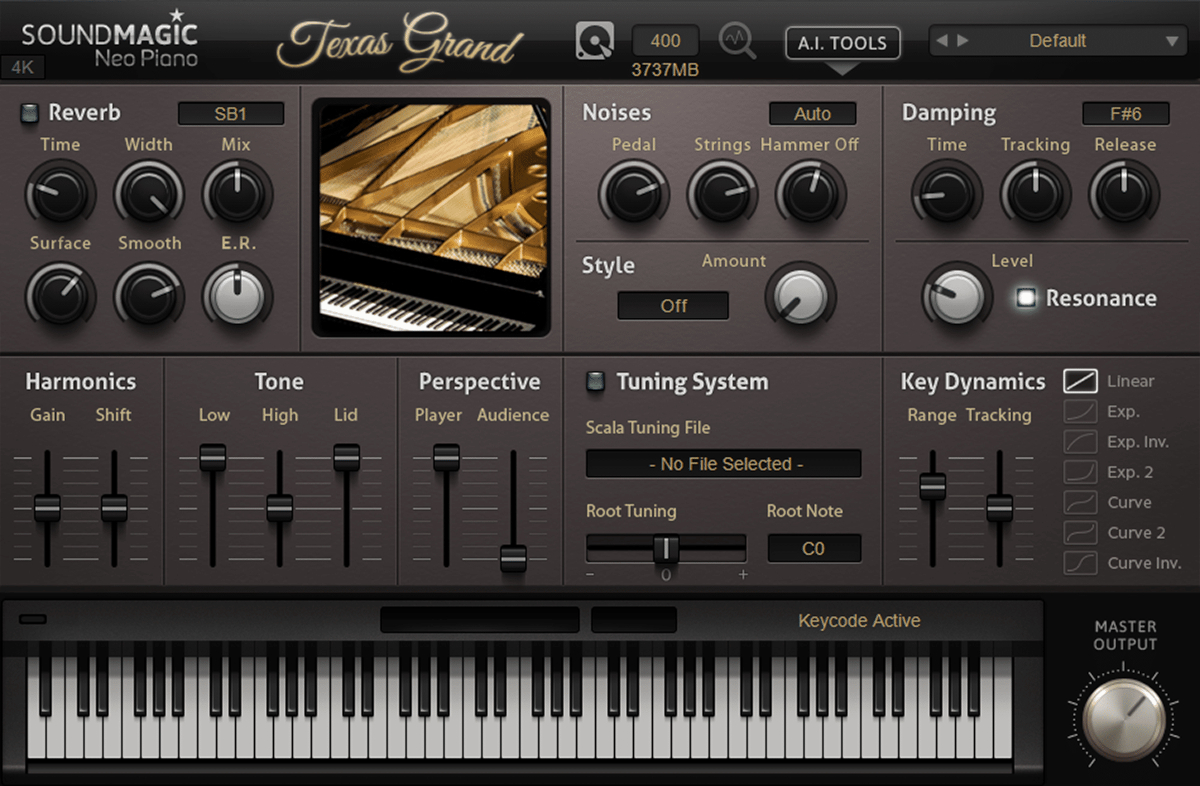 Texas Grand: It comes from a nameless American piano manufacturer. But its sound has an unmatched purity that impresses anyone who hears of it, with balanced timbre through all registers. This one is the biggest discovery.
 Baby Neo: This is a customized small baby grand, but gives you a unique and inspiring feeling than a concert grand to help set it apart from its line. Try it by yourself and you will experience a feeling that cannot be gotten on those big 9 feet plus beasts.
The dynamic of a piano is the most decisive aspects of its sound quality. Around 10 years ago, Sound Magic had already applied a True Piano Dynamic System which can represent piano dynamic in the most efficient way. And in years, Sound Magic keeps improving the performance. A True Piano Dynamic means the piano will have different dynamics from low notes to high notes; usually, high notes will have more dynamic range. Now, Sound Magic's True Piano Dynamic System enables every note to have its unique dynamic range, and it can be fully controlled by knobs.
Nameless Grand is powered by Hybrid Modeling technology and HD Velocity Layer 3 with HDR (High Dynamic Range) technology (support up to 65,536 velocity layers) providing a natural boost to expressive power that can be felt with every strike of the keys. Along with the new Neo Piano engine, which achieves 400 times more variations than a traditional sample engine, every note played is unique, creates vivid sound representation, and strikes a rich, accurate tone even with small movement. In essence, it's an instrument with a musical soul instead of a machine feel. What is more, in this new version we allow you to experience this in a system which only supports 127 velocity layers by applying HDR. This makes this technology can be used without any cost upgrading your MIDI system.
When playing a strong staccato on the piano, people will notice that the sound in its release phase is different from the usual sound. This difference adds extra variety to the final sound of the piano – it contributes to the vividness or expressiveness of the piano sound. To accurately reproduce this staccato sound, Sound Magic added a specially designed staccato mode that could achieve it in a very simple way.
Resonances play an important role in a piano's sound. It adds extra beauty to the overall sound. Reality dictates that every grand piano's sizeable soundboard reflects sound that resonates in conjunction with the wooden body of the instrument itself. Indeed, it is this continuous process that makes every note played sound so unique. Ultimately, in order to simulate this behavior, Sound Magic captured multi-angled IRs (Impulse Responses) from the soundboard, and then used modelling technology to convert those IRs into Multi-Dimensional Resonance algorithms. The result? An amazingly true-to-life concert hall sound readily available at anyone's fingertips!
Sympathetic Resonance happens when Harmonics are heard in keys related to keys that are struck. It is an interaction between different strings and adds extra color to every note's sound. It makes them sound unique so that the audience can enjoy listening. Sustain Resonance and String Resonance can be heard when sustain pedals are pressed. Although they are subtle sometimes, as a part of Piano resonance, Nameless Grand has the ability to represent different resonances in the right way, and provide controls on their amount and behavior.
Nameless Grand has a MSRP as $199, now has introduction offer as $99 until June 5th, 2021.
Nameless Grand is available to purchase online directly via Sound Magic Co., Ltd for $99.00 USD from here:
https://neovst.com/product/nameless-grand/