[Anaheim, Nov 2nd] – Sound Magic, a leading innovator in audio technology, is proud to announce the release of Neo EQ Scarlett, a groundbreaking advancement in the world of audio equalization. Unlike its brother, Neo EQ Violet, Neo EQ Scarlett boasts a revolutionary feature set powered by Supernova technology, making it a must-have tool for music producers and audio engineers worldwide.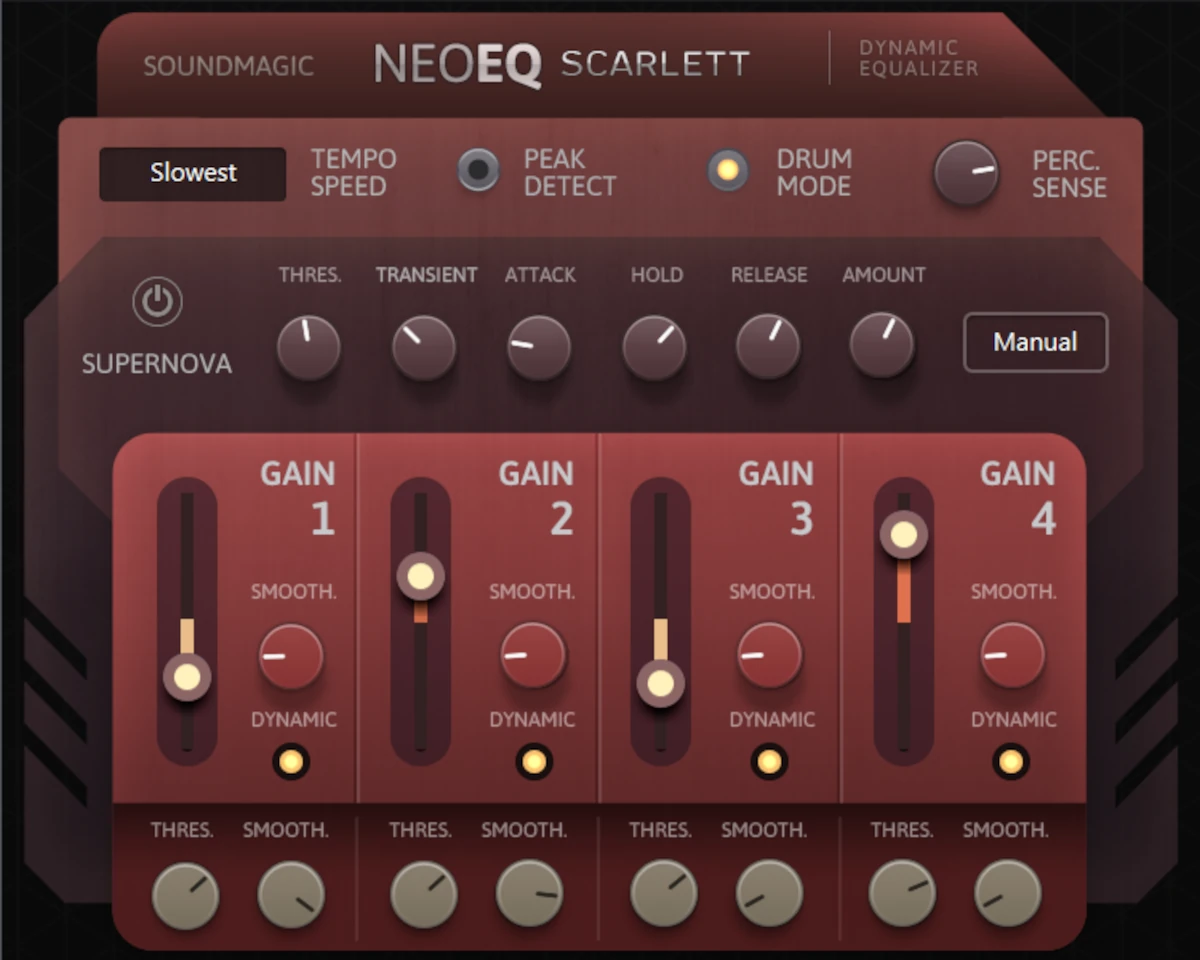 Neo EQ Scarlett's standout feature is its incorporation of four individual pitch trackers, each capable of locking onto the four most prominent frequencies in your audio. This cutting-edge technology allows Neo EQ Scarlett to excel in managing complex multi-instrument arrangements and crowded mixes with unparalleled precision and ease. With the ability to simultaneously handle up to four instruments, Neo EQ Scarlett surpasses the capabilities of the majority of EQs available in the market today.
UNLEASHING BRILLIANCE WITH SUPERNOVA
One of the most impressive features of Neo EQ Scarlett is the introduction of Supernova technology, a groundbreaking tool designed to enhance the sparkle and shine of high-frequency elements in your audio recordings. These high-frequency enhancements are the hallmark of top-notch recordings, leaving a memorable impression on listeners and adding brilliance to the entire track.
High-frequency sparkles in audio consist of very brief transient signals, which can quickly reach an intensity level of up to 70dB. Traditional EQ filter technology often struggles to replicate this effect, as it exceeds the capabilities of standard filters. However, Sound Magic has achieved the seemingly impossible by recreating these transients using the latest harmonic resynthesis technology. This innovation results in music that possesses a vibrant and radiant quality, elevating the audio to a whole new level of excellence.
Neo EQ Scarlett offers users comprehensive control options for fine-tuning Supernova to their exact specifications. You can select different triggering methods, shape the effect, and adjust its duration to perfectly match your preferences, allowing for a customized audio experience that was previously unattainable.
Neo EQ Scarlett is set to revolutionize the way audio professionals approach their craft. With its unprecedented capabilities and Supernova technology, it empowers users to create recordings that stand out with brilliance and clarity. Sound Magic continues to be at the forefront of audio technology, and Neo EQ Scarlett is a testament to their commitment to innovation.
Neo EQ Scarlett has an intro price as $69 until Feb, 2024, its MSRP is $169
To experience the future of audio equalization, visit the product page] to learn more about Neo EQ Scarlett and make it an essential part of your creative toolkit.