[Anaheim, Oct 30th,2023] – Taiko drums, the monumental percussion instruments synonymous with epic and cinematic music, have long captivated audiences around the world. With their thunderous, primal rhythms, these massive barrel-shaped drums have added an unparalleled sense of power, tension, and excitement to films, television, and epic music compositions. Today, we are thrilled to introduce "Supreme Drums Taiko," a revolutionary instrument that brings the epic Japanese sound to the fingertips of composers and musicians.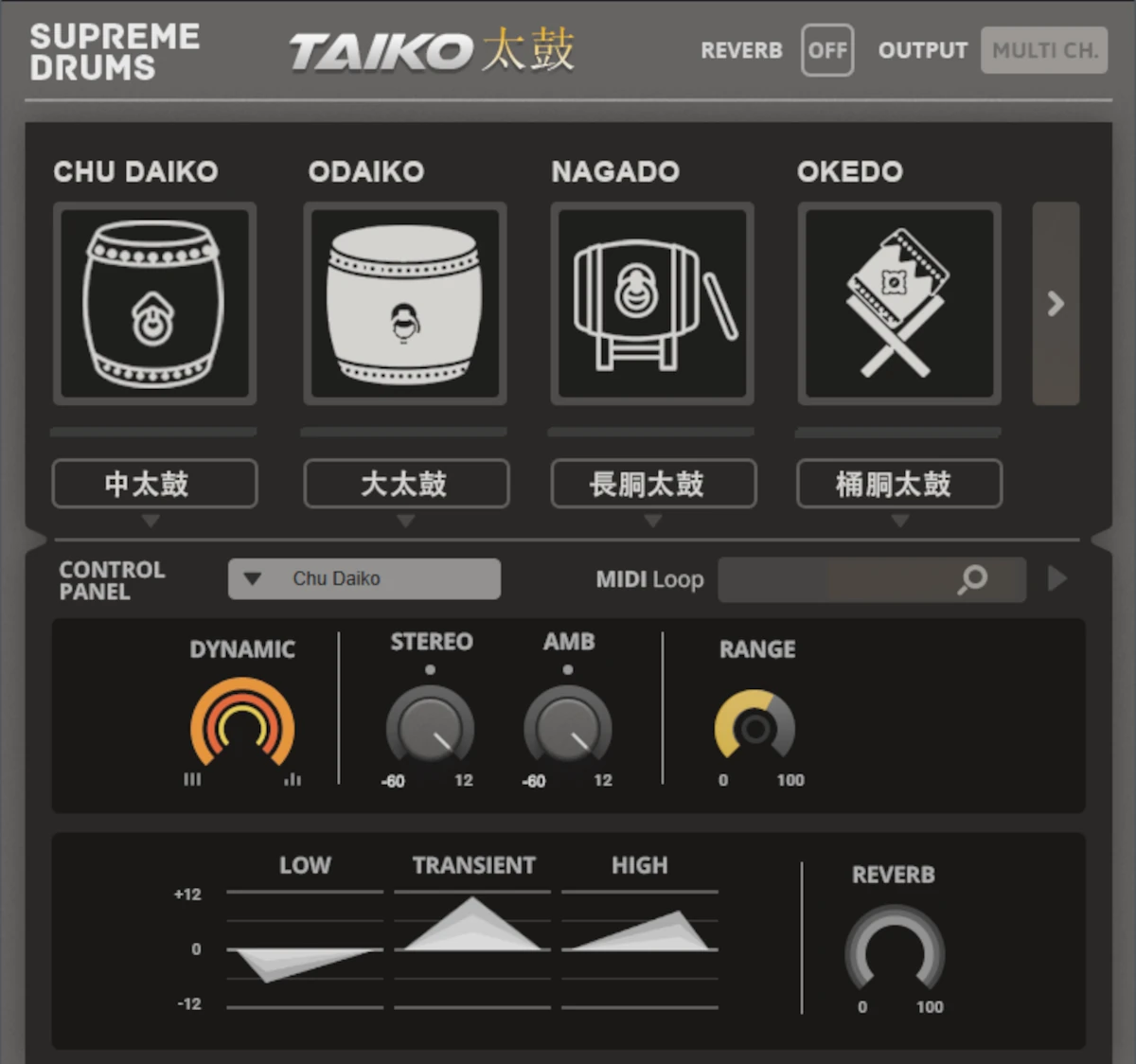 The Taiko Drum's Impact on the World of Entertainment
Originating from Japan, Taiko drums have made an indelible mark on the world of entertainment. These drums, known for their deep resonance and intricate patterns, have become an integral part of film scores and epic music, infusing a unique cultural dimension into compositions. They have the remarkable ability to heighten the intensity of battle scenes, heroic journeys, and grand cinematic moments. With each resounding beat, Taiko drums transport audiences to a world of emotion and grandeur, making them an essential tool for composers aiming to amplify the impact of their soundtracks.
Supreme Drums Taiko: The Pinnacle of Taiko Drum Sound
Supreme Drums Taiko represents a leap forward in the realm of virtual percussion instruments. Powered by the cutting-edge Supreme Drums Epic Engine, this groundbreaking hybrid modeling Drum Engine redefines what's possible in the world of virtual drumming. With an astonishing capacity of up to 65,536 velocity layers via MIDI 2.0 and the capability to render an unlimited array of round-robin samples, it delivers an unparalleled, never-before-heard virtual drumming experience. Theenhanced Fusion Effect System allows Supreme Drums Epic Engine to adapt its internal configurations based on specific drum types, giving composers and sound enthusiasts limitless creative possibilities for their audio output.
Compact Yet Exquisite: The Supreme Drums Taiko Experience
What's more, Supreme Drums Taiko achieves all of this in an astonishingly compact 200MB package. Despite its small size, it captures the same expressive detail as a sample library exceeding 20GB. This modeling instrument operates at remarkable speeds, ensuring unprecedented responsiveness during real-time performances and live concerts. Its exceptional playability lets users finely tune their sound, unlocking a realm of creative possibilities to craft their unique compositions.
Supreme Drums Taiko is designed to capture the intricate details of Taiko drum sounds, offering not only ensemble sound but also a variety of distinct techniques, including rim, stick hits, and center hits. These features combine to make it an exceptional virtual instrument, ensuring a truly immersive and versatile playing experience.
Elevate Your Music with Supreme Drums Taiko
In summary, Supreme Drums Taiko, powered by the Epic Engine, is set to transform the way composers and musicians create cinematic and epic soundscapes. With its unparalleled capabilities and compact size, it offers a dynamic tool for adding the power and emotion of Taiko drums to your compositions.
For more information and to explore the world of Supreme Drums Taiko, visit