LONDON, UK: Spitfire Audio is proud to announce availability of HAINBACH – LANDFILL TOTEMS — a sample library comprising an extension of the sound palette of Berlin-based electronic music composer and performer Hainbach's musically mind- blowing Landfill Totems concept album simultaneously released on SA Recordings, the London-based label owned by the British music technology company, allowing access to a truly unique world of one-of-a-kind, bespoke sounds expertly curated by Hainbach himself from long-forgotten, now-obsolete test equipment collected from nuclear research labs, grandfathers' sheds, and scrap heaps, completely repurposed and given a new lease of life as instruments, meticulously recorded and processed further before being presented in Spitfire Audio's award-winning, easy-to-use plug-in as many morphing and evolving sounds suited to techno and ambient music production, as well as cutting-edge film scoring — as of April 8…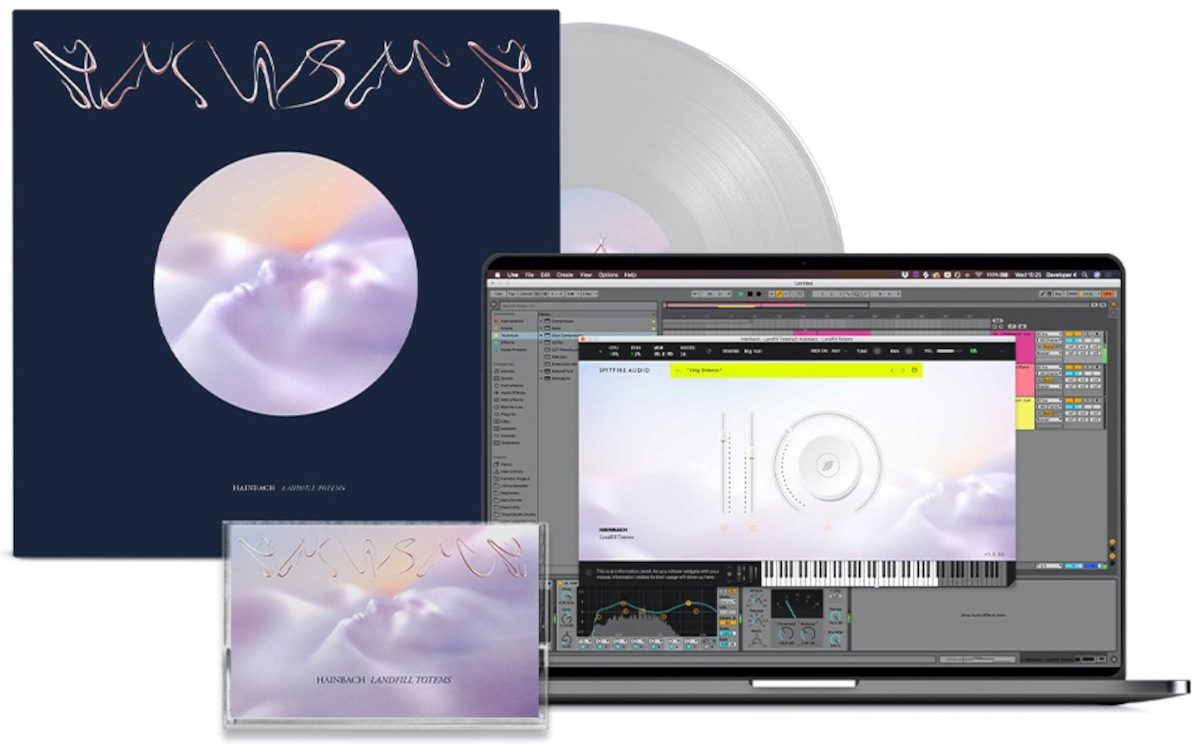 Berlin-based electronic music composer and performer Hainbach (a.k.a. Stefan Goetsch) creates shifting audio landscapes living on the experimental edge of electronica, championed by British independent print and online music magazine The Wire — widely renowned for its coverage of a wide range of global alternative, underground, and experimental musics — as "…one hell of a trip." The music itself is an abstract yet visceral experience, fashioned from esoteric synthesizers, test equipment, magnetic tape, and idiophones — instruments that totally vibrate when struck, shaken, or scraped. Straddling studio to stage, Hainbach's immersive live performances are also admired, manifesting more recently through his YouTube Channel, where he has amassed an ever-expanding loyal following, sharing his experimental journeys and expertise with wider audiences.
Appropriately, the Landfill Totems project started life as a performance installation at Berlin's PNDT — a new art gallery whose purpose is to provide a space for culture and creation, for presentation and appreciation of art in all its forms, expanding exponentially into a full album and accompanying sample library recorded at Patch Point, builders and sellers of unique instruments in Kreuzberg-Berlin — much more than a standard store on account of offering residencies to promote community and education through a free booking room filled with unique synthesizers for everyone to play. Hainbach himself puts it this way: "What I love about Patch Point is that it is a place for those interested in sound and music itself. You don't go there to buy a box with 999 presets that will make you sound like the industry standard; you go there to find something that speaks to you. You pick up something that will start an intimate process of music creation, and it will sound like you, and only you." Subsequently stacked into three monolithic towers resembling totem poles, each piece of equipment thereon was carefully chosen by Hainbach for its distinctive tone generation and modulation capabilities before being wired together much like a modular synthesiser. Says the electronic music composer and performer eventually lending his notable name and one-of-a-kind, bespoke sounds to Spitfire Audio's HAINBACH – LANDFILL TOTEMS sample library: "Each tower of equipment took the form of a lifelike statue, and suddenly all these faces started appearing in the machines. They made massive sounds and unfamiliar noises and I thought, 'I want these to be heard — to sing again.'"
As anyone observing those assembled anthropomorphic figures could conceivably concur, a deep appreciation and affection for the engineering technology of the past is apparent — totally unique machines assembled for one final swan song. Ultimately upcycled and redesigned as pillars and shrines, these totems act as a commentary on the environmental cost of progress; what was once the pinnacle of technology quickly becomes unviable and destined for the scrapheap — if not for the intervention of Hainbach, creating beauty from that which is thought to be obsolete. Carefully chosen to create this towering collection is medical, telecommunication, and scientific research equipment, vintage sound-testing devices, a Nuclear Instrumentation Modular, an outmoded medical signal generator, a mixer previously used by the Stasi — the state security service in former East Germany, and a Brüel & Kjaer 1613 bandpass filter creating the hi-hat, bass drum, and watery sounds.
Simultaneously released alongside Hainbach's musically mind-blowing Landfill Totems concept album on SA Recordings, Spitfire Audio's sample library namesake sees those same machines completely repurposed and given a new lease of life in an unforeseen capacity as instruments, producing unpredictable sounds from another world — wide ranging from eerie morse code bleeps and comms signals to flickering bass pulses; deep drones and ominous pads to grainy textural rhythms; visceral clicks, industrial drum hits and loops; and electromagnetic noise to heavenly humanoid 'voices'. Virtual instrument brilliance is guaranteed as everything is meticulously recorded and processed further as dystopian sounds presented in Spitfire Audio's award-winning, easy-to-use plug-in providing access to truly one-of-a- kind, bespoke creations, impossible to recreate otherwise.
On the face of it, then, the plug-in provides 40 presets split into four sections: Kling — presets containing elements from all other sections, with a huge range of textures available to explore using the mod wheel; Klang — tonal sounds, from evolving pads to pulsating drones; Knarz — textural and effects-style sounds, from watery to alien-like; and Krach — percussion and drum hits, as well as time-machine loops and patterns. Innovative inbuilt effects and controls provide a wealth of self- explanatory sonic possibilities to drastically control and manipulate each of the presets, including REVERB, DELAY, ATTACK, RELEASE, DISTORTION, and STRETCH, while the dynamics fader controls the processed signal to offer a spectrum of sounds within each preset — velocity-sensitive themselves for varying tones. "Just press one note, and you get a whole spectrum of emotion." So says Hainbach himself, ending on a high note.
As a sample library of stark sonic contrasts — from harsh, futuristic, and dystopian to beautiful and emotive sounds from another world, HAINBACH – LANDFILL TOTEMS is an invitation for musicians and producers to reimagine, recreate, or completely pull apart the sound world of an artist like no other to facilitate their own artistic vision. Indeed, it is perfect for creating tension, suspense, and beauty in any musical setting — from electronic tracks to hybrid film scoring or abstract sound design… and all without breaking into a broken bank balance-induced sweat! 
HAINBACH – LANDFILL TOTEMS is available as an AAX-, AU-, VST2-, and VST3-compatible plug-in supporting Native Instruments' NKS (Native Kontrol Standard) for Mac (OS X 10.10 – macOS 11 minimum) and Windows (7, 8, and 10 — latest Service Pack) that loads directly into any compatible DAW (Digital Audio Workstation) for an RRP (Recommended Retail Price) of only £29.00 GBP (inc. VAT)/$29.00 USD/€29.00 EUR (inc. VAT) — from here:

https://www.spitfireaudio.com/shop/a-z/hainbach-landfill-totems/

 (Please note that the first 1,500 purchasers of HAINBACH – LANDFILL TOTEMS will each receive a limited-edition Landfill Totems cassette album for free.)