LONDON, UK: Spitfire Audio is proud to announce availability of AMBIENT GUITARS — creatively combining 2013's LEO ABRAHAMS – ENIGMA collection of dark, cinematic soundscapes exclusively created and performed by its innovative virtuosic guitarist namesake, and expertly sampled by Spitfire Audio, and its equally popular, previously-released ENIGMA 2 – THE RAPTURE followup forming a more extensive tribute to distortion, now presented in the sound-specialising British music technology company's exceptional eDNA engine-powered UI (user interface) as an intuitive, instantly-playable collection of inspiring and modern cinematic sounds, textures, and loops ranging from ambient to apocalyptic, including 10GB of brandnew recordings and 160 additional artist presets — as of April 18…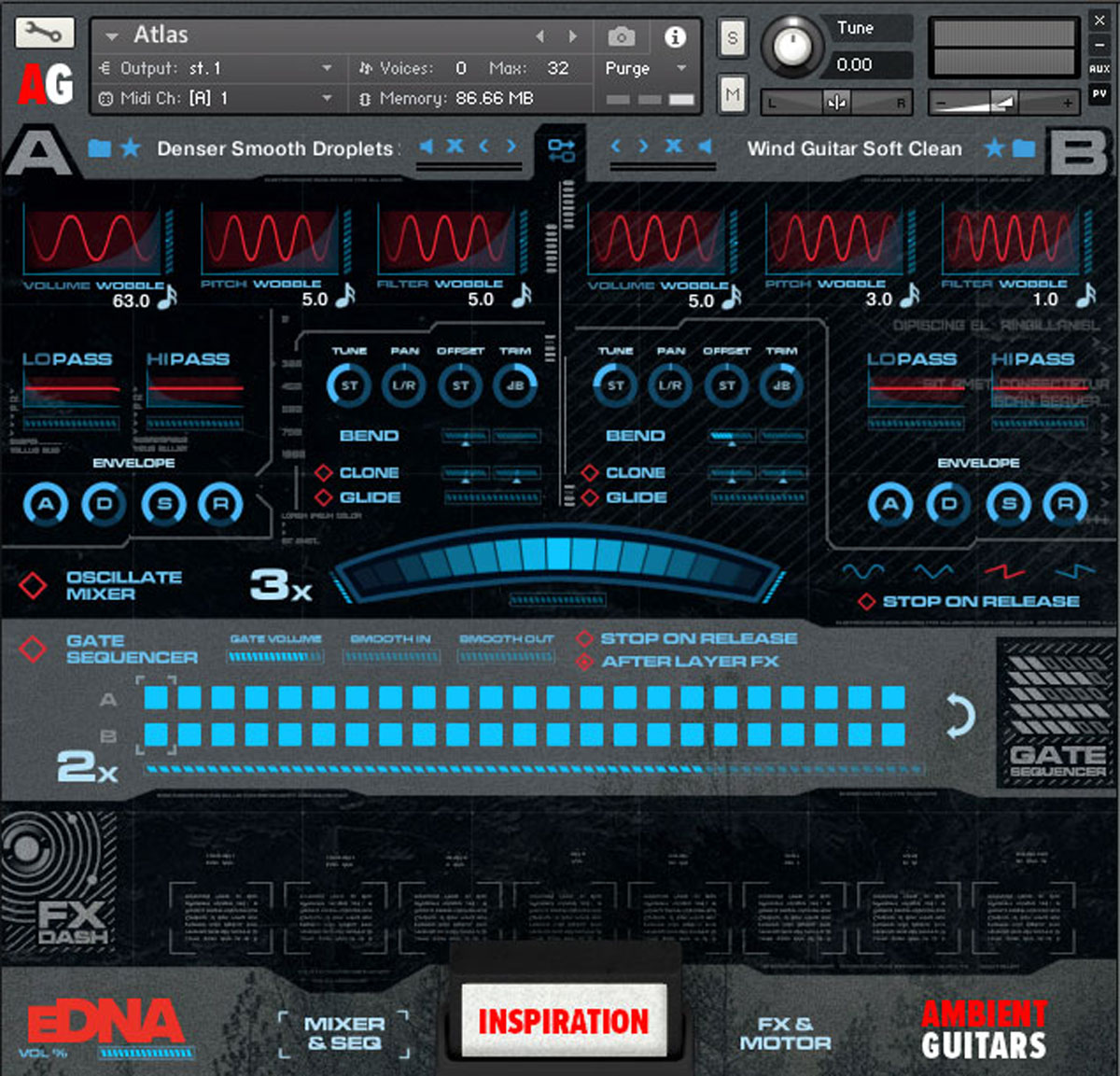 Available for Native Instruments' free KONTAKT PLAYER platform with full NKS (Native Kontrol Standard) support, Spitfire Audio's aptly-named AMBIENT GUITARS sample library is an instantly-playable, intuitive toolkit designed for any discerning media composer or producer looking for fresh sounds and atmospheric textures with an experimental edge. The road to arriving at AMBIENT GUITARS was a long and winding one, spanning several years. Yet it is one that was well worth waiting for, definitely destined to join its popular predecessors as a firm favourite amongst discerning directors and composers alike.
Time to step back, briefly, in time to 2013. This was the year that saw Spitfire Audio decamping to The Pool, a cool and vibe-ridden recording studio launched as a joint venture between songwriting producer Ben Hillier and the Miloco Studios group in the South London district of Bermondsey. Having hosted luminaries like Arctic Monkeys, Nick Cave, Depeche Mode, Noel Gallagher, and many more, there the British music technology company's sampling specialists set about capturing worldrenowned producer and virtuosic guitar innovator Leo Abrahams' cutting-edge techniques. "There's such a wide variety of emotions and textures available from different pedals and guitars," he notes. "I find I hear far too many guitar tones in soundtracks that sound generic and cheesy. I wanted to put the result of my compulsive years of eBay scouring at people's fingertips."
Fortunately for all, that wish was realised with the resulting release of LEO ABRAHAMS – ENIGMA, a sample library like no other. Created largely from a Trussart guitar — alongside a 1960s-vintage Gibson 335 and a Danelectro Hornet — plugged into Leo Abrahams' rare and unparalleled collection of pedals and amps, discerning directors and composers collectively delighted in the discovery of over 400 presets comprising weird- wonderful-sounding guitars; reverberant pads; dark, distorted plucks; warped pedal effects; and synths. Thereafter, the ENIGMA 2 – THE RAPTURE collaborative followup formed a more extensive tribute to distortion.
Today, though, the Distorted collection of sounds formerly known as ENIGMA 2 – THE RAPTURE join those original 400-plus presets in AMBIENT GUITARS as 18 tight and punchy distorted electric guitar instruments with a wide range of sounds and characters, recorded through three amps and a variety of pedals. Perfect for adding layers of distortion and feedback, or creating walls of sound or devastatingly-haunting, dark, distorted beauty, it sounds clean, but with a vibe-ridden room sound.
Such was the success of LEO ABRAHAMS – ENIGMA and ENIGMA 2 – THE RAPTURE — rapidly becoming go-to collections for creating cinematic soundscapes, inspiring music-makers the world over — that Spitfire Audio allowed itself to record a new collection of sounds with Leo Abrahams. Inspired by its immediately-playable LABS Peel Guitar — gloriously distorted, yet chime-like and full of character (originally sampled by Spitfire Audio co-founder Christian Henson back before the company existed in 2006) — recently released for free, this time the trailblazing guitarist was welcomed into Spitfire Audio's own London-based studios in 2019 to create a whole new textures collection called Amped Guitar Pads. Professionally crafted by Spitfire Audio founders and award-winning composers Christian Henson and Paul Thomson, this resulted in an additional 160 artist presets being included in AMBIENT GUITARS. "If I'm ever asked to make something sound cool, the samples we've created with Leo Abrahams are the 'get out of jail' card I can always turn to." So says Christian Henson himself. He should surely know!
Needless to say, these versatile, contemporary-sounding soundscapes are sometimes unrecognisable as guitars — glistening passages to guitars warped beyond recognition, plus ultra-realistic, fast-action picking to add movement and percussive elements are all there for the taking.
Taking AMBIENT GUITARS to a whole new level of inspirational guitar-generated sounds, the Evolutions collection is presented in Spitfire Audio's advanced 16 x 16 Evo Grid — inspired in no small part by the British-built EMS VCS3, which made musical history upon its introduction in 1969 by being the first commercially portable synthesiser available anywhere in the world, thanks to its innovative modular matrix-based patchboard dispensing with the telephone exchange-like cabling of other (much larger) modular systems in favour of making space-saving connections with (removable) coloured pegs — putting four different amps and patchable signal paths into its user's hands to add an element of the unexpected to compositions.
Clearly, the organic origins of AMBIENT GUITARS bring honest emotion to any composition that uses it, while the analogue distortion involved imbues an authentic layer of grit and depth that is not achievable with digital distortion. Each and every sound therein will layer into the mix perfectly, adding a timeless experimental edge to a wide range of settings — from inner city scenes to desolate, sweeping vistas — for film and game composers or enlightened electronic and pop producers alike.
As a trailblazing composer, musician, and producer par excellence, Leo Abrahams has recorded and toured with the like of Imogen Heap, Grace Jones, Pulp, and Roxy Music, written for and produced Editors and Florence & The Machine amongst other artists, as well as making his own records, including The Unrest Cure (featuring Brian Eno, Ed Harcourt, and KT Tunstall). He has also composed scores for movies such as The Lovely Bones (with Brian Eno) and Hunger (with David Holmes). It is little wonder, therefore, that he worked so well with Spitfire Audio and that the resulting AMBIENT GUITARS works so well!
"When I'm writing, I often build a sound first and let the composition evolve," explains the innovative virtuosic guitarist who has happily lent his name and talent to Spitfire Audio's latest library release. Who better, then, to bring the heavily processed proceedings to an appropriate close than Leo Abrahams? "I hope that some of the guitar sounds on offer here will inspire other people to do the same, and that some of the ambient sounds are helpful when what's needed is neither a synth pad nor an actual 'part', but just a bit of atmosphere. I hoped we could capture a sense of danger and abandon." AMBIENT GUITARS does that admirably… and a whole lot more!
AMBIENT GUITARS can be purchased and digitally downloaded for a time-limited introductory promo price of £199.00 GBP (inc. VAT)/$249.00 USD/ €249.00 EUR (inc. VAT) until May 2, 2019 — rising thereafter to an RRP of £249.00 GBP (inc. VAT)/$299.00 USD/€299.00 EUR (inc. VAT) — from here: https://www.spitfireaudio.com/shop/a-z/ambient-guitars/
For more in-depth information, including superb-sounding audio demos, please visit the dedicated AMBIENT GUITARS webpage here:
https://www.spitfireaudio.com/shop/a-z/ambient-guitars/
Watch Spitfire Audio's dark indie movie-inspired trailer video — a cinematic style to which AMBIENT GUITARS is seriously suited — here:
https://youtu.be/mSPZM17g9Es