LONDON, UK: Spitfire Audio, purveyors of the finest virtual instruments from the finest musical samples in the world, is proud to announce availability of SPITFIRE SYMPHONIC WOODWINDS — with a decade of woodwind virtual instrument-making experience going into creating this second-to-none conclusive compendium for Native Instruments' industry-standard KONTAKT PLAYER platform, featuring the finest woodwind performers recorded and 'deep sampled' with no expense spared via the finest signal path at Lyndhurst Hall within London's legendary Air Studios — as of December 15…
---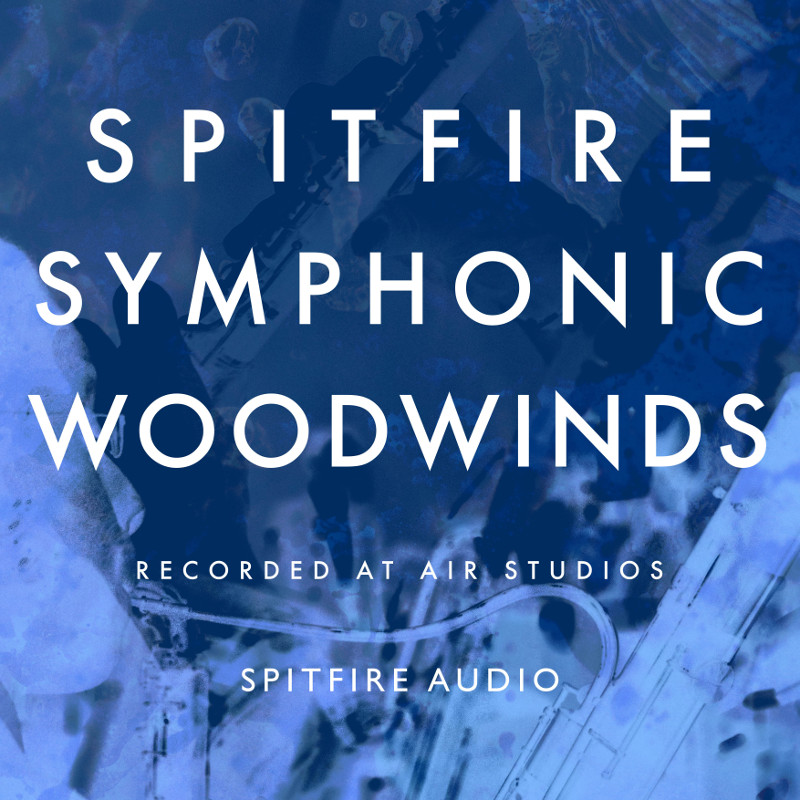 Concluding this year's namesake symphonic sampling journey that has already seen Spitfire Audio recently releasing SPITFIRE SYMPHONIC BRASS and SPITFIRE SYMPHONIC STRINGS to widespread critical acclaim, as implied by name, SPITFIRE SYMPHONIC WOODWINDS represents the culmination of four years spent capturing the finest woodwind players performing in one of the finest recording locations — Lyndhurst Hall within London's legendary Air Studios, committing the (literally) breathtaking results to two-inch Studer tape using a stunning selection of vintage valve and ribbon microphones via Neve 'AIR Montserrat' preamps and a Neve 88R large-scale console before being digitally stored at 96k. And that's only the start of an admirable approach to this latest long and winding road to sampling glory. George Martin (RIP) — multi-talented founder of London's leading independent recording studio complex frequented for so long by Spitfire Audio, and no slouch himself when it came to symphonic orchestration as an extraordinary English record producer, arranger, composer, conductor, audio engineer, and musician (often referred to as the 'Fifth Beatle' by none other than Paul McCartney) — would, in all likelihood, have approved of the stunning sounds of Spitfire Audio's achievement with woodwinds.  While SPITFIRE SYMPHONIC WOODWINDS features the usual suspects, Spitfire Audio's deep sampling exploits extend to walking through the less well trodden — though no less musically magical — areas of the wood choir, including ALTO FLUTE, BASS FLUTE, and CONTRABASS CLARINET, to name but three! Together with BASS CLARINET, BASS FLUTE, BASSOON SOLO, BASSOONS A2, CLARINET SOLO, CLARINETS A2, CONTRABASS CLARINET, CONTRABASSOON, COR ANGLAIS, FLUTE SOLO, FLUTES A2, OBOE SOLO, OBOES A2, and PICCOLO FLUTE, all feature multiple dynamics, vibrato control, numerous round robins, and a variety of traditional and more esoteric articulations. Anyone looking for a spot of cheeky clarinet tongue flutter needs look no further, for SPITFIRE SYMPHONIC WOODWINDS does it all… and a whole lot more besides!  But although SPITFIRE SYMPHONIC WOODWINDS was originally released as multiple modules forming part of Spitfire Audio's long-running BML (British Modular Library) — an ambitious project to create the greatest-sounding and, ultimately, future-proofed living orchestral virtual instruments collection, it really rationalises those numerous, deep-sampled components into an all-new file architecture along with many more improvements, including a whole host of new articulations adding an additional 30% of content in and of themselves to create an affordable entry into what its creators collectively consider to be the finest orchestral woodwinds library available anywhere today. To justify such a confident claim from anyone else would normally take some doing; Spifire Audio is no normal company, however, and SPITFIRE SYMPHONIC WOODWINDS is far from the norm. Simply citing those contributory factors already mentioned should surely be more than enough to pique the interest of any modern media composer — or, indeed, anyone — seeking to add 'windpower' to their productions. Put simply: SPITFIRE SYMPHONIC WOODWINDS will keep any composer busy for many musical years to come!  Why woodwinds? Well, more to the point, why, specifically, SPITFIRE SYMPHONIC WOODWINDS when it comes to choosing a suitable sampled virtual instrument candidate? Considered to be amongst the best in the world, woodwind players in London are where it's at for film music sessions, pure and simple — so much so that arguably anyone wouldn't want to go anywhere else! While woodwinds are commonly underrepresented in modern orchestral scoring, they are an essential part of the orchestral palette, providing production power par excellence. Enter SPITFIRE SYMPHONIC WOODWINDS… where London's finest players of the more traditional and 'popular' instruments — including bassoons, C flutes, clarinets, and oboes — were recorded solo and in unison as an A2 pairing (producing a slightly larger-sounding section while maintaining spectral integrity).  In a nutshell, since Spitfire Audio's co-founders have collectively clocked up a quarter-century as working composers themselves, they are perfectly positioned to draw upon the spirit and diversity "…of our music scene in London that breeds a diversity of skill sets and broadens our palette beyond the standard woodwind hegemony." Is it any wonder, then, that this is also to be found within SPITFIRE SYMPHONIC WOODWINDS' wondrous palette of bass and contrabass clarinets and alto and bass flutes fashioned to enrich users' compositions with the diverse zeitgeist being created near the shores and mudbanks of the Thames!  To conclude, truth be told, the 'woods' truly are a secret weapon when it comes to adding potent power to productions as appropriate, and, in doing so, SPITFIRE SYMPHONIC WOODWINDS does not disappoint — daring those composers already on friendly terms with its BML-based predecessors to take delight in what's new… new 'Volume 2' articulations above and beyond all articulations previously available in those multiple modules for starters! And just like SPITFIRE SYMPHONIC BRASS and SPITFIRE SYMPHONIC STRINGS before it, SPITFIRE SYMPHONIC WOODWINDS comes complete with Native Instruments' industry-standard KONTAKT PLAYER (with file access via the library pane) and also offers full compatibility with NKS® (NATIVE KONTROL STANDARD), an extended plug-in format allowing advanced integration with NI's KONTROL keyboard controllers. Cross-grading or buying into this core set of samples also affords an opportunity to purchase expansion packs with more mic positions — above and beyond the standard C(lose), T(ree), and A(mbient) offerings — and stereo mixes. Many more tweaks and performance/musical improvements ensure that SPITFIRE SYMPHONIC WOODWINDS is a mighty wind, indeed!
SPITFIRE SYMPHONIC WOODWINDS can be purchased and digitally downloaded (as 102.8 GB of uncompressed .WAV files, featuring 72,504 samples) from Spitfire Audio for a time-limited introductory promo price of £374.00 GBP (inc. VAT)/$434.00 USD/€441.00 EUR (inc. VAT) until 08:00 GMT on December 31, 2016 — rising thereafter to an RRP of £499.00 GBP (inc. VAT)/$579.00 USD/€589.00 EUR (inc. VAT) — from here: https://www.spitfireaudio.com/shop/a-z/spitfire-symphonic-woodwinds/(Past purchasers of BML MURAL libraries are all entitled to a discounted upgrade path to SPITFIRE SYMPHONIC WOODWINDS.) 
Note that Native Instruments' free KONTAKT PLAYER is included with SPITFIRE SYMPHONIC WOODWINDS, while Spitfire Audio's free Download Manager application for Mac or PC allows anyone to buy now and download anytime. 
For more in-depth information, including several superb-sounding audio demos, please visit the dedicated SPITFIRE SYMPHONIC WOODWINDS webpage here: https://www.spitfireaudio.com/shop/a-z/spitfire-symphonic-woodwinds/ 
Spitfire Audio co-founder and Director Paul Thomson's 'traditional' SPITFIRE SYMPHONIC WOODWINDS video walkthrough here: https://youtu.be/MAJ1He4R67g 
Watch Spitfire Audio's powerful promo video for SPITFIRE SYMPHONIC WOODWINDS here: https://youtu.be/O9kW8MKtaZ8