LONDON, UK: having released BBC SYMPHONY ORCHESTRA late last year to widespread critical acclaim when working in partnership with BBC Studios to realise a new standard in orchestral composition as a lavish landmark sample-based virtual instrument plug-in produced in close collaboration with one of the world's most renowned orchestras, Spitfire Audio is proud to bring that same sound to the musical masses with BBC SYMPHONY ORCHESTRA DISCOVER — a universal starting point to explore and create with 35 instruments impeccably performed by the world-famous BBC Symphony Orchestra, brought to life inside a beautifully designed, easy-to-use plug-in, compatible with any major music creation software from Garageband to Pro Tools, and attractively priced at £49.00 GBP/$49.00 USD/€49.00 EUR or free upon completion of a questionnaire, plus a 14-day wait for file delivery — as of May 7…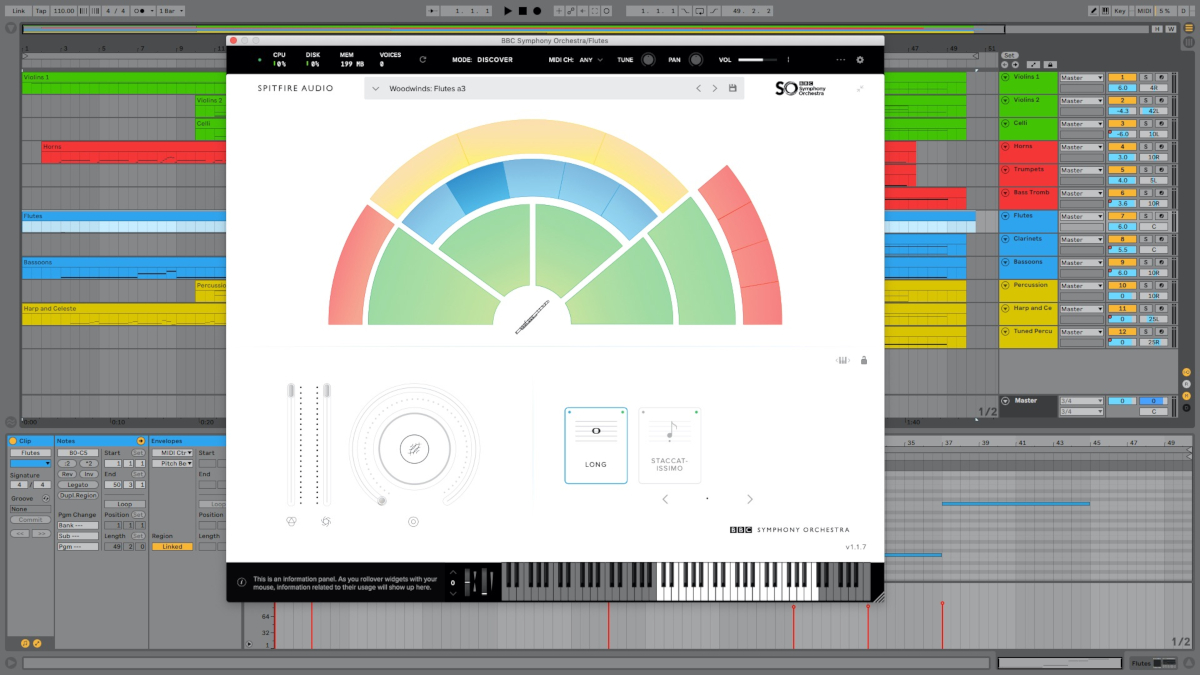 As a whole orchestra of the highest quality available at anyone's fingertips, Spitfire Audio blueprinted BBC SYMPHONY ORCHESTRA DISCOVER to make orchestral scoring accessible to music creators of every level — from those just starting out, to professional composers. Consequently, BBC SYMPHONY ORCHESTRA DISCOVER is an inspiring gateway into orchestral composition as an attractively priced, assuredly accessible, and incredibly lightweight package — weighing in at around 200MB — while featuring the same professional recording quality as the 'full-blown' BBC SYMPHONY ORCHESTRA original. Thoughtfully, the sound-specialising British music technology company has selected 35 instruments — spanning Strings, Brass, Woodwinds, and Percussion — and 47 articulations available with one professionally mixed signal, served up to all as a beautifully designed, easy-to-use plug-in with simple controls, allowing anyone to create superlative-sounding orchestral music straight away.
Announced at the same time, BBC SYMPHONY ORCHESTRA CORE sees Spitfire Audio also curating BBC SYMPHONY ORCHESTRA (now known as BBC SYMPHONY ORCHESTRA PROFESSIONAL) as a smaller, essential package, priced accordingly at £399.00 GBP/$449.00 USD/€449.00 EUR (RRP). Indeed, it features a large selection of instruments performing the full range of articulations with one professionally mixed signal. Still better, BBC SYMPHONY ORCHESTRA DISCOVER, BBC SYMPHONY ORCHESTRA CORE, and BBC SYMPHONY ORCHESTRA PROFESSIONAL are all seamlessly interchangeable through Spitfire Audio's advanced mode switching technology to make it easier than ever to share and collaborate with fellow composers, regardless of which edition they own. Obviously this makes BBC SYMPHONY ORCHESTRA DISCOVER an extremely useful tool for composers of all levels writing on the go, or with the most basic technical setup, since they can then go on to complete compositions in BBC SYMPHONY ORCHESTRA CORE or BBC SYMPHONY ORCHESTRA PROFESSIONAL.
Proud as punch, Spitfire Audio co-founder Paul Thomson succinctly sums up this visionary voyage of discovery: "Our ambition for …DISCOVER is that it becomes the absolute entry point for anybody wanting to discover orchestral music, with all of the instruments that you would need to create basic orchestrations, but with a very much reduced footprint and reduced articulations." 
BBC SYMPHONY ORCHESTRA DISCOVER can be purchased and downloaded as an AAX-, AU-, VST2-, and VST3-supporting plug-in for Mac (OS X 10.10 or later) and Windows (7, 8, and 10 — latest Service Pack) that loads directly into any compatible DAW (Digital Audio Workstation) for £49.00 GBP (inc. VAT)/$49.00 USD/ €49.00 EUR (inc. VAT) from here, which also includes more in-depth info: https://www.spitfireaudio.com/shop/a-z/bbc-symphony-orchestra-discover/ (Still beyond budget? BBC SYMPHONY ORCHESTRA DISCOVER is also available for free upon completion of a questionnaire, plus a 14-day wait for file delivery.)