LONDON, UK: Spitfire Audio is proudly reintroducing eDNA EARTH — enriching its epic collection of synthesised orchestral sounds created from ten years' worth of widely-used, wide-ranging organic orchestral live recordings with which it has made its notable name as a British music technology company that specialises in sounds, this time warped or morphed into different textures and amazing state-of-the-art electronic soundscapes, served up via an easy-to-use, ultra-controllable GUI giving access to all areas of new sonic experimentation, enhanced with support for Native Instruments' NKS (Native Kontrol Standard®) extended plug-in format for all virtual instrument developers (delivering seamless software connection to the German giant's cutting-edge KOMPLETE KONTROL S-Series keyboards and MASCHINE hardware for intuitive interaction) — as of October 8…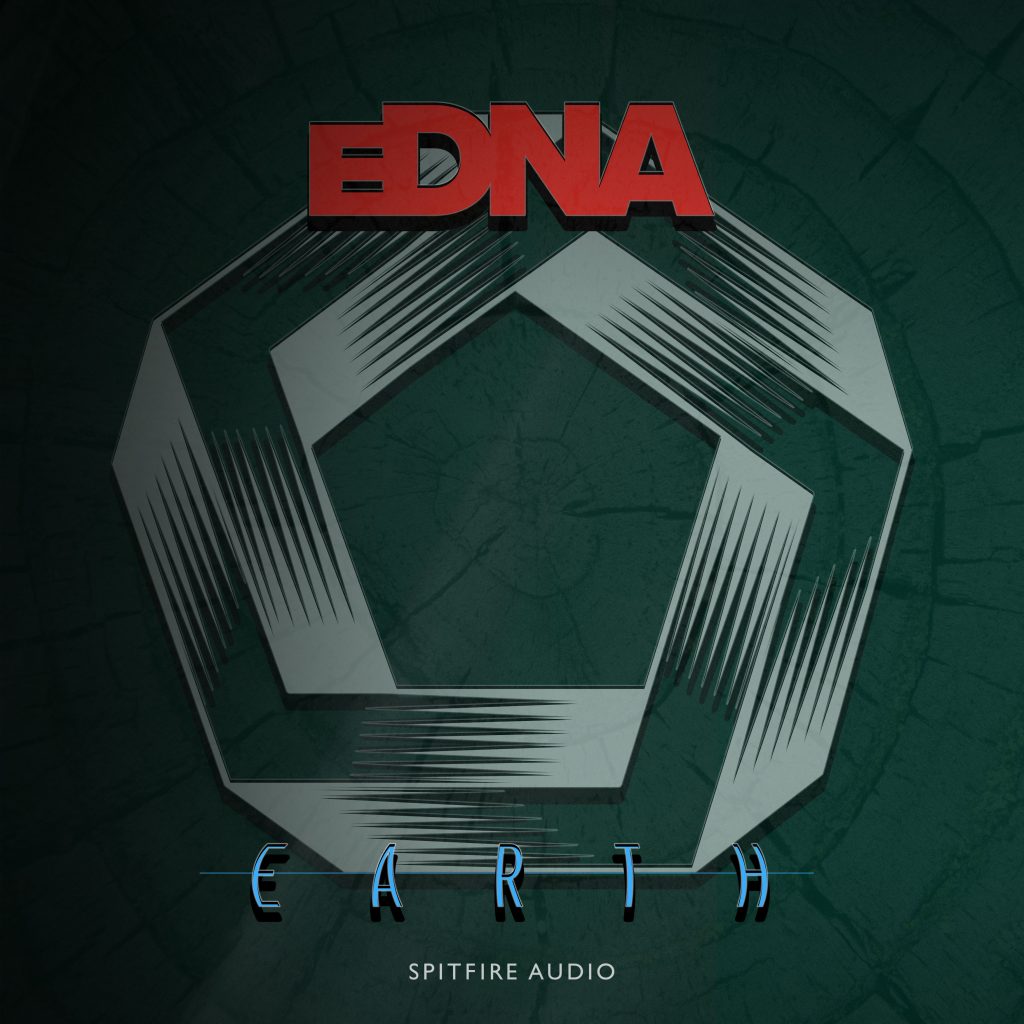 eDNA EARTH is based around a collection of 1,900-plus basic instruments, mangled into over 1,000 custom presets professionally programmed by the talented team at Spitfire Audio during several months. The proprietary eDNA Engine — a sample-synthesiser powerhouse that can combine two sounds and modulate between them with envelopes, filters, and wobbles per sound, as well as a gate sequencer and a selection of go-to effects — driving those hard-won results is, itself, effectively user-driven by a GUI that's as easy on the eye as it is easy to use, ultimately allowing for a wide range of genres and cinematic settings. Simply select by sound type — Atmos, Bass, Drones and Scapes, Drums and Percussion, FX, Keys, Leads, Pads and Strings, Sequences and Plucks, or Synthetic Orchestra — and play. Put it this way: with such depth of content — from beautifully refined dynamic crossfades to turbo-charged tempo synced, gated, and phased wonders — readily accessible, anyone playing each carefully crafted sound for only 30 seconds would need 15 hours to listen to each and every instrument and patch available! And that's before tweaking to make more of their own.
On top of that, the eDNA Engine itself is made up of seven so-called 'cartridges' — each curated by a different composer or engineer, each focusing on a distinct sonic style; perfectly positioned presets abound — all arranged by sound type, but users can also browse by cartridge, both from within the eDNA EARTH GUI or directly from Native Instruments' cutting-edge KOMPLETE KONTROL S-Series keyboards and MASCHINE hardware, thanks to that newly-implemented NKS support… no mouse or trackpads (necessarily) needed!
eDNA EARTH cartridges currently comprise: ANALOGUE (digital verses analogue synth battles, made using Spitfire Audio co-founder Christian Henson's hallowed vintage synthesiser collection of Junos, Jupiters, Moogs, and MS20s, creating a whole new world of sonic opportunities); BROKEN (pseudo-organic atmospheres, crossfades, drones, effects, and pads curated by Harnek Mudhar, a Spitfire Audio engineer with his finger firmly on the pulse, successfully spanning the hinterland between organic orchestral material and raw synth sounds — almost like earthly instruments, but slightly warped); CINEMATIC (modern hybrid synths for the big screen, curated by multi-award-winning composer Christian Henson); DARK (series of chaotic, frenzied, dystopian sounds — from searing leads to super-fat basses and atmospheric, eerie pads, suitable for the grittier end of dance music while also adding edge to hybrid blockbuster and trailer work); RETRO (mainstream zeitgeist synths and patterns by resident Spitfire Audio sonic wizard Stanley Gabriel, adding an extra dimension to pop and dance music); TRANCE (EDM classics and next-generation dance, rhythmic synths, and epic drops, taking users on a journey from quirky 8-bit vintage game console sounds through to ambient techno and minimal house); and WARPED (ever-changing soundscapes — hold down a sound and move the modulation wheel very slowly, since such sounds are programmed to morph beyond all recognition via vibrant shimmering paths).
As an evidently elated Christian Henson himself says: "So we've updated eDNA; the sounds are a lot easier to browse, it's now NKS-compatible, and I'm actually working on a new cartridge at the moment, which I'm quite excited about — always a joy to work with EARTH!"
Working with the enriched encyclopaedia of cinematic synth sounds that is eDNA EARTH is, indeed, a joyful and musically-enthralling experience, one which benefits from fellow Spitfire Audio co-founder Paul Thomson's thoughtful consideration as to why, exactly, content that is organic at origin yet sounds synthetic mixes better with live or orchestral elements: "It's about having depth in the sound, as opposed to a slightly two-dimensional sound. Even though you can get a synth sound that appears to have a depth in the soundstage, there's something about a sound that's recorded in a space that has a kind of spacial depth. When Quincy Jones worked on Michael Jackson's albums, a lot of the synths were played out into the room and then re-amped, basically, in order to get a kind of sonic depth to the sound. So I think that what we've done — by starting with a sound that was recorded in a 3D space and then kind of imposing synthetic texture on to it — is retain that depth within the sound."
Wise words there from a sound musical mind. Musically, then, eDNA EARTH has been created with film, TV, and games music in mind, offering endless inspiration to the next generation of media composers, whether wishing to go 'off world' — following in the bold footsteps of Greek genius Vangelis, whose inspirational futuristic fusion characterised the timeless score to visionary director Ridley Scott's 1982 neo-noir science fiction film classic Bladerunner, which, in Christian Henson's equally wise words, "…was synthetic but approached from an orchestral arrangement POV…" — or keeping their musical feet firmly planted here on earth! Either way, eDNA EARTH should also appeal to dance and pop producers wanting to add cutting-edge, cinematic electronic textures to their music — made even easier by Spitfire Audio coming back to (eDNA) EARTH with an enriched encyclopaedia of cinematic synth sounds!
eDNA EARTH can be purchased and digitally downloaded for a time-limited introductory promo price of £99.00 GBP (inc. VAT)/$99.00 USD/ €99.00 EUR (inc. VAT) until October 11, 2018 — rising thereafter to an RRP of £149.00 GBP (inc. VAT)/$149.00 USD/€149.00 EUR (inc. VAT) — from here:
https://www.spitfireaudio.com/shop/a-z/edna-earth/
For more in-depth information, including some superb-sounding audio demos, please visit the dedicated eDNA EARTH webpage here:
https://www.spitfireaudio.com/shop/a-z/edna-earth/
Watch Spitfire Audio Director Paul Thomson's 'traditional' video walkthrough of eDNA EARTH here: https://youtu.be/zrIxPpK1gPo
Watch Spitfire Audio 'composer-in-residence' Oliver Patrice Weder's 'In Action' video for eDNA EARTH here: https://youtu.be/UrX-8qqGSPQ
Watch fellow Spitfire Audio Directors Christian Henson and Paul Thomson telling the story behind eDNA EARTH here: https://youtu.be/-Da8OBFFEBY
eDNA EARTH needs Native Instruments' free KONTAKT PLAYER (5.6.8 or higher) — included in the purchase — to run as a fully NKS
(NATIVE KONTROL STANDARD®) supporting plug-in instrument for Mac (OS X 10.10 or later) or Windows (7, 8, or 10 — latest Service Pack, 32/64-bit), while Spitfire Audio's free Download Manager application allows anyone to buy now and download anytime.