LONDON, UK: Spitfire Audio is proud to announce availability of EPIC STRINGS — a symphonic-sized string section inaugurating its new series of ORIG!NALS, wallet-friendly yet eminently essential cinematic ingredients for any professional or budding professional composer and music-maker, meticulously captured for superlative sampling in the Spitfire way at AIR Studios, hallowed host to an abundance of blockbuster film scoring sessions, simplified and presented in the British music technology company's free, easy-to-use (AAX-, AU-, VST2-, and VST3-supporting) plug-in, perfect for anyone wishing to add a touch of Spitfire magic to their DAW (Digital Audio Workstation) recordings while taking the next step up from the entry-level LABS series of free sample- based virtual instruments — as of December 4…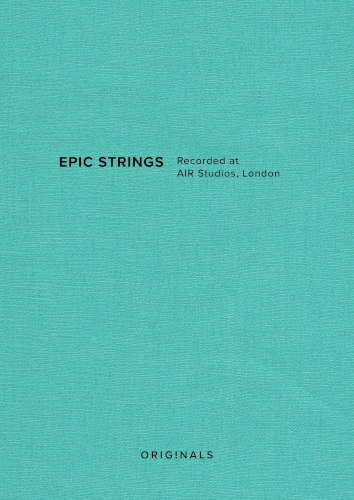 As a symphonic-sized, 60-strong string section of London's best players professionally recorded in the hallowed (Lyndhurst) Hall at London's legendary AIR Studios, EPIC STRINGS serves up 11 appetising articulations — Live, incorporating shorts and longs into a single playable patch proffering ease of writing; Short; Short Ostinato; Short (Octave); Pizzicato; Long; Long (Octave); Long (Slow); Long CS; Long CS (Octave); and Long CS (Slow) — alongside three tasty signal settings — Room, a combination of Tree, Ambient, and Outrigger mics; Close, adds definition to the Room signal; and Stretch, a stretched version of the Room, creating an ambient, synth-like texture — to form a 2.44 GB download-sized cinematic instrument plug-in par excellence. Clearly clutter-free and focused, it includes easy-to-use REVERB, RELEASE, and TIGHTNESS controllers, together with simple sliders for level and dynamics adjustment, and a large 'knob' for additional control of the three aforesaid controllers. Helpfully, however, EPIC STRINGS can be quickly customised to the personal workflow of any user — ultimately, for instance, including whether Help text is displayed at the bottom of the plug-in's perfectly formed UI (user interface)!
Inaugurating Spitfire Audio's new series of ORIG!NALS instant writing tools, then, EPIC STRINGS surely is an instant winner, with wallet-friendly pricing to make sure that taking that next step up from the British music technology company's established entry-level LABS series of free sample-based virtual instruments is as painless as possible. Put it this way: it is, indeed, an essential cinematic ingredient. Originality, of course, tastes marvellous — musically, more so with ORIG!NALS, opening with EPIC STRINGS! 
EPIC STRINGS is available as an AAX-, AU-, VST2-, and VST3-supporting plug-in for Mac (OS X 10.10 or later) and Windows (7, 8, and 10 — latest Service Pack) that loads directly into any compatible DAW (Digital Audio Workstation) for an RRP (Recommended Retail Price) of only £29.00 GBP (inc. VAT)/$29.00 USD/€29.00 EUR (inc. VAT) — from here:

https://www.spitfireaudio.com/originals
Watch Spitfire Audio's tasty trailer video for EPIC STRINGS here:

https://youtu.be/iMpRwXLmocM