LONDON, UK: Spitfire Audio is proud to announce availability of ALTERNATIVE SOLO STRINGS — an aptly-titled, alternative take on a sampled solo strings library for Native Instruments' industry-standard KONTAKT platform, putting performances of four of the most interesting and progressive string soloists in London into an easy-touse tool to access Violin (Warren Zielinski), Viola (Joel Hunter), Cello (Chris Worsey), and Double Bass (Mary Scully) for detailed compositional work while offering anyone an instant, out-of-the-box virtual collaborative experience steeped in personality, quality, and distinction — as of February 15…
---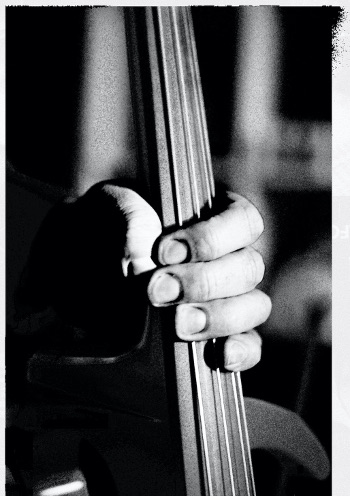 The musicians that Spitfire Audio collectively chose to work with when creatively crafting ALTERNATIVE SOLO STRINGS really represent some of the most exciting and in-demand players on the London orchestral session circuit. Collaborating with many of the biggest recording artists in the world to Oscar award-winning movie score performances, there can't be many major British recordings in existence that haven't featured these major players in some shape or form!
Frankly speaking, top violinist and musician Warren Zielinski, award-winning viola player Joel Hunter, professional cellist Chris Worsey, and leading UK double-bass player Mary Scully take some surpassing, having amassed an amazing collection of 'onscreen' collective credits between them, including: Captain America (Henry Jackman), Fantastic Beasts And Where To Find Them (James Newton Howard), Victoria & Abdul (Thomas Newman), Jason Bourne (David Buckley/John Powell), Interstellar (Hans Zimmer), Sherlock Holmes: A Game Of Shadows (Hans Zimmer), Inception (Hans Zimmer), Tinker Tailor Soldier Spy (Alberto Iglesias), The Twilight Saga (Carter Burwell), Batman Begins (Hans Zimmer/ James Newton Howard), Gladiator (Hans Zimmer/Lisa Gerrard), Lord Of The Rings: The Fellowship Of The Rings (Howard Shore). Meanwhile, musically Nick Cave, Daft Punk, Mark Ronson, UNKLE, Badly Drawn Boy, U2, Goldfrapp, Joni Mitchell, Max Richter, The Divine Comedy, and Christine and the Queens have all benefitted from the aforesaid players' perfect performance touch(es).
That all being said, the resulting ALTERNATIVE SOLO STRINGS collaboration creates and adds Double Bass and Viola to Spitfire Audio's previously-released PP015 ARTISAN CELLO and PP016 ARTISAN VIOLIN libraries, all rewrapped with a new interface and KONTAKT PLAYER compatible — and also Spitfire Audio's first double-bass library to boot!
Better still, all of these instruments carry with them the signature sound of Spitfire Audio — all artfully designed to provide not only that initial spark of inspiration but also broaden understanding of this particular group of instruments. Indeed, Spitfire Audio always prides itself on making precision tools for composers that deliver effectively on the current demands of the industry alongside a deeply-held belief that creating a series of raw, edgy tools that behave with a certain amount of realistic unpredictability leads to the most exciting results.
Recorded at the Spitfire Audio HQ's ultra-high-spec in-house recording studio and tracked there through the finest equipment, as a result, ALTERNATIVE SOLO STRINGS provides perfect accompaniment to Spitfire Audio's popular LONDON CONTEMPORARY ORCHESTRA STRINGS, which was recorded in the same location. Let it be said, then, that whilst the spirited and sometimes unpredictable recordings may well pleasantly lead its user into unexpected territory, the sonics of Spitfire Audio's dry stage provide ultimate control — whether that be an upfront Warren Ellis-style approach, a hyper-produced Hans Zimmer-style overdub on top of a large orchestral bed, or, indeed, a virtuoso performance within the section of a chamber work.
With access to each instrument performing spirited longs and shorts as well as a series of 'artisan' articulations, who better to provide a fitting closing comment on ALTERNATIVE SOLO STRINGS' ability to offer anyone an instant, out-of-the-box virtual collaborative experience steeped in personality, quality, and distinction, then, than Spitfire Audio co-founder and active composer Paul Thomson? "You've got quite a large variety of sound in there to play with," he begins, before giving credit where credit's due: "Obviously one of the most important elements of this is the players… Warren Zielinski on violin, Joel Hunter on viola, Chris Worsey on cello, and Mary Scully on bass — four incredible performers with beautiful instruments. They've played on so many film scores and records that you would lose count. You've heard their playing, and they really are an essential element in making this a successful and inspirational tool. So it's a huge privilege for us to have worked with them. This is
not a polite string library; it's very definitely alternative, gritty, inspiring, and different."
ALTERNATIVE SOLO STRINGS can be purchased and digitally downloaded (as 53,146 samples needing 29.64 GB disk space) for a time-limited introductory promo price of £169.00 GBP (inc. VAT)/$199.00 USD/€199.00 EUR (inc. VAT) until March 1, 2018 — rising thereafter to an MSRP of £249.00 GBP (inc. VAT)/$299.00 USD/€299 EUR (inc. VAT) — from here: https://www.spitfireaudio.com/shop/a-z/alternative-solo-strings/
ALTERNATIVE SOLO STRINGS needs Native Instruments' free KONTAKT PLAYER (5.6.8) — included in the purchase — to run as a fully NKS™ (NATIVE KONTROL STANDARD) supporting plug-in instrument for Mac (OS X 10.10, 10.11, or macOS 10.12 — latest update) or Windows (7, 8, or 10 — latest Service Pack, 32/64-bit), while Spitfire Audio's free Download Manager application allows anyone to buy now and download anytime.
For more in-depth information, including several superb-sounding audio demos, please visit the dedicated ALTERNATIVE SOLO STRINGS webpage here: https://www.spitfireaudio.com/shop/a-z/alternative-solo-strings/
Watch Spitfire Audio Director Paul Thomson's 'traditional' video walkthrough of ALTERNATIVE SOLO STRINGS here: https://youtu.be/j1WHHaS4X2k
Watch Spitfire Audio 'composer in residence' Oliver Patrice Weder's ALTERNATIVE SOLO STRINGS 'In Action' video here: https://youtu.be/9zg0m1mw7d4
Watch Spitfire Audio's informative introductory video for ALTERNATIVE SOLO STRINGS here: https://youtu.be/JiaNL8lKkDU