WESTLAKE VILLAGE, CA, USA:

having turned heads and opened ears at The 2018 NAMM Show in Anaheim, CA, powerful processing effects developer

Strymon

is proud to announce availability of

Magneto

— illustrating its first foray into the Eurorack small-format modular market with an aptly-subtitled

Four Head dTape Echo & Looper

module packed with powerful features while maintaining intuitive playability, perfect for creating expansive soundscapes and evolving, otherworldly tones — as of March 5…
---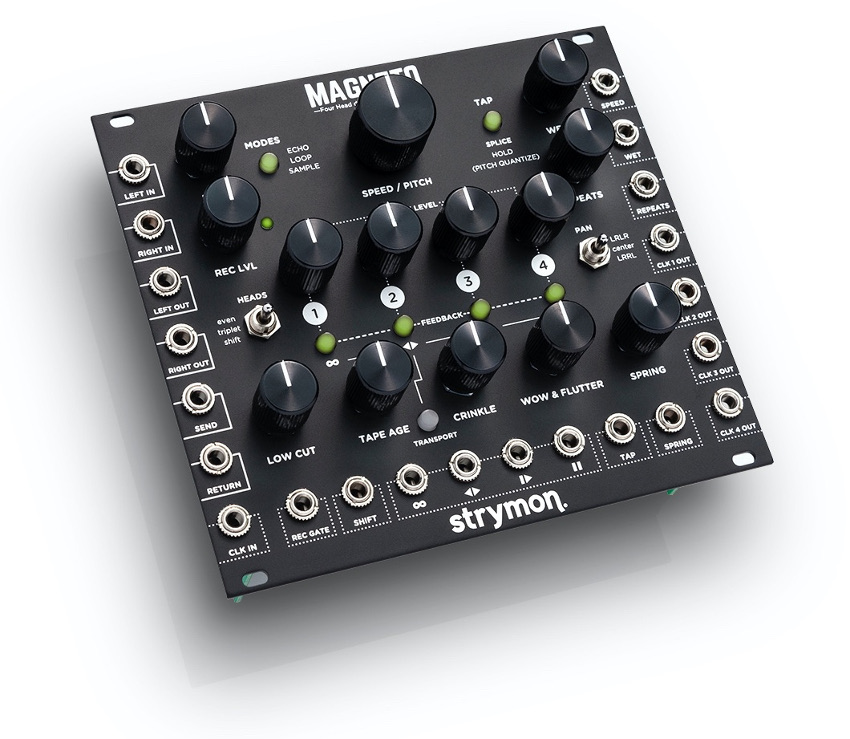 As implied by the

Four Head dTape Echo & Looper

legend blazoned across an attractive yet functional front panel that is instantly recognisable as springing forth from the

Strymon

stable,

Magneto

is a stereo multi-head tape delay that also functions as a looper, phrase sampler, vintage spring reverb unit, phase-aligned clock multiplier, chaotic oscillator, zero-latency sub-oscillator, and more, with extensive CV I/O.
Strymon

states that it wants to build products with no compromises, push the limits of technology in music, and redefine what is possible with music gear.

Magneto

moves that praiseworthy philosophy into the ever-expanding Eurorack small-format modular market. Making that move made sense to the self-styled small company that wants to create gear that is fun to design and fun to play.

Pete Celi

— DSP and Sound Designer at the company he co-founded with Dave Fruehling and Gregg Stock — sees it this way:

"We were seeing some musicians using the

Strymon

pedals in their Eurorack setups, and

El Capstan

[dTape Echo] seemed to be a popular choice, where people would place it at the end of their signal chain and sweeten up their signal with some nice tape delay sounds, so it seemed like a good place to start. We knew that by introducing something in the Eurorack format that would give us the ability to really expand on the capabilities and feature set."
Succeeding in doing that — and more,

Magneto

transforms even the smallest rack into a fully expressive, immersive instrument as an interstellar space machine fit for creating expansive soundscapes and evolving, otherworldly tones, and adding layers upon layers of harmonic and rhythmic complexity within an enveloping stereo field. It infuses Eurorack with vintage warmth and retro-futuristic soul. Try turning monophonic signals into complex orchestrations, creating new oscillator tones using self-oscillation, and adding rich stereo dimension to any sound while enjoying the inherent warmth and sweet, subtle distortion characteristics of magnetic tape.
To capture the full experience and complexity of a vintage tape echo machine,

Strymon

studied and faithfully recreated every last tape system attribute. From the sought-after natural saturation and soft clipping of magnetic tape when driven hard to hands-on, real-time controls for

TAPE AGE

,

TAPE CRINKLE

, and mechanical

WOW & FLUTTER

,

Magneto

delivers a rich multi-head delay experience that adds life and vibe to any user's sound.
Saying that, every function, control, gain stage, and signal path component in

Magneto

works together to respond musically and smoothly, even during the wildest live modular improvisations. All this is combined with a luxurious

SPRING

reverb to take the hosting modular setup's sound to a new level, and its user's sonic explorations into far-out territories.
Technically speaking,

Strymon

has equipped

Magneto

with a completely analogue dry path — unlike in a typical digital effect, where the dry signal gets converted to digital, causing conversion noise and latency. That terrifying scenario sees signals often being attenuated before combining digital dry and wet, with makeup gain amplifying the conversion noise — not the case with

Magneto

, where improvements in dynamic range and noise reduction are striking.
Strymon

has helpfully outfitted

Magneto

with the incredibly powerful Analog Devices SHARC ADSP-21369 processor, providing a 366 MHz core instruction rate, and an incredible 2.4 Gigaflops of peak performance. This high-powered technology platform provided the freedom to craft processor-intense tape echo algorithms without compromise.
Cutting to the specification chase,

Magneto

does not disappoint as a tape-voiced delay machine (with four playback heads and one record head) that includes: processor-intense

dTape

algorithm (delivers meticulously nuanced recreations of vintage tape echo systems);

ECHO

,

LOOP

(Sound on Sound looper), and phrase

SAMPLE

modes; varispeed algorithm with dynamic machine mechanics (8:1 speed range); input record level (for clean reproduction to warm, fat saturation); self-oscillation (for tone generation); independent

SPRING

reverb; dedicated control over tape mechanics, machine health, and tone; transport controls (buttons and CV inputs) for real-time performance options; individual playback head level controls; three stereo head panning options (including user-defined custom panning); phase-aligned clock out (

CLK OUT

) CVs synched with clock in (

CLK IN

) CV; 15 seconds delay/loop time at maximum speed and two minutes at minimum speed; 200μS minimum delay time at maximum speed; 50ms – 15s clock in CV range; 50ms – 15s

TAP

button range; 10ms – 15s

TAP

CV range; 114db typical signal to noise; 96kHz sampling rate; 22 kOhm audio input Impedance; 20 Vpp maximum audio input level; 1 kOhm audio output impedance; and 20 Vpp maximum audio output level.
Having packed so many powerful features into the 28HP-rack width

Magneto

module, seemingly

Strymon

are only just getting started — as implied by

Pete Celi

's closing words:

"We've got a good library of effects that we think can be good starting points to develop further and turn into things that are suitable and fun and add value and enhancement to people's experience and experimentations in modular."