NOVA SCOTIA, CANADA: having turned heads and opened ears with a show-stopping showcase at The 2019 NAMM Show in Southern California, January 24-27, newly-formed Synclavier Digital is proud to announce availability of Synclavier Go! and Synclavier Pocket! — placing a re-creation of the seminal Synclavier® II Digital Synthesizer's sound engine from which they take their names into the respective hands of iPad and iPhone/iPod Touch owners as awe-inspiring iOS apps, allowing all the famed FM (Frequency Modulation) and Additive (harmonic) synthesis capabilities to be brought forward forty years for all to musically marvel, at a fraction of the original's prohibitive pricing thanks to today's technology, while also effectively emulating the iconic instrument's intuitive panels of easy-to-touch red backlit buttons and iconic control knob in easy-to-use user interfaces — as of March 5…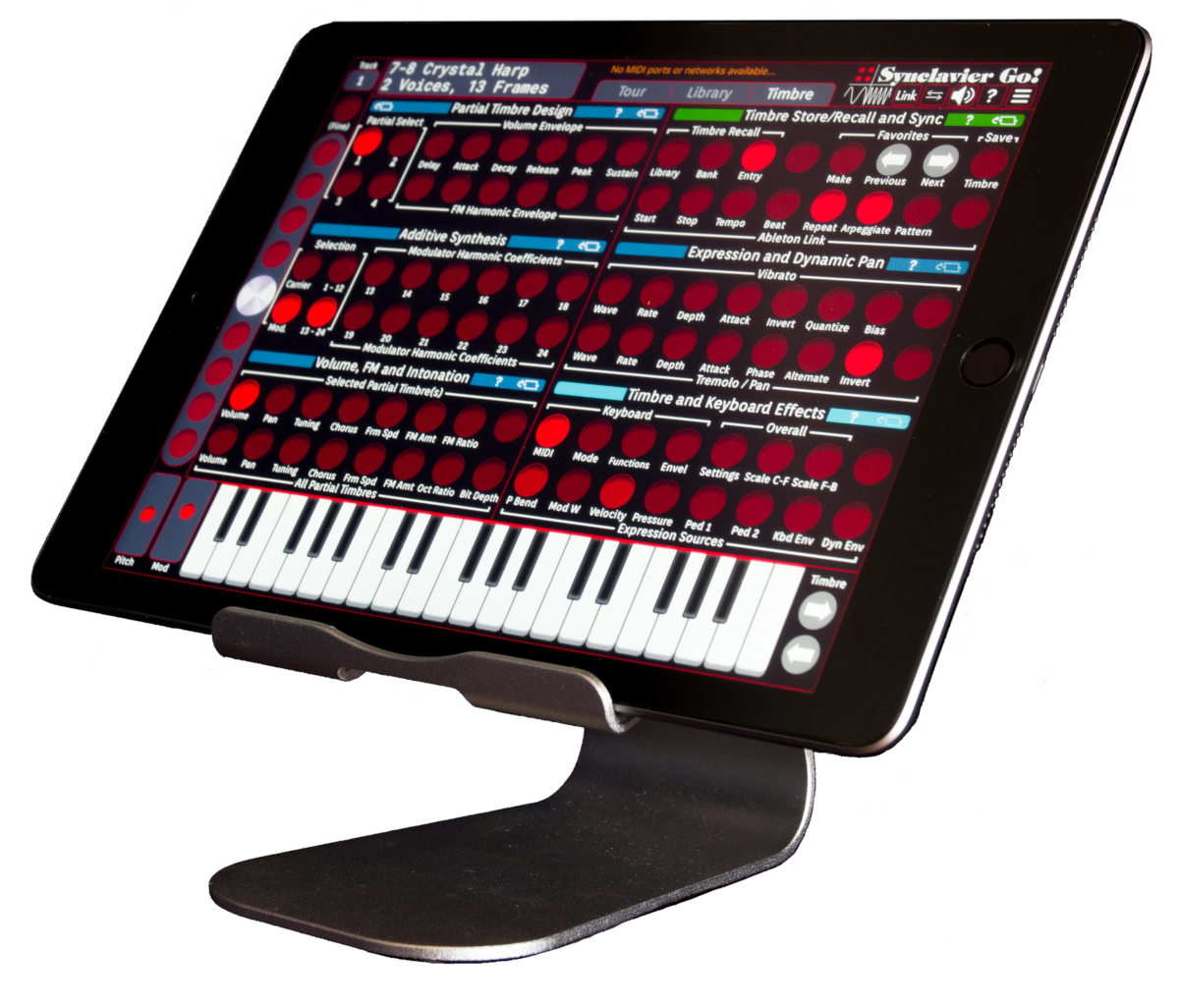 Put it this way: while the still-highly-coveted brand of Synclavier® — synonymous with high-end audio production technology that blazed a trail through the Seventies and Eighties before stalling in the Nineties — is in the midst of a galactic reboot, thanks to Nova Scotia-registered Canadian Corporation Synclavier Digital, established in 2018 to re-create a modern iOS-based version of the Synclavier® Digital Audio System, Synclavier Go!, its inaugural iPad offering, is far from being a clone, however… to all intents and purposes, it is a Synclavier®!
So how, exactly, did yesteryear's trailblazing technology that commanded a princely six-figure sum end up available on Apple's pocket-friendly iOS platform in true needs of the many outweighing the needs of the few style? Simply speaking, when New England Digital (NED) went bankrupt in the Nineties, technology finally having caught up with the cutting-edge company concerned, co-founder Cameron Jones — co-inventor of the Synclavier® — bought the intellectual propriety rights to the trailblazing series of synthesizers and digital audio systems sharing the notable name.
Having held on to those rights and trademarks, Cameron Jones subsequently relocated to Cape Breton, Canada, keeping a comparatively small number of devoted Synclavier® owners happy with minor maintenance and upgrades in the intervening years, before being approached by French music software and hardware developer Arturia about the possibility of a VST (Virtual Studio Technology) instrument for its V Collection of authentic-sounding virtual instruments. Convinced that the time was right, he subsequently spent many long days porting the existing code and firmware for the seminal Synclavier® II DSP (Digital Signal Processing) engine to C Code capable of running on Windows and MacOS. Moreover, side-by-side testing was carried out with original equipment to ensure the systems sounded identical. Arturia's Synclavier V was released in its own right to widespread critical acclaim in May 2016. People palpably put those striking Synclavier® sounds on a pedestal — not necessarily nostalgia-driven, but rather because they had stood the test of time. The DSP engine involved is clearly capable of producing phenomenal digital FM and Additive synthesis sounds like no other; on the face of it, Arturia had helpfully proved that there was a healthy market to be tapped.
That said, though the Synclavier V's GUI (Graphical User Interface) worked well for a mouse-driven VST instrument, it remained removed from the tactile experience enjoyed by users when working with the Synclavier® II Digital Synthesizer. After all, the original instrument's intuitive panels of easy-to-touch red backlit buttons and iconic control knob are the real reason why the Synclavier® was tailor-made for speedy sound and music-making. Whereas the computer GUI seemed to be placing an additional barrier between being creative and the machine itself. Indeed, upon discussing this very issue with a group of techie friends at a Cape Breton bar, the penny dropped for Cameron Jones… NED had always been about creating the very best devices — not only world-class synthesizers, but also world-class interfaces. Therefore, those intuitive panels were tantamount to a touchscreen way before touchscreen technology had been invented, since users could slide a finger across several buttons at once to activate them, while receiving instant feedback as they lit up accordingly.
According to 20-year software veteran Craig Phillips, a friend from the aforesaid techie group, it was clear that the aim of creating easy-to-use interfaces so users could creatively focus their efforts on sound was part of Cameron Jones' DNA, so should surely be central to any new products that could well be on the cards. Consequently, Cameron Jones formed a new company called Synclavier Digital Corporation Limited, working with Craig Phillips to pursue next-generation Synclavier creation… cue Synclavier Go! and Synclavier Pocket!
Synclavier Go! is an authentic re-creation of the Synclavier® II's FM Digital Additive synthesizer for Apple's ubiquitous iPad, so its users can take their sound design studio anywhere. As a pedagogical tool it includes an inbuilt tour that describes how all of the features work on a panel by panel basis. Better still, the intuitive touchscreen is a joy to use. Ultimately, transforming simple sine waves into grungy brass attacks, swishy FM chimes, or charismatic string sounds has never been easier. The original Synclavier's signature combination of FM and Additive synthesis capabilities that really represented its industry-shaking calling card are all present and correct here, housed in the same red-button-driven panels, only this time those panels can effectively be flipped for rear-side functions. Fortunately, there's no need to buy more memory modules for more voices — super-efficient DSP code, coupled with the modern processing power of an iPad, means that voices are now theoretically limitless!
Luckily, all of the ear-opening original FM and Additive synthesis Timbres (presets)— over 900 of them — are included in Synclavier Go!'s generous preset library with every conceivable parameter being user-tweak-able. Synclavier Go! supports 12 Partials, allowing users to layer luscious sounds with unlimited Frames, so sounds can evolve over time. Those adventurous users who end up creating something that they like the sound of can simply save it to one of their custom libraries.
Last but not least, Synclavier Pocket! is effectively a pocket-sized version of Synclavier Go! — as implied by name. Needless to say, Synclavier Digital is collectively keen to train a new generation of synthesists in the creative art of sound design, which is why this iPhone-based Synclavier is free. Synclavier Pocket! has the same panels and tour information as its bigger brother, but users cannot save their own Timbres in a custom library — unless opting for the in-app purchase that enables this. That said, it is still possible to listen to the sounds from the original System Disk, as well as two additional authentic libraries. By offering an entry-level Synclavier® on the iPhone (or iPod Touch) for free, Synclavier Digital is maximising the chances of creating the next Suzanne Ciani, Mark Knopfler, Sting, or Frank Zappa, to name but a few die-hard Synclavier® II owners.
Who better to provide a fitting conclusion to this lengthy musical journey, then, than Cameron Jones himself. "Forty years ago, Sydney Alonso and I invented a musical instrument that revolutionised the music industry," he begins, before adding: "Artists of Frank Zappa's generation spent hundreds of thousands of dollars on studio equipment to help them realise their musical ideas. Today we are witnessing another landmark in the release of iOS versions of the much-loved, much-coveted hardware. What happens when anyone with a modest budget can buy a Synclavier? I don't know, but I can't wait to find out what the new breed of creative people do with our invention."
Synclavier Go! can be purchased and directly downloaded from the App Store priced at Tier 30 (US $29.99, UK £28.99, EC €32.99, CN ¥198.00, JP ¥3,600.00) from here: bit.ly/synclaviergo
Synclavier Go! supports three libraries of authentic Synclavier® sounds; 12 Partials; theoretically unlimited voices — depending on iPad processing speed; MIDI — 16 input tracks; Audiobus; IAA (Inter-app audio); IDA (Inter-device audio), allowing DAW interoperability; Ableton Link; audio out — up two 24-bit stereo at 44.1 kHz or 48 kHz — tracks mixed — through headphone jack/lightning or USB; built-in three-octave touch keyboard; Repeat, Arpeggiate, and Portamento (legato) functions can be set per timbre; supports Polyphonic and Monophonic modes with Retriggering settings… for more in-depth information, please visit the dedicated Synclavier Go! webpage here: https://www.synclavier.com/synclaviergo/
Synclavier Pocket! can be directly downloaded for free from the App Store — but requires an in-app purchase called Timbre Design Pro to save Timbres, priced at Tier 5 (US $4.99, UK £4.99, EC €5.49, CN ¥30.00, JP ¥600.00) — from here: bit.ly/synpocket
Synclavier Pocket! supports three 'Disks' of authentic Synclavier® sounds; up to four Partial Timbres; theoretically unlimited voices — depending on iPhone/iPod Touch processing speed; mono-timbral MIDI in — for keyboard, pitch bend wheel, and other interfaces; Audiobus and Ableton Link support; audio out — up two 24-bit stereo at 44.1 kHz or 48 kHz — tracks mixed — through headphone jack/lightning or USB; built-in two octave touch keyboard… for more in-depth information, please visit the dedicated Synclavier Pocket! webpage here: https://www.synclavier.com/synclavierpocket/