The sad truth is that a shocking number of musicians buy audio interfaces but don't use them due to difficulties configuring the computer, interface, and DAW software. That's no longer an issue, thanks to TASCAM's new Track Factory, a complete audio production system that brings the same ease-of-use to computer-based recording that TASCAM has long delivered with its legendary Portastudios. Designed to be a music-making appliance, rather than a simple computer bundle, the Track Factory is built around a powerful Intel® NUC mini-computer that has been preconfigured for music production, and includes everything you need to simply plug in and and start recording.
---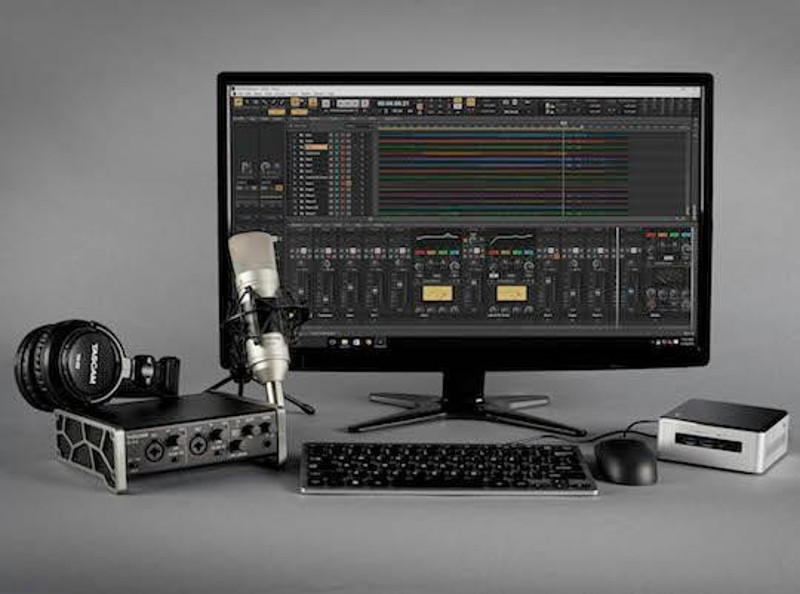 Built with hand-selected hardware components and equipped with a speedy 2.7 GHz Intel Core™ i5-5250U processor with 3 MB of cache, 8 GB of RAM, and a 256 GB M.2 solid-state drive, the Track Factory's customized Intel NUC mini-computer delivers the power of a desktop PC in a compact, 4×4-inch form factor. It has all the right connections, including four USB 3.0 ports, a Mini Display Port 1.2, a MINI-HDMI 1.4a port, gigabit Ethernet, Wi-Fi, and Bluetooth™ 4.2. It runs a version of Microsoft Windows 10 Home Edition that has been expertly streamlined and optimized by PC Audio Labs for digital multitrack recording and editing. A USB mouse and keyboard are included.
Cakewalk®'s popular SONAR Professional DAW comes preinstalled and configured for the bundle's TASCAM US-2×2 USB 2.0 audio/MIDI interface. SONAR Professional comes with a wealth professional effects, loops, and virtual instruments, including the acclaimed ProChannel Console Strip and Melodyne Essential with ARA integration.
TASCAM's US-2×2 interface features two combo mic/line/instrument inputs with high-end Ultra-HDDA microphone preamps, offers two balanced TRS line outputs, and records at up to 24-bit, 96 kHz resolution. Known for its clear, uncolored sound and ease of use, the US-2×2 offers direct zero-latency monitoring, MIDI I/O, and removable bio-cell side panels that angle the interface for ergonomic comfort. A USB cable is included.
A TASCAM TM-80 medium-diaphragm cardioid condenser microphone captures vocal and instrumental performances with professional-quality results. The TM-80 comes with a shock-mount desktop stand, microphone clip, and cable.
TASCAM's closed-back TH-02 headphones let you monitor in peaceful isolation and without allowing sound to "bleed" to the microphone. Its 18 Hz to 22 kHz frequency response lets you hear every instrument and voice clearly and distinctly. The TH-02's foldable design and padded headband makes it a convenient recording companion in the studio and on the road.
TASCAM supplements the preconfigured Track Factory system with tutorial videos and a Quick Start Guide. To top it off, you get a 20-minute personal online training and configuration session with the tech wizards at OBEDIA. An $1,850 value, the Track Factory bundle is available at TASCAM dealers for a MAP/street price of only $1,299.99. 
Video: