GUANGZHOU, CHINA: The Loudspeaker Sourcing Show — an annual one-stop solution for loudspeaker brand buyers, engineers, and their decision-makers to meet directly with qualified loudspeaker factories all under one roof to focus on making better products for consumers by providing better solutions for the marketplace — is all set to return to the Nansha Grand Hotel Guangzhou in Guangzhou, China as a three-day industry-only event hosting more attendees and exhibitors than ever before between October 16-18, 2018…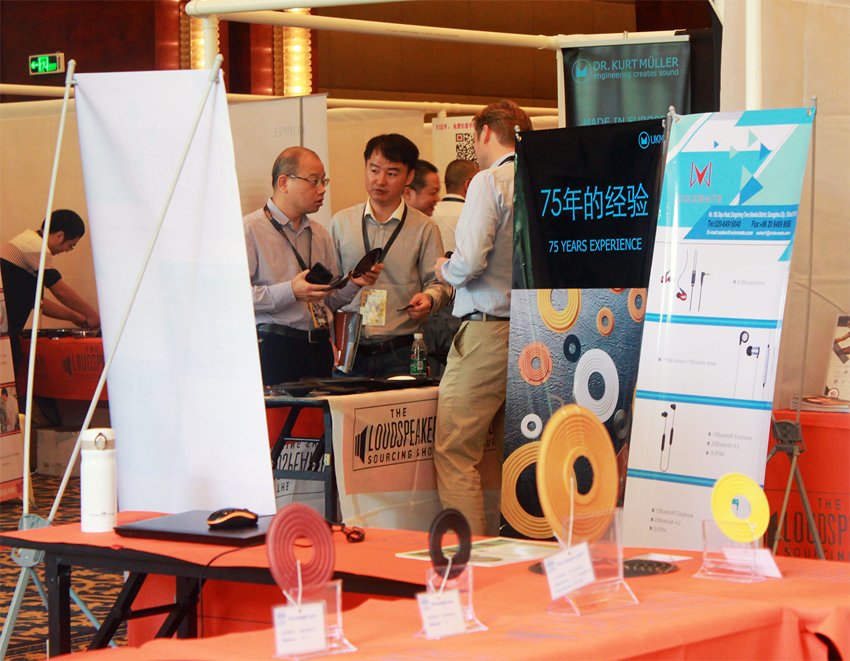 Sound is increasingly omnipresent in today's global marketplace; making meaningful sound waves means someone, somewhere must be making informed decisions in the ever-widening world of loudspeakers, yet one of the biggest market challenges facing businesses dealing with loudspeakers in the audiophile, A/V, contractor, mobile, musical instrument, and professional audio industries is identifying actual qualified suppliers from supplier agents or potential competitors.
Cue The Loudspeaker Sourcing Show, conceived and created by husband and wife team Philip Richardson — owner of the Trueanalog Strictly OEM factory in Guangzhou, China (established to serve the international high-end and mid-fi driver and system industries) — and Mandy Tseng — daughter of the founder of Guangzhou, China-based T-yokes, top plates, and U-yokes specialist manufacturer Zeng Ben Industrial — to connect qualified speaker component manufacturers directly with businesses that need their services. Sensibly, manufacturers are already vetted based on their history of providing quality loudspeaker product solutions or related services, so only actual manufacturers are allowed to exhibit at the show — not third-party brokers. Better still, this eliminates those painful hassles of identifying actual manufacturers so that everything from development to quality assurance can be easily and openly discussed at the show itself.
"Our goal is to greatly improve the communication and relationships between brands and suppliers," states show host Philip Richardson. Reality dictates that they must be doing something right, as The Loudspeaker Sourcing Show co-creator continues: "This year will be the fourth annual show, and each year the shows keep getting bigger and better with larger attendance and more of the world's speaker brands realising its potential. Imagine sitting down for a quiet moment with the best suppliers of speaker components and systems across all of Asia."
Thanks to The Loudspeaker Sourcing Show, it is perfectly possible to do just that, as evidenced by some serious industry players who will be in attendance this year, such as Southern California's Sonance, inventors of the world's first architectural speaker some 30 years ago (before becoming today's most recognised and highly awarded manufacturer in the architectural speaker and outdoor audio categories worldwide); Intertechnik GmbH, an über-successful German manufacturer, seller, and distributor of electronic, audio, and hi-fi products; and Dr. Kurt Müller GmbH & Co. KG (DKM), a leading international supplier for acoustic parts — including some of the best paper cones in the world — to major loudspeaker companies with over 70 years experience, to name but a notable few.
On the flip side of that, exhibitors at The Loudspeaker Sourcing Show — this time including Vistron, Southern China's premier choice for highperformance, high-value subwoofer and bookshelf plate amplifiers — are there to provide OEM (Original Equipment Manufacturing)/ODM (Original Design Manufacturing) services for loudspeakers and related products and components. Moreover, manufacturers of every component utilised in the assembly of driver units, woofers, and tweeters will be exhibiting there, as will driver assembly houses and turnkey system factories. Furthermore, this year's show will also be playing host to cabinet factories, amplifier factories, and test equipment manufacturers.
Simply speaking, The Loudspeaker Sourcing Show sees manufacturers providing technical representation so that brand engineers and purchasing agents can identify the right manufacturer for their specific needs. Needless to say, the show itself is designed to create a level playing field for all industry sectors, serving up most — if not all — solutions necessary for brands to do business with suppliers by effectively eliminating all the 'noise' between brands and suppliers; so those with a vested interest in the ever-widening world of loudspeakers will have the opportunity to talk directly to highly-skilled suppliers and established service industry companies, saving months — if not years — of finding the right suppliers for their brands in the process. Put it this way: with shipping companies, packaging companies, legal advice, translators, and other service representatives all available at the show, there has never been a better attempt at providing complete supply chain management solutions.
Since such reassurances are already in place, is it any wonder, then, that The Loudspeaker Sourcing Show has steadily increased in size and scope since its inauguration in October 2015 as a multiple-day event attracting 384 attendees and 48 exhibitors representing 25 countries between them? The thankful Philip Richardson's convincing conclusion clearly speaks volumes about a well executed show for all markets sectors that utilise audio speakers and related components and services: "We are thrilled that the show continues to grow in popularity around the world each year."
The Loudspeaker Sourcing Show is being held at Nansha Grand Hotel Guangzhou (1 Shangmao Road, New Coast City, Nansha, Guangzhou, Guangdong Province, China) between October 16-18, 2018. International attendees must register separately for $30.00 USD via credit card or PayPal (using a secure connection through PayPal in the United States); Chinese attendees can pay RMB 200.00 CNY via ALIPAY. Exhibitor registration is $2,050.00 USD — not charged when registering since The Loudspeaker Sourcing Show organisers follow up to complete the registration fee process.
For more in-depth information, please visit The Loudspeaker Sourcing Show website here: http://www.loudspeakersourcingshow.com
Watch The Loudspeaker Sourcing Show host Philip Richardson's informative introductory video here:
http://www.loudspeakersourcingshow.com/wp-content/uploads/2018/08/october-16~182018-loudspeaker-sourcing-show.mp4