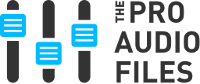 Denver, CO • April 13, 2017 — The Pro Audio Files is pleased to share the debut in-depth training course from Ian Vargo: Mastering in the Box With the rise of home studios, the advent of higher quality plugins, and many engineers mixing 100% in the box, the mastering process has in some ways followed suit. It's more accessible than ever to take a song all the way from start to finish yourself — but for many, mastering is still an unapproachable, nebulous process.
---
Until now …

In our latest training course, Mastering in the Box, professional engineer Ian Vargo reveals all, teaching you how to get high quality mastering results at home using 100% plugins in the box. The course features thirteen topic-specific workshops and eight walkthroughs in various genres, plus all the song files are included so you can practice along.
Whether you're an aspiring mastering engineer or a producer/mixer looking to add that extra spice/competitiveness/love to your music, this course shows you how to get it there and drastically elevate the quality of your work.
➥ Take your music to the next level with Mastering in the Box
About The Pro Audio Files:
The Pro Audio Files is a community where audio professionals from around the world share articles and videos on recording, mixing, mastering and producing music.