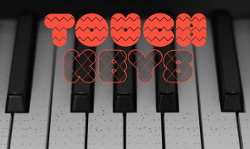 Ich habe durch Zufall ein Video entdeckt, das eine Technik zeigt, welche bald den USB Master Keyboard Markt revolutionieren könnte. Dabei handelt es sich um eine Kombination aus Hardware und Software, die es ermöglicht, Artikulationen von virtuellen Blasinstrumenten ohne weiteres Zubehör, bzw. ohne Modulationsrad direkt auf der Tastatur zu spielen. Es ist etwas schwer zu erklären, aber die Videos zeigen die Spielweise ganz deutlich.
Andrew McPherson von der Queen Mary Universität in London, hat 2 Jahre lang daran gearbeitet. Anfang September hat er eine StartUp Firma gegründet und bietet Touch Keys an. Die Preise sind derzeit noch recht hoch, was sich aber sicher noch ändern wird, sobald einige Keyboard Hersteller diese Technik einbauen.
Hier ist der original Text:
What are the TouchKeys?
The TouchKeys are touch sensors that attach to your keyboard to measure where your fingers contact the keys.
Use the TouchKeys with any synth to naturally control vibrato, pitch bends, control changes and many other new sounds while playing.
Put the TouchKeys on your own keyboard with a self-install DIY kit, or go for one of our limited-edition prebuilt instruments.

Transforming the Keyboard
Every keyboard player knows the problem: playing and releasing notes is easy, but shaping what happens in the middle is hard. The acoustic piano wasn't designed to play vibrato, pitch bends or timbre changes, and if you want these techniques on an electronic keyboard, you're usually stuck with clumsy wheels and pedals or limited aftertouch. The TouchKeys instead put these techniques literally at your fingertips, giving you continuous expressive control with a shake of the wrist or a slide of the finger.
The TouchKeys are capacitive sensor overlays which attach securely to the surface of each key. When you play, the sensors measure the position and contact area of your fingers in real time. This information is sent back to your computer, where the TouchKeys software lets you control any instrument you like. And since they're attached to your keyboard, you still have the feeling and all the extra controls of your favourite instrument!
The Whole Key a Sensor, with Multi-Touch
The TouchKeys sensors are carefully shaped to fit any keyboard with standard-width keys. The overlays cover the entire playing surface of the key, sensing your finger position in two dimensions (XY). Sensing the touch contact area means the TouchKeys can also distinguish between the fingertip and the pad of the finger. The sensors are even multi-touch: up to three simultaneous touches can be sensed on a single key.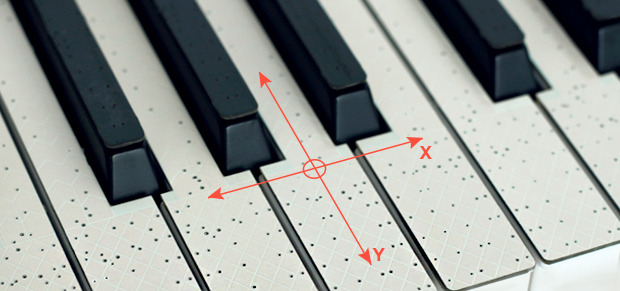 What can I do with the TouchKeys?
The TouchKeys will control any instrument or synth that speaks MIDI or OSC. That includes a huge array of VST and AudioUnit plugins and programs like Max/MSP, Pd, SuperCollider, Kontakt and Reason. (The TouchKeys are not a synth by themselves, but there are tons of great synths out there to use with them, including plenty of free options.)
The TouchKeys software lets you choose from a flexible collection of mappings between touch data and sound. These include:
vibrato by shaking the hand side-to-side
pitch bends up and down the key, with an optional feature to snap the bend into the nearest note so you always stay in tune
MIDI control changes, used for changing volume and timbre, based on absolute or relative finger position or finger contact area 
multi-touch pinch and slide mappings 
triggering extra sounds by tapping with two or more fingers
The software will be open source (GPL), and with the support of the community, we hope to see new mappings develop as time goes on. We will have a forum where users can share ideas, code, patches, and instrument presets.
How does it work?
Each key uses capacitive touch sensing, similar to what's found in smartphone screens, to locate the finger on the key surface. Every key is intelligent, containing its own microcontroller to gather the touch data. Narrow boards you put inside the keyboard collect the data from all the keys and stream it to the computer by USB.
The TouchKeys software combines the USB sensor data with input from your MIDI keyboard, producing an integrated picture of how you play. The software will support Mac, Linux and Windows (updated!). The software works in the background: select the TouchKeys device, point it at your instrument or synth, then forget about it and start playing.
If you've used MIDI instruments before, you may have noticed that control changes and pitch wheel affect all the notes at once. We get around that by sending every note to its own MIDI channel, which means that you can control pitch bend and all MIDI controllers on a note-by-note basis!
What are the reward options?
Choose from four keyboard sizes ranging from 25 to 88 keys.
Choose from a DIY kit or a limited-edition pre-built keyboard.
Choose from the classic keyboard colouring (white/black) or a cool 'inverted' look (natural notes are black; sharps are white). We'll contact you when the project closes to get your choice.
Or if you just want to support the project, we've got a stylish laser-etched pint glass with the TouchKeys logo you can show off to your friends.
What do I get in a DIY kit?
Everything you need to transform your keyboard: a TouchKeys sensor for every key which come with a peel-and-stick backings. DIY kits also include controller boards that go inside your keyboard, all the cables you need to attach them together, a mini-USB cable, a complete illustrated installation manual and a copy of the TouchKeys software.
What do I get in a pre-built keyboard?
You get a new-in-box keyboard from Novation or Doepfer with TouchKeys sensors pre-installed, plus a mini-USB cable and a copy of the TouchKeys software. (Support will be through us, as Novation and Doepfer can't provide a warranty on modified keyboards.)
How do I install the TouchKeys?

We are launching this Kickstarter to get DIY TouchKeys kits into your hands. You can install the TouchKeys in an evening with a screwdriver and some DIY spirit– you need to open your keyboard, but there's no soldering and no programming! The sensors attach to the keys through a high-quality double-sided tape which is very strong but leaves no residue when removed. The tape is pre-attached: just connect the cables, peel and stick. We'll provide a complete illustrated manual and video examples to guide you through the installation.
We think you'll want to choose your favourite keyboard for its action and features. But if you prefer a pre-built unit, we're excited to offer a limited number of TouchKeys sets on new Novation Impulse and Doepfer LMK2+ keyboards. These will be hand-built with the help of the London Music Hackspace and shipped to you.
Weitere Informationen unter anderem zu Preisen und Bezugsquellen gibt es hier: Link