SEATTLE, WA (November 8th, 2018) – Tracktion Corporation is delighted to introduce the Retromod Series, a growing collection of synth plugins that redefines iconic hardware synthesizers and pushes them into the future.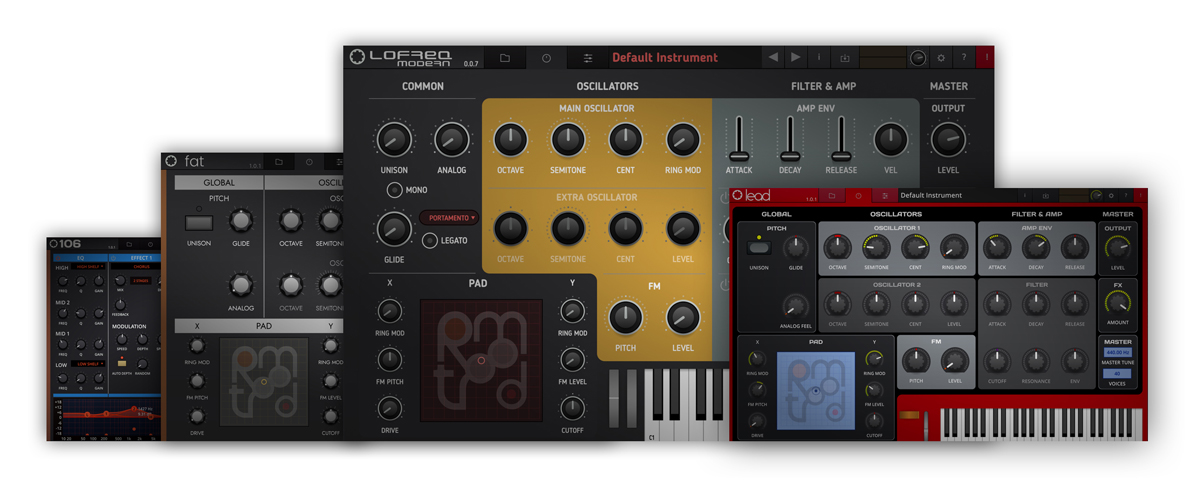 The Tracktion team has meticulously sampled dozens of legendary synthesizers, added to them, given them cool, contemporary twists and made them capable of so much more than the originals.The Retromods Series faithfully captures the sound, style and allure of yesterday's original hardware, then uses modern technology to offer extraordinary performance upgrades. The sound samples have been combined in creative, unusual and unexpected ways and pushed in different directions. The resulting sample collection is not just authentic recreations, it is a compendium of sounds that were simply unachievable from the source hardware.
 
The recently released LOFREQ-C includes samples from eleven famous synthesizers from 1974 to 1995, namely the Oberheim SEM, Yamaha CS-30, Arp Odyssey, Korg MS-20, Realistic MG-1, Novation Bass Station R, Doepfer MS-404 and the Roland SH-2, TB-303, SH-101 and CMU-810. Also new, the LOFREQ-M contains samples from eleven great synthesizers from 1995 to the present, namely the Eowave Magma, DSI Evolver, DSTEC Original Syn, MFB Synth II, Vermona Mono Lancet, Arturia MiniBrute, Dreadbox Hades, Behringer Model D, IK Multimedia UNO and the Waldorf Pulse and Pulse 2. They join LEAD featuring samples from six renowned Clavia instruments, 106 based on three classic Juno instruments, and FAT featuring most of the landmark Moog synthesizers.
 
The interesting and exciting grouping of instruments in the Retromod Series gives musicians a huge choice of samples from across the last forty years of electronic music. The similar framework of each plugin, offers rapid access, ease of use and quick results, even when transferring from one to another. Simpler to use than the original hardware instruments and lots of fun, the Retromod series is an affordable way to add a whole array of classic instruments sources to any sound library. 
 
"I can't recommend them enough' says MG The Future in his YouTube video, 'What's crazy is the price………….you guys will enjoy this!"
 
Tracktion's fresh approach to pairing vintage sounds with sophisticated and graceful modern technology puts the Retromod Series in a league of their own. The plugins are ultra-contemporary with old souls at their heart. To find out more about this future classic and other Tracktion products please go to https://www.tracktion.com/.