Baton Rouge, Louisiana, June 2015… With the release of PreSonus® UC Surface 1.3, the company's groundbreaking multi-touch mixer-control software for Mac, Windows, and iPad can now control StudioLive™ AI-series Active Integration™ digital console mixers as well as StudioLive RM-series Active Integration™ rack-mount mixers. To celebrate the release of this important update, between June 1 and July 31, 2015, PreSonus is giving away a free PRM1 precision reference microphone with any StudioLive AI console or StudioLive RM rack-mount mixer purchase.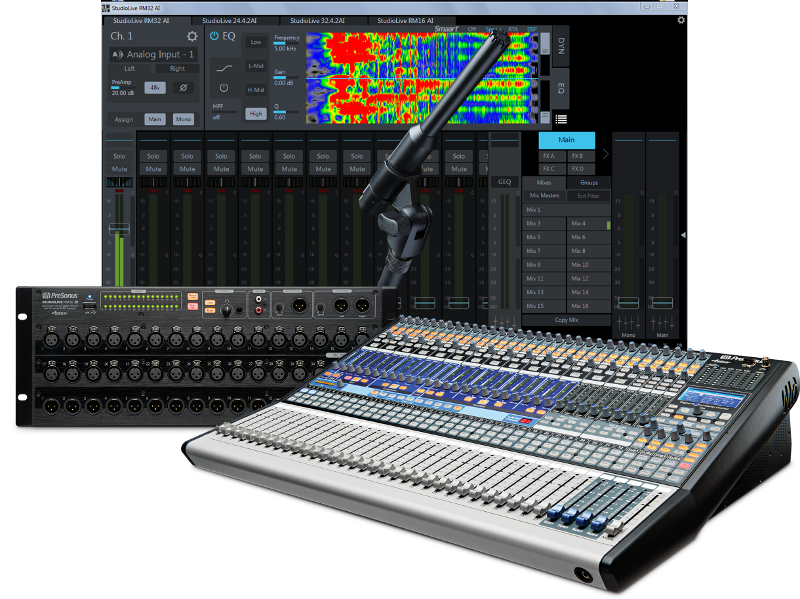 "With UC Surface 1.3 we wanted to make the transition between the physical mixer and the software control an intuitive and seamless experience for StudioLive AI console users," commented PreSonus Senior Product Manager Ray Tantzen. "We improved the workflows and made them more flexible in order to support the console mixers and incorporate feedback from RM users. With the ability to hide the master fader, improvements to navigating and managing mixes, and a new Quick Access panel, we've made the software even more battle-ready."
In addition, UC Surface now includes Rational Acoustics' Smaart Measurement Technology™ audio-analysis software. Previously implemented in PreSonus VSL-AI control software for StudioLive consoles, Smaart Measurement Technology includes a spectrograph, a real-time analyzer, and three Smaart System Wizards that enable you to easily view the frequency response of a venue, quickly calculate and set delay-system timing, and verify output connectivity. PreSonus is the only company to integrate Smaart technology into a control application that is included with its mixers.
The update to UC Surface also adds new features for the StudioLive RM mixers. Mix options let you change any aux mix into a subgroup, complete with A/B Fat Channel processing. New AVB options are integrated to provide flexibility when using an RM mixer as a stage box and monitor mixer with an AI console mixer networked at front-of-house.
With UC Surface, every control you need to mix a show is under your fingertips exactly when you need it. The software maintains the same workflow with Windows, Mac, and iPad and supports iPad and Windows 8 multi-touch.
Registered StudioLive AI-series console and RM-series rack mixer customers can download UC Surface for Mac and Windows from their My.PreSonus accounts. UC Surface for iPad will be available soon from the Apple App Store.