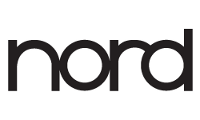 Clavia aus Schweden zeigt den neuen Nord Lead A1 Synth auf der Winter NAMM Show 2014. Dabei handelt es sich um einen analogen Modeling Synthesizer. Das schreibt der Hersteller dazu:

This is the new Nord Lead A1 analog modeling synthesizer – a stunning sounding synthesizer with a simplified yet hugely powerful front panel interface.
The Lead for Speed:
Producing stand-out sounds for live or for the studio, the Lead A1 is ideal for all musical genres. Thanks to its carefully thought-out user interface, the Lead A1 encourages experimentation, allows for far speedier programming than would otherwise be possible, and ultimately delivers sensational sonic results.
Main features:
Oscillators
Unique Oscillator concept
8 Oscillator Configurations
Pitch, Detune, Shape, Sync, AM, Noise, Dual Osc, FM
Traditional Analog and Digital Waveforms
Modulation
LFO with 5 waveforms
Mod Envelope
LFO as additional ModEnv
Filter
12, 24 dB low-pass filters
High-pass and Band-pass filters
Transistor and diode ladder filter simulations
of Mini and TB-303
Effects
Ensemble, Chorus, Phaser, Flanger, Ring Modulator, Drive
Performance
4-part multi-timbral
Master Clock Sync of Arpeggiator, LFO and Delay
Velocity and Mod Wheel Morph
USB MIDI
Our best-ever analog modeling …
At the heart of the Lead A1 is our new analog modeling engine. Taking our virtual analog synthesis to a new level, this modeling recreates a total analog signal path with uncanny realism, and is capable of immense sonic variety. With 24-voice polyphony and four simultaneous synthesizer parts, the Lead A1 is a true synthesizer powerhouse that goes far beyond the current trend for limited capability analog reissues.
… combined with our most intuitive interface
Fundamental to the design of the Lead A1 is a brand new simple yet sophisticated front panel interface. The design is in fact the result of requests from professional players – even the most experienced programmers – who need to create the perfect sound as quickly as possible for today's live or studio time demands. The Lead A1 allows easy patch creation and experimentation thanks to a new and unique oscillator section, pre-programmed modulation matrix, and simplified ADR envelopes. Dive in and create incredible patches far quicker than would normally be possible with a synthesizer of such power.
Preis und Lieferdatum sind noch nicht bekannt.
Weitere Informationen und Soundbeispiele gibt es hier: Link