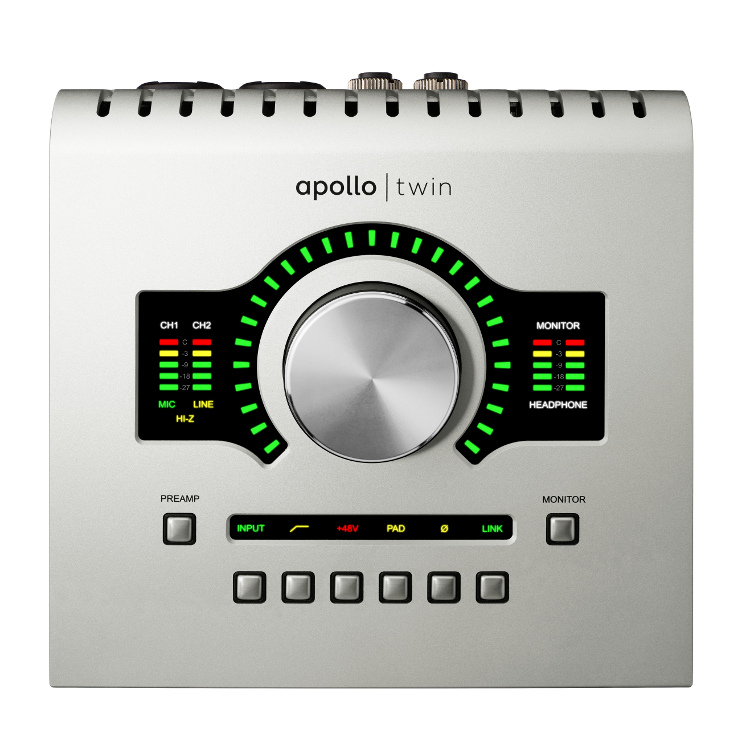 Universal Audio zeigt das neue Apollo Twin Audio Interface für MAC Computer. Es bietet u.A. 2×6 Thunderbold Anschlüsse und wird mit diversen Software Plugins ausgeliefert.

Apollo Twin Features:

● Desktop 2×6 Thunderbolt audio interface with world-class 24-bit/192 kHz audio conversion
● Realtime UAD Processing for tracking through vintage Compressors, EQs, Tape Machines, Mic Preamps, and Guitar Amp plug-ins with near-zero (sub-2ms) latency
● Thunderbolt connection for blazing-fast PCIe speed and rock-solid performance on modern Macs
● New Unison technology offers stunning models of classic tube and transformer-based mic preamps
● 2 premium mic/line preamps; 2 line outputs; front-panel Hi-Z instrument input and headphone output
● 2 digitally controlled analog monitor outputs for full resolution at all listening levels
● Up to 8 channels of additional digital input via Optical connection
● Includes "Realtime Analog Classics" UAD plug-in bundle, featuring Legacy editions of the LA-2A Classic Audio Leveler, 1176LN Limiting Amplifier, and Pultec EQP-1A Program Equalizer, plus Softube Amp Room Essentials, 610-B Tube Preamp, and more
● Runs UAD Powered Plug-Ins via Audio Units, VST, RTAS & AAX 64
● Available with either UAD-2 SOLO or UAD-2 DUO DSP processing onboard
Weitere Informationen gibt es hier: Link



Drawmer ist nach kurzer Abstinenz dieses Jahr wieder auf der Musikmesse vertreten. Gezeigt wird, unter anderem, der MC 2.1 Monitor Controller. Einen davon können Besucher der Musikmesse gewinnen. Dazu muss man am 15. März den Stand von Drawmer in Halle 5.1, Stand C74 besuchen. Dort erhält man dann eine Karte, um am Gewinnspiel teil zu nehmen.
Features: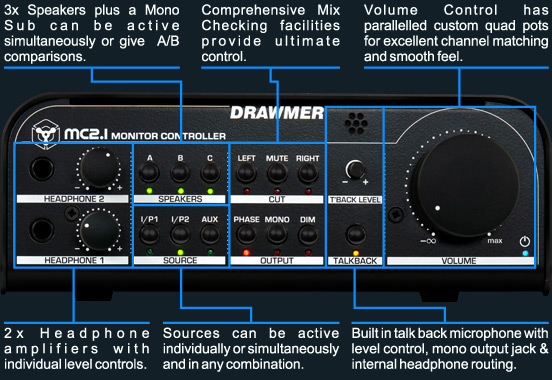 Ultra low noise and transparent circuit design.
Linear power supply with low hum toroidal transformer and internal voltage selector switch.
3 stereo balanced speaker outputs, plus a dedicated mono speaker/sub-woofer output. All have individual left & right trims under the unit to provide complete control over level matching.
Timed relay protection on all speaker outputs to prevent power up/down bangs.
Comprehensive mix checking facilities including Left/Right Cut, Phase Reverse, Mono, Dim, Mute.
Parallelled custom quad pots on main and headphone level controls for excellent channel matching and smooth feel.
Four inputs including balanced Neutrik XLR, balanced Neutrik XLR/JACK COMBI, and shared aux phono or 3.5mm jack.
Two headphone amplifiers with individual level controls.
Built in talk back microphone with level control, mono output jack and internal headphone routing.
Rugged steel chasis and stylish brushed aluminium cover.
Can be stacked and is rack mountable (with the MCB 2U mounting kit).
Dimensions: L 272mm x W 215mm x H 81mm. Weight: 2.5kg.
Der Preis liegt laut Hersteller bei 395,-£ plus MwSt.
Zusätzlich gibt es noch ein Einbaukit zur Rackmontage.
Weitere Informationen gibt es hier: Link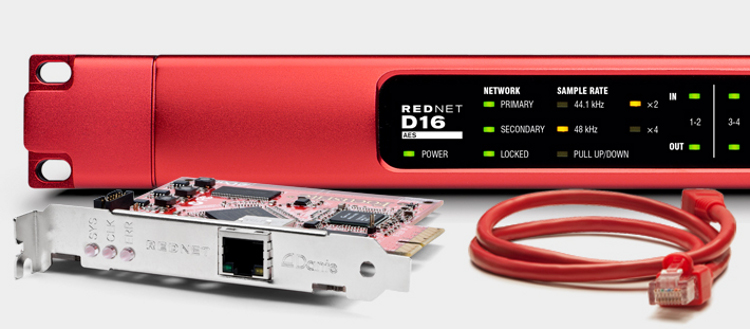 Focusrite freut sich, auch in diesem Jahr auf der weltbekannten Musikmesse und ProLight + Sound auszustellen. Beide Messen finden in den weitläufigen Messehallen in Frankfurt am Main statt und gelten als die weltweit wichtigsten Messen für Pro-Audio, Installationen, Musikinstrumente und Musikproduktion.

Unsere Produktspezialisten sind in diesem Jahr an zwei Orten auf der Messe anzutreffen: In Halle 5.1 B55 stehen unsere Spezialisten bereit, um Fragen rund um Interfaces, RedNet und weitere Produkte zu beantworten und Geräte zu demonstrieren. Natürlich gibt es dort auch die jüngst vorgestellten iPad-Interfaces wie iTrack Dock zu bestaunen.
In Halle 8.0 C10 zeigen unsere RedNet-Spezialisten die stetig wachsende RedNet-Reihe, die verschiedene, Dante-basierte Audio-über-IP-Interfaces umfasst, darunter auch das neue D16 AES-Interface (siehe Abbildung oben) und eine neue Beta-Version der RedNet-Control, die neue Features mitbringen wird.
Sie können gerne schon im Vorfeld unter http://www.focusrite.com/rednet oder telefonisch unter (+44) (0)8458 940874 eine Vorführung oder Beratung vereinbaren.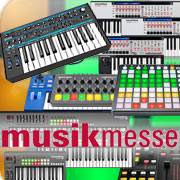 Novation freut sich, auch in diesem Jahr wieder auf der weltbekannten Musikmesse in Frankfurt am Main mit einem eigenen Stand vertreten zu sein. Jedes Jahr im Frühjahr sind die Messehallen in der Main-Metropole der wichtigste Treffpunkt für alle, die sich für Musikinstrumente und Musikproduktion interessieren.
Die Produktspezialisten von Novation freuen sich darauf, viele spannende Geräte zu zeigen, darunter einige, die komplett neu auf der Show sind.
Synth-Guru Nick Bookman wird am Stand mit zwei Bass Station 2, einer MiniNova und einer UltraNova für Aufsehen sorgen. Hier haben die Besucher zude, die Möglichkeit, alle Fragen rund um Synthesizer zu stellen, die Nick Bookman mit Sicherheit beantworten wird.
Der Stand von Novation und der Schwesterfirma Focusrite ist in Halle 5.1, Standnummer B55.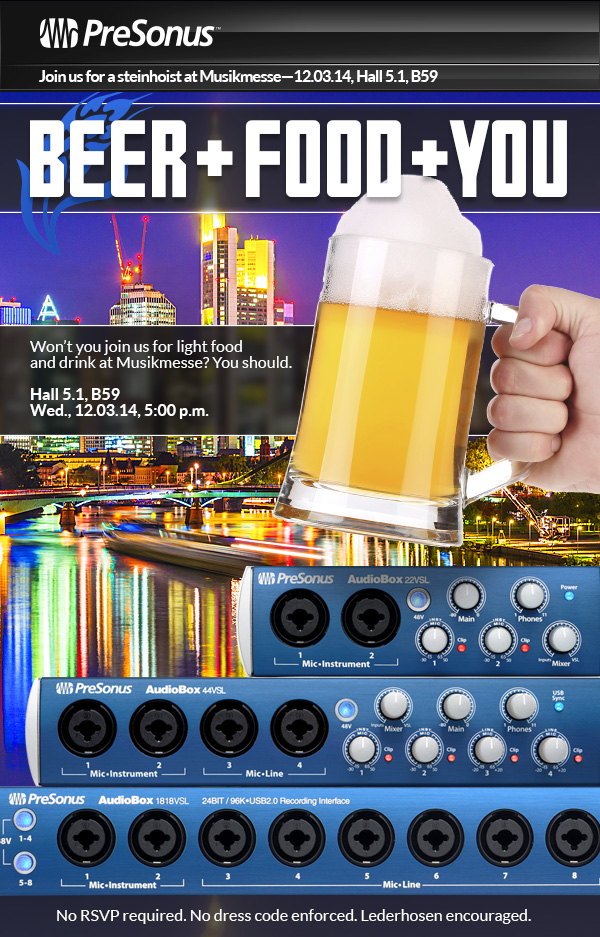 PreSonus läd alle Messebesucher zu Häppchen und Bier auf dem Stand von Hyperactive (Distributor für D, A und Ch) in der Halle 5.1 Stand B56 ein. Keine Reservierung erforderlich. Auch Menschen in Lederhosen sind willkommen. Kein Dress Code!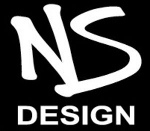 NED Steinberger zeigt neben anderen Produkten die Radius Bass Serie. Die Instrumente werden in der Tschechischen Republik gefertigt. Hier ein paar Details zu den Bässen:
NS Fusion Neck: The RADIUS features a bolt-on one-piece maple neck with an embedded continuous carbon fiber core and adjustable truss rod. This combination has the natural feel of wood, but the core provides enhanced sustain and definition to each note. The fingerboard is ebony, familiar 15″ radius, with a 34″ scale on the CR4 and 35″ scale on the CR5 . Heavy conventional tuning machines are replaced by an aluminum headplate with ball-end string mounting slots. The tuning system is integrated into the body.
NS Diradial™ Body:  The RADIUS's maple body, with flamed maple top, has a convex back radius, which provides enhanced contact and stability against the torso. The front of the instrument is more tightly radiused, which, in combination with the general wedge shape of the body, shifts it into more comfortable orientation with the right hand. The distinctive horn provides a natural grip, and the configuration of the body cutaway provides easy access to the highest frets.
The instrument as a whole is perfectly balanced, no downward dip of the neck, giving the left hand unprecedented freedom. Combined, the shape, balance and light weight of the RADIUS make this instrument exceptionally comfortable to play.
Weitere Informationen gibt es hier: Link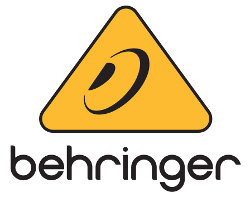 Behringer zeigt auf der Musikmesse, wie auch schon auf der NAMM Show,  einige neue Produkte. Darunter die Motör MIDI Keyboards, sowie dieverse Abhörmonitore und Mischpulte. Zu finden ist Behringer in der Halle 8 Stand M86.