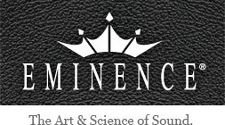 Eminence stellt auf der Winter NAMM Show 2014 einige neue Lautsprecher Modelle für Gitarristen vor. Darunter Modelle der "Patriot", der "Legend" und der "Red Coat" Reihe. Der Hersteller schreibt dazu:
Eminence is proud to announce the following new additions to the Legend™, Patriot™, Red Coat™ and Signature series guitar speakers for 2014. See and hear all of these new models at the 2014 Winter NAMM Show booth 4334 in Anaheim, CA, January 23-26.
Patriot 620H: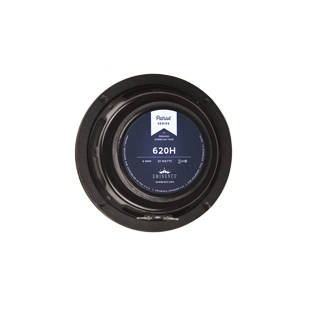 / MAP: $59.99 / Sugg. Ret. $64.99
Featuring a hemp cone, 1" voice coil and lightweight 15 oz. ceramic magnet, the 4 ohm 620H offers 20 watts of warm, full, and clean tone that will make a small, thin amp sound bigger and fatter. "The 620H is the little brother to the 8" 820H we introduced last year." said Anthony Lucas, Eminence tech support specialist. "The 620H sounds cleaner, warmer and fatter, with better definition than any stock 6.5" speaker you will find. A perfect upgrade to just about any small amp on the market, particularly a Fender Champion 600."
CV-75: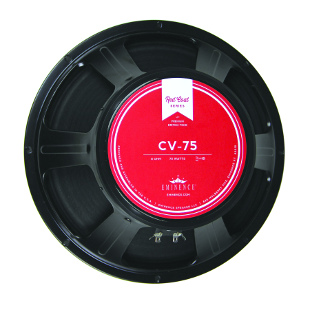 / MAP: $94.99 / Sugg. Ret. $99.99
A new addition to the Red Coat™ Series of guitar speakers is the British-voiced 12" CV-75. Featuring a British cone, 1.75" voice coil and 56 oz. magnet, the CV-75 offers complete tonal balance – grunt and punch in the lows, warm/tailored mids, and nice, clear, open/airy highs. The name says it all: Ceramic magnet, offering Vintage tone, rated at 75watts.
"We're very excited about this new speaker because we've been working on perfecting it for over 10 years." said Lucas. "Many of our OEM customers have been asking for something that could improve upon what hand-made British speakers from 20 to 30 years ago used to sound like. We're extremely pleased with the result."
Legend EM12: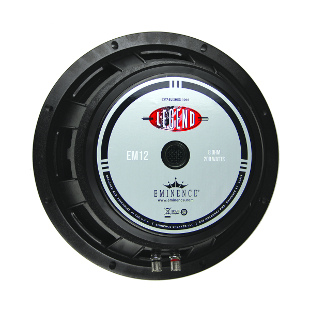 / MAP: $149.99 / Sugg. Ret. $159.99
A new addition to our popular Legend™ Series of guitar speakers is the 12", 200 watt Legend EM12. As the name suggests, the Legend™ Series offers classic tones from the past that have been utilized and made popular by many Eminence OEM amplifier customers since 1966. Featuring a 2.5" voice coil, 80 oz. ceramic magnet, and die-cast aluminum basket, the Legend EM12 features ultra-clean tone with big, round, punchy lows and warm, smooth mids and highs. "We've received a lot of calls over the years from guitar players looking for a 12" high- powered speaker that can deliver ultra-clean tone." said Lucas.
"Our Delta Pro 12A from our Professional Series was the only thing we had to offer until now. Unlike the Delta Pro, the Legend EM12 is optimized specifically for guitar players, and offers a more neutral tone so you can hear more of your amp and guitar."
Legend 1275: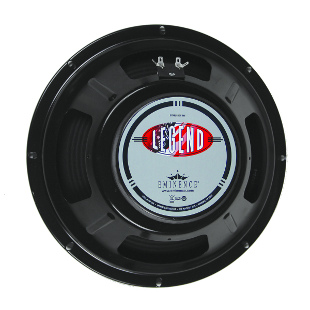 / MAP: $74.99 / Sugg. Ret. $79.99
Also new to the Legend™ Series is the 12", 75 watt British-voiced Legend 1275.
Featuring a British cone, 1.5" voice coil and 34 oz. ceramic magnet, the Legend 1275 offers tight, punchy lows, warm mids, and crisp, articulate, open highs. "Often times we're asked what speaker from our line is equivalent to a custom OEM design in this amp, or that amp." said Lucas . "With the Legend 1275, we wanted to offer something that combined the best tonal qualities from several of these most highly sought- after amp tones."
GA-SC64: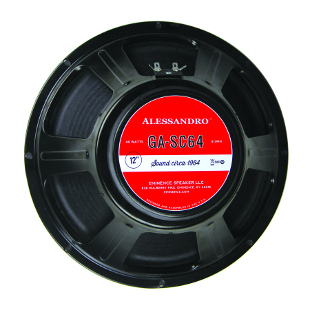 / MAP: $99.99 / Sugg. Ret. $104.99
Following the successful collaborative effort on the Eric Johnson Signature EJ1250 guitar speaker, Eminence and amp guru George Alessandro have teamed up once again to develop a 12" guitar speaker with vintage sounds circa 1964, the GA-SC64. Well-balanced from top to bottom, the GA-SC64's warm, dynamic character lends itself to vintage amps as well as modern gain and distortion. The traditional build materials offer warmth, dynamics, low note articulation and proper distorted harmonic content layering.
"The early 1960's was a time when things were simpler. Studios were recording with one or two analog tape tracks. Stereo records were high tech, and hum canceling pickups were still awaiting a patent." said George Alessandro , President, Alessandro High-End Products. "The warm, full character of the GA-SC64 brings you back to those days when used in vintage amps. While many things have advanced in 50 years, the tone of 1964 still rings true with this unique guitar speaker."
Weitere Informationen gibt es hier: Link