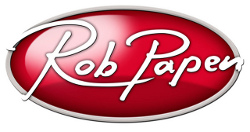 Rob Papen selbst wird die Version II seines virtuellen Synth auf der Winter NAMM Show 2014 vom 23-26 Januar vorstellen.Hier ist die offizielle Pressemitteilung:
Rob Papen, namesake founder of virtual instrument and effects plug-in developer Rob Papen Soundware, will be personally demonstrating BLUE-II — the upcoming updated version of the Dutch company's breakthrough BLUE 'Crossfusion synthesis' (flexible FM, subtractive, Phase Distortion, and wave-shaping) soft synth — in Hall A, Booth 6825 throughout The NAMM Show 2014, January 23-26 in Anaheim, California… we would be delighted if you came by to see and hear it in action.
Without wishing to give too much away, in brief, BLUE-II lives up to its extended name by allowing adventurous explorers to reach even deeper dimensions of sound by offering an even more flexible feature set than its still-well-specified predecessor, starting with six oscillators beating at its musically creative heart. These can be connected in various ways, together with two analogue-style modelled stereo filters with 27 different filter types, an enormous range of processing and modulations options, sequencer, and an incredibly powerful arpeggiator. A new range of specially selected sample-based waveforms have been meticulously fashioned for creating new and fresh-sounding synth sounds like no other. 
All told, then, BLUE-II really represents an amazing journey into 'Crossfusion synthesis' and, quite simply, sounds stunning. Says Rob, "It's breathtaking!"
But don't just take our word for it. Come see (and hear) it for yourself… with Rob himself.
Weitere Informationen gibt es dann hier: Link