PRAGUE, CZECH REPUBLIC: W.A. Production, producers of high-end professional-sounding samples, instrument and effect plug-ins, DAW (Digital Audio Workstation) templates, and more, is proud to announce availability of InstaComposer — a new-generation MIDI (Musical Instrument Digital Interface) generator plug-in that can conjure up Melody, Rhythm, Bass, Pad, and Chord parts at the click of a button by plying AI (Artificial Intelligence) to create real McCoy musical motifs that are genuinely gainful as the next step in automatic composition — as of October 7…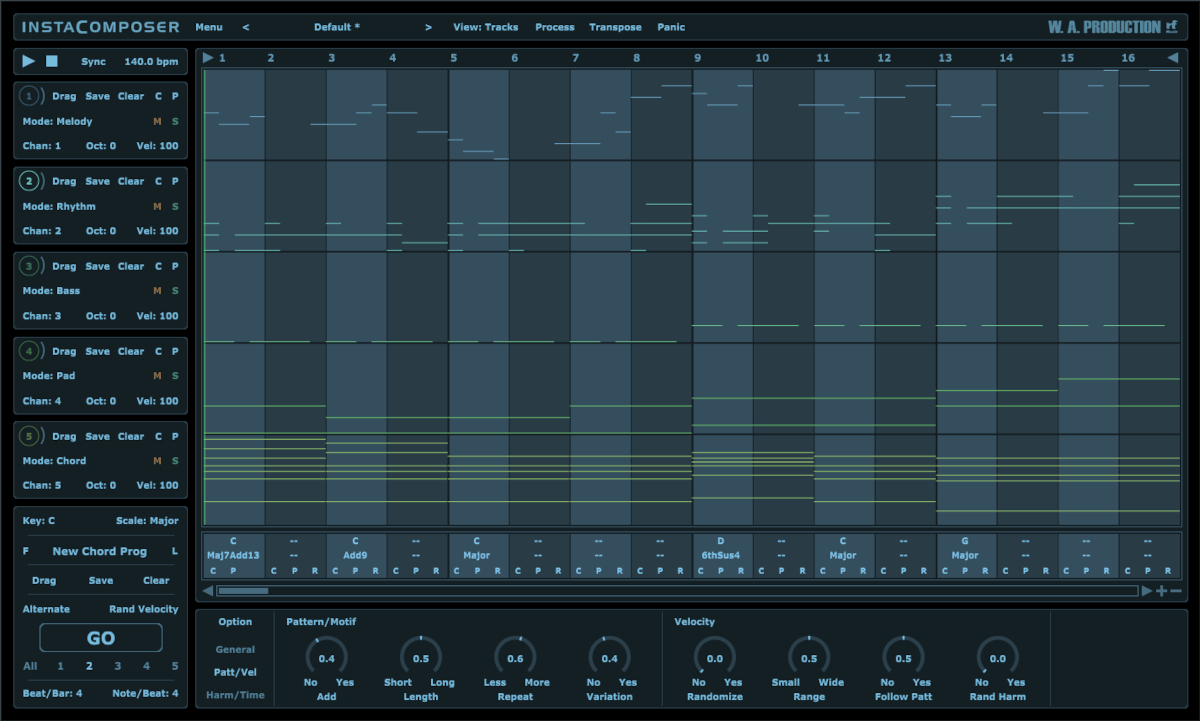 Acting as the next step in automatic composition, InstaComposer implements a complex algorithm to determine notes, harmonies, and chords based on its user's personal preferences. Indeed, InstaComposer's innovative backbone is a behind-the-scenes decision-making matrix that creates notes both based on mathematics and musical knowledge. Needless to say, AI also factors in a whole host of parameters that can be set in the bottom panel of its clear-cut GUI (Graphical User Interface) — from repetition probability (Repeat) to controlling complexity of chord shapes (Chords). Clearly, harmonic variations (Variation), strumming techniques (Strum), and note density (Population) are just some of the myriad options that can quickly and easily be adjusted, feeding that all-important algorithm with a personalised set of preferences.
InstaComposer is as unique as its user, therefore, taking into account their chosen Scale, time signature, and riff Length. Thereafter, they can choose to create new sequences for one, some, or all five of its inbuilt channels — Chan: 1, Chan: 2, Chan: 3, Chan: 4, and Chan: 5 — with any combination of Melody, Rhythm, Bass, Pad, and Chord.
Its inbuilt MIDI editor can be used to tweak the output of InstaComposer within the interface itself. Ultimately, users are able to manipulate the music before it leaves the plug-in, thereby adding their own creativity and personal style of top of what InstaComposer has already offered to them. More meaningfully, moving, copying, and deleting notes within a familiar piano-roll-style interface — even changing the velocity — is all perfectly possible in InstaComposer.
It is also possible to drag the MIDI tracks straight out of InstaComposer into a DAW with the greatest of ease. Elsewhere, users can alternatively set up multi-channel instruments and route the MIDI from InstaComposer into their favourite VSTi (Virtual Studio Technology Instrument) format plug-ins. Put it this way: when doing this, users can preview all five channels simultaneously — and all without ever having to leave the InstaComposer environment!
InstaComposer includes a notable number of factory presets — productive musical motifs with which to get users up and running in next to no time at all, and all of which can conceivably become the basis for complete tracks! There is so much compositional power positioned at anyone's fingertips — from creating melodies, phrases, riffs, chords, and more with multiple time signatures to generating automatic harmonies and chord progressions, plus many controls for probability, complexity, and variation resulting in infinite ideas at the click of a button — that they need never be stuck in a musical rut ever again! After all, W.A. Production comprises real-life producers partial to creating creative plug-ins to help anyone achieve studio-quality processing quickly and easily. Enjoyment when working with InstaComposer is surely the ultimate expression of those admirable attributes to date. 
InstaComposer is available to purchase for a time-limited introductory promo price of only $20.70 USD (representing a significant 70% saving) — rising thereafter to its regular price of $99.00 USD — as 64-bit AAX-, AU-, VST-, and VST3-compatible plug-ins for macOS (10.11 or later) and 32- or 64-bit AAX-,VST-, and VST3-compatible plug-ins for Windows (7 or later) directly from W.A. Production via its dedicated webpage, which also includes an audio preview, here: https://www.waproduction.com/plugins/view/instacomposer
Watch W.A. Production's informative InstaComposer introductory video — and prepare to create real McCoy musical motifs that are genuinely gainful as the next step in automatic composition — here: https://youtu.be/eXa1ix1xJdg