GRENOBLE, FRANCE: audio software company XILS-lab is proud to announce availability of XILS 4 v1.5 — a major update to its self-styled ultimate matrix modular soft synth, effectively emulating a conceptual 'blend' of the legendary VCS4, a 'dual VCS3' analogue matrix modular synthesizer prototyped by British trailblazing entity EMS (Electronic Music Studios) back in 1969 but never commercially released, with pioneering British synthesist Tim Blake's so-called 'Crystal Machine' (comprising two EMS Synthi AKS analogue matrix modular synthesizers with hard sync between their oscillators, one connected to the keyboard and the other connected to the sequencer) — with welcomed additional fanciful features including a powerful preset manager in a single window and new effects with semi-modular routing, as of November 30…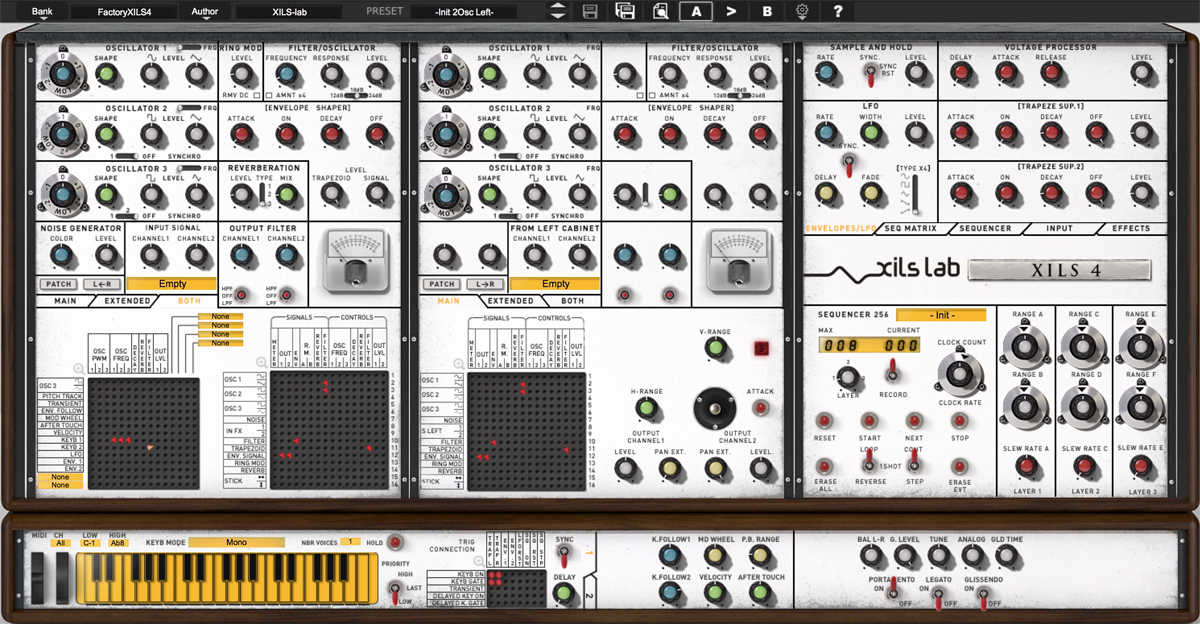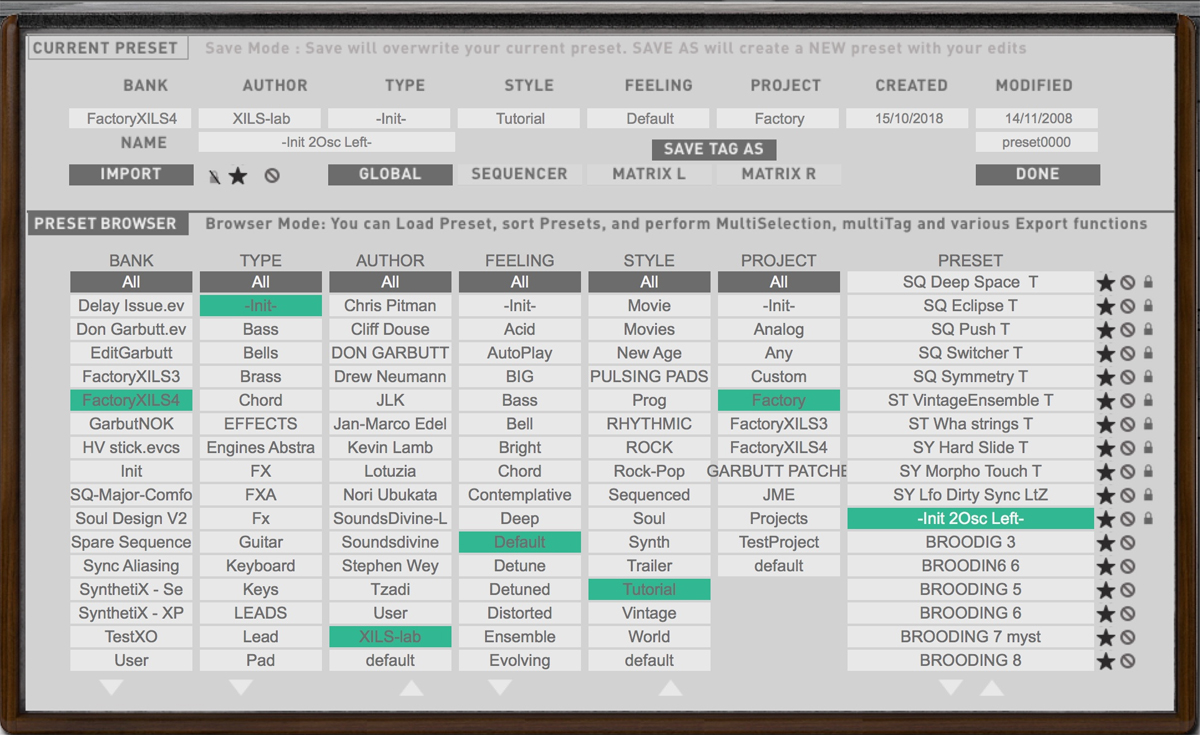 Historically, XILS-lab's self-styled ultimate matrix modular soft synth creatively combines two XILS 3 soft synths; indeed, its earlier, critically-acclaimed release represents an authentic-sounding software recreation of the groundbreaking late-Sixties-vintage EMS VCS3 analogue matrix modular synthesizer, scaled up to also emulate EMS' early-Seventies-vintage Synthi Sequencer 256, but boasting even more matrix connections than the original hardware that inspired it! In order to gain an appreciation of the sheer scope of XILS 4, understanding the origins of its smaller software sibling is in order; so let us journey, briefly, back in time, then… to 1969.
The British-built EMS VCS3 — or Electronic Music Studios Voltage Controlled Studio #3 to give it its full appellation (also affectionately known as 'The Putney' — after company founder Peter Zinovieff's original pioneering electronic music studio location in the leafy London suburb — and, somewhat confusingly, 'The Synthi' — after its later SYNTHI VCS3 II incarnation) — made musical history upon its 1969 introduction as the first commercially portable synthesizer available anywhere in the world. Its innovative modular matrix-based patchboard dispensed with the telephone exchange-like cabling of other (much larger) modular systems in favour of making connections with (removable) coloured pins, so it could be comfortably housed in a small wooden (solid afrormosia) cabinet.
Clearly distinctive in both its physics laboratory test equipment-lookalike looks and strange-sounding sound effects, the VCS3 quickly found favour with the more experimental leading lights of the day, including the BBC Radiophonic Workshop (think Dr Who), Brian Eno (with Roxy Music), Jean-Michel Jarre, and Pink Floyd, to name but a few first-generation famous users. Ultimately, thanks to Peter Zinovieff's visionary synth wizardry, patch-building became a whole lot easier with more inputs and outputs to boot, and no more roadies (necessarily) needed!
Needless to say, time and tide waits for no man (and no synth), so technology's inexorable march onwards inevitably saw the venerable VCS3 washed away as a wave of powerful programmable American analogue polysynths took hold, opening the technological floodgates to the tsunami of more mainstream (and affordable) digital developments that ultimately changed the course of music making forever.
Fortunately for some, what goes around often comes around; today those strange sounds are sought after again and new VCS3s are available to custom order from a former EMS employee — albeit at a premium price tag with a predictably distant delivery date; mere musical mortals, meanwhile, have XILS-lab to thank for its cost-conscious and award-winning XILS 3 soft synth successfully taking the emulated essence of the late-Sixties-vintage VCS3 and associated early-Seventies-vintage Synthi Sequencer 256, transporting them to modern-day DAW-driven workflow with all the recallable benefits that brings with it. It is little wonder that XILS 3 proved popular with both first-time buyers beginning an intriguingly in-depth journey into the wonderful world of modular synthesis and also seasoned synthesists, such as renowned sound designer Richard Devine and original VCS3 aficionado Tim Blake (Hawkwind), as well as Peter Zinovieff himself, who kindly commented, "A great step forward!"
Fast-forwarding to today, thanks to constructive conversations with both Peter Zinovieff about EMS' fabled fusion of two VCS3s to produce the prototyped VCS4 and pioneering British synthesist Tim Blake about his so-called 'Crystal Machine' (comprising two EMS Synthi AKS analogue matrix modular synthesizers, with hard sync between their oscillators, one connected to the keyboard and the other connected to the sequencer), which resulted in XILS-lab's self-styled XILS 4 ultimate matrix modular soft synth — subsequently reaping the benefits of a high-profile namecheck by French electronic music pioneer par excellence Jean-Michel Jarre as one of his favourite plug-ins, XILS 4 v1.5 takes that conceptual 'blend' to its current contemporary conclusion, courtesy of the New Preset Manager (NPM) being implemented alongside an additional natural-sounding reverb, new effects with semi-modular routing, second independent keyboard, and self-explanatory BAL L-R (balance between left and right synthesizer module) knob.
Needless to say, that NPM implementation is a major step forward in the evolution of XILS 4, allowing users to easily and speedily perform different tasks with welcomed visual feedback — for example, locate and load the most suitable preset in seconds via a multi-criteria search engine, save/save as presets with (user-generated) tags, batch-tag multiple selections of presets, export/import multiple selections of presets, and select view (such as showing only favourite presets or hiding unwanted presets). In adding a natural-sounding reverb to XILS 4 v1.5, XILS-lab also took the opportunity to totally revamp its Effects Block, so users can now route any effect in any order, and also choose to process only the left or right synthesizer module with any available effect; in short, while previous versions offered only one instance of fixed effect routing, now dozens of possibilities are available — adding reverb on the chorus (or vice versa) or processing the left synthesizer module with reverb and the right synthesizer module with delay and phaser, for example. Elsewhere, the second keyboard opens up XILS 4 to the possibilities of split patches or layering the two synth engines to only one part of the keyboard.
Accomplished additions apart, XILS 4's (online-viewable) full feature list is impressive as it comes — cue 12 aliasing-free oscillators, grouped in six pairs across two synthesizer modules, with wave shaping and hard sync, plus two additional noise generators, and two (virtual) analogue multimode filters, each with non-linear and zero-delay behaviour and three different (12/18/24 dB) modes… just for starters. Simply said, those already fanciful features really represent only the tip of the inspirational iceberg, so-to-speak… just ask Jean-Michel Jarre about its pin matrix magic, for what it's worth! With up to 1,140 simultaneous connections per patch, perhaps it is all the more understandable that he said, "… it is one of the best soft synths on the market for experimenting with new ways of creating sounds!"
XILS 4 v1.5 is available to purchase as a USB eLicenser or iLok (1 and 2 dongle hardware or software) protected plug-in at an introductory promo price of €99.00 EUR until December 10, 2018 — rising thereafter to an MSRP of €179.00 EUR — from XILS-lab here: https://www.xils-lab.com/products/xils-4-p-148.html (Note that XILS 4 v1.5 is free for owners of all earlier versions of XILS 4.) XILS 4 v1.5 can be directly downloaded as a multi-format (AAX, AU, RTAS, VST), 32- and 64-bit soft synth and virtual effects plug-in for Mac (OS X 10.7 and later) and Windows (XP, 7, 8, 10) from here: https://www.xils-lab.com/products/xils-4-p-148/download.html