XILS Lab, der Softwarehersteller aus Grenoble, Frankreich, hat eine virtuelle Nachbildung des Roland VP-330 auf den Markt gebracht. Dieser Synth aus dem Jahr 1979 wurde auch "Vocoder Plus" genannt. Davon leitet sich wohl die Bezeichnung "V+ " ab.
XILS Lab hat sich sowohl mit der Bezeichnung, als auch mit der optischen Nachbildung des Roland VP-330 zurück gehalten. Entweder um Ärger mit Roland zu vermeiden, oder um sich die Lizenzabgaben zu sparen. Jedenfalls ist der Preis von 99,- Euro niedriger, als die anderen Synth Nachbildungen des Herstellers.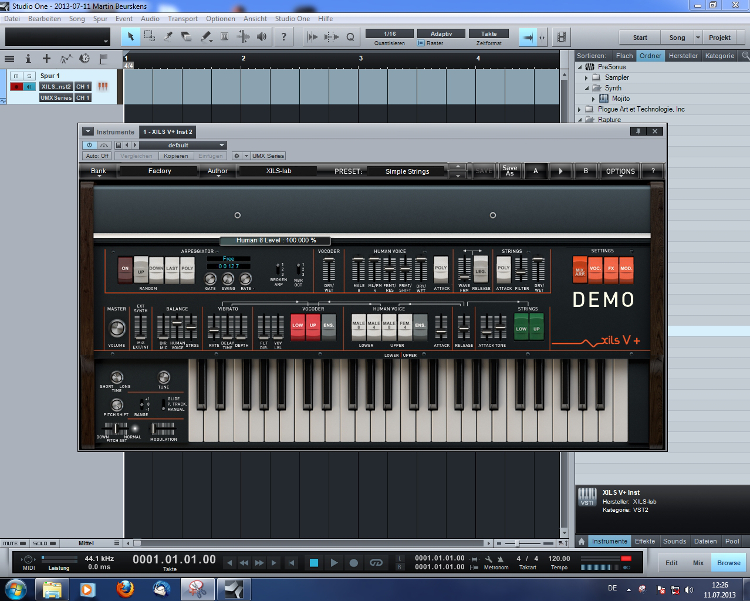 Hier habe ich mal die Demo Version in PreSonus Studio One gestartet.
Der Synth eignet sich vor allen Dingen für Stimmenabbildungen, wobei man die Tonhöhe der Voices einstellen kann. Interessant ist auch, das man eine Einstellung mit einem Keyboard Split findet, mit der man schöne Ergebnisse erzeugen kann. Aber es sind auch orchestrale Sounds möglich.

Es gibt den Synth für PC und MAC. Für PC steht sowohl eine 32, als auch eine 64 BIT Version, sowie verschiedene VST Versionen (2.4 und 3), sowie RTAS und AAX zur Verfügung. Für MAC stehen ebenfalls diverse Formate zur Verfügung: VST, Audio Unit,  RTAS (Protools 7.0 and later), AAX (PT10 and later). Er ist nur als PlugIn zu verwenden! Eine Stand Alone Version gibt es nicht.

Noch ein kleiner Tipp: Die Auflösung der Benutzeroberfläche ist standardmäßig auf eine Breite von 1400 Pixeln eingestellt. Unter "Options" kann man die Breite aber auch auf 1200 bzw. 1000 Pixel verringern. Das bedingt allerdings einen Neustart des Synth.
Weitere Informationen gibt es hier: Link