ORADEA, ROMANIA: premium studio furniture designer and manufacturer ZAOR Studio Furniture is proud to announce a cross-continental collaboration with Canadian optimised speaker isolation solutions provider IsoAcoustics as of June 25…  ZAOR Studio Furniture and IsoAcoustics are effectively crossing continents, joining forces to create an attractive series of speaker stands, desktop speaker stands, and even media production workstation desks that will effectively integrate the latter's unique, patented speaker isolation and positioning technology for the common good.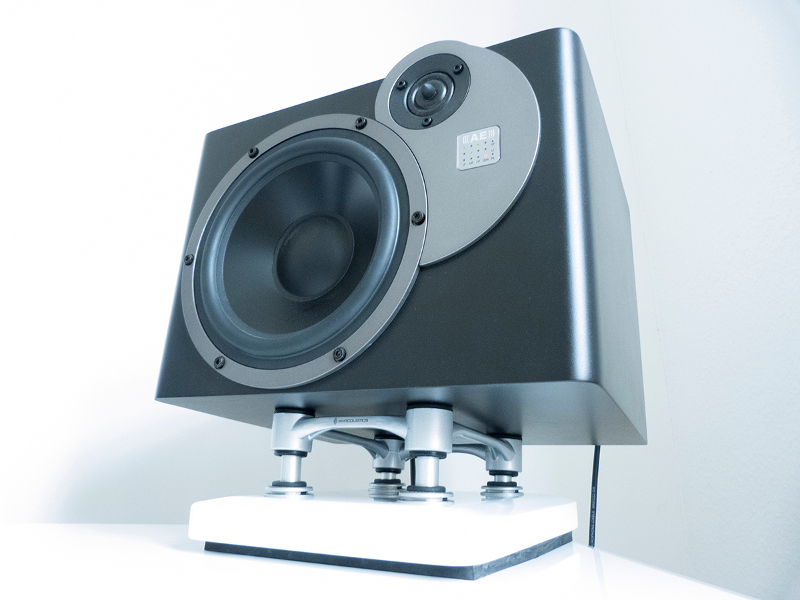 Great and small, professionals and amateurs alike will benefit from an enhanced audio experience.  "We believe in giving our customers added value through intelligent furniture that not only comfortably houses equipment, but makes it sound better and also enhances both the aesthetics and listening experience," explains ZAOR Studio Furniture VP Sales and Marketing Klaus Gehlhaar. Given Gehlhaar's proven — and privileged — track record, having previously worked with professional audio industry big-hitters such as Solid State Logic and TC Electronic, he is perfectly positioned to recognise and embrace genuine innovation whenever and wherever it hits hard, so pushing his current company to work with IsoAcoustics is a no-brainer. After all, IsoAcoustics' own desktop speaker stands are built using a unique, patented speaker isolation technology that address the PIF (Placement, Isolation, Focus) principals that affect sound since speakers are allowed to 'float' freely in space, resulting in authentic, uncoloured sound.  Says IsoAcoustics President Dave Morrison: "Speakers perform best when they are correctly positioned and free from mechanical interference. Our desktop speaker stands are the perfect blend of aesthetics, ergonomics, and acoustic science to make any speaker system perform better." And speaking of aesthetics and ergonomics, little wonder, then, that ZAOR Studio Furniture was deemed to be the perfect partner for IsoAcoustics: "We have always liked the sleek and elegant design of ZAOR's furniture. For us, this opportunity to integrate our patented technology into their product line feels like creating a dream team."  The first fruits of this mutually beneficial collaboration came together in time to be previewed at Musikmesse 2015 in Frankfurt, Germany. This included ZAOR Studio Furniture's flagship in its marketable modular studio furniture concept lineup, the MIZA X media production workstation desk, featuring a pair of IsoAcoustics' new Aperta stylish and slick line of sculpted aluminium acoustic isolation stands designed for medium-sized professional studio monitors and speakers. These can be freely positioned on the bridge and are integrated in a solid-wood plate in desk-matching colour configurations. Also available is the D-STAND ISO, ZAOR Studio Furniture's height-adjustable desktop stand in white glossy finish that now benefits from additional top acoustic isolation and speaker enhancement alongside height- and angle-adjustment attributes… all thanks to tight IsoAcoustics integration.  More collaborative products will follow soon, such as full-height speaker stands, height-adjustable for small, medium, and large professional studio monitors. Watch this ('free-floating') space…
The D-STAND ISO height-adjustable desktop stand is available to purchase from ZAOR Studio Furniture's global network of authorised authorised resellers or online directly from the ZAOR Studio Furniture Store (http://poe-music.com/products/zaor-studio-furniture/) for a RRP of €340.00 EUR (including 17% sales tax, plus shipping).