Zenhiser aus England/Australien hat ein neues Drum Sample Paket veröffentlicht, die EDM Drums. Darin enthalten sind: EDM Claps – 25, EDM Drum Beats – 75, EDM Drum FX – 25, EDM Drum Rolls – 25, EDM Hi Hats – 25, EDM Kicks – 25, EDM Percussion – 50, EDM Snares – 25. Der Download hat eine Größe von 318 MB. Die WAV Files liegen in 24 bit 44.1 khz vor. Die Software eignet sich für folgende Genres: Electro House, House, Progressive House, Trance, Main Room.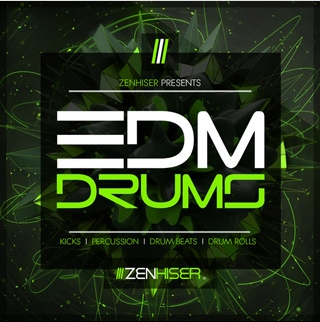 Making your next track and finding your drums are just aren't big enough, well Zenhiser is here to the rescue! 275 of the biggest, up to date club pounding drum sounds and mega drum loops all perfectly crafted and mastered to perfection. These really are some EDM monsters and ready to fit any genre that deserves the drive, punch and power these drums deliver.
EDM Drums is packed full of drum types we all need in today's studio productions including the essential claps, hats, snares, percussion and kicks. Where we pushed the boundaries with this EDM drum pack is the 75 ready to use drum beats (all bpm tagged), 25 super essential drum rolls for all your drops and some extra tasty drum fx just to add that programming master drum sparkle. With everything delivered in 24 bit goodness and foldered for instant use this is one serious pice of drum kit. Needless to say the EDM kicks are super punchy, the EDM hats extra crunchy, EDM percussion super tight and the EDM snares as snappy as you could ever want. This really is the pinnacle of today's EDM drum sounds so what are you waiting for, it's time to lift your production game to a whole new level with the ultimate EDM Drum pack ever released, 'EDM Drums'.
EDM Drums specs:
EDM Claps – 25
EDM Drum Beats – 75
EDM Drum FX – 25
EDM Drum Rolls – 25
EDM Hi Hats – 25
EDM Kicks – 25
EDM Percussion – 50
EDM Snares – 25
Der Preis für den Download beträgt 24,28 Euro.
Weitere Informationen gibt es hier: Link