SANTA MONICA, USA: Antelope Audio, a leading manufacturer of next-level audio recording equipment, is proud to announce availability of Zen Q Synergy Core — designed to bring professional studio performance to any desktop-sized setup as a home music creator-oriented compact audio interface incorporating leading AD/DA chips, discrete ultra-linear mic preamps, and a 64-bit AFCTM (Acoustically Focused Clocking) system based on Antelope Audio's acclaimed master clocks, combined with expansive I/O capabilities and a colossal collection of Synergy Core effects with wide-ranging possibilities — as of January 18, 2022…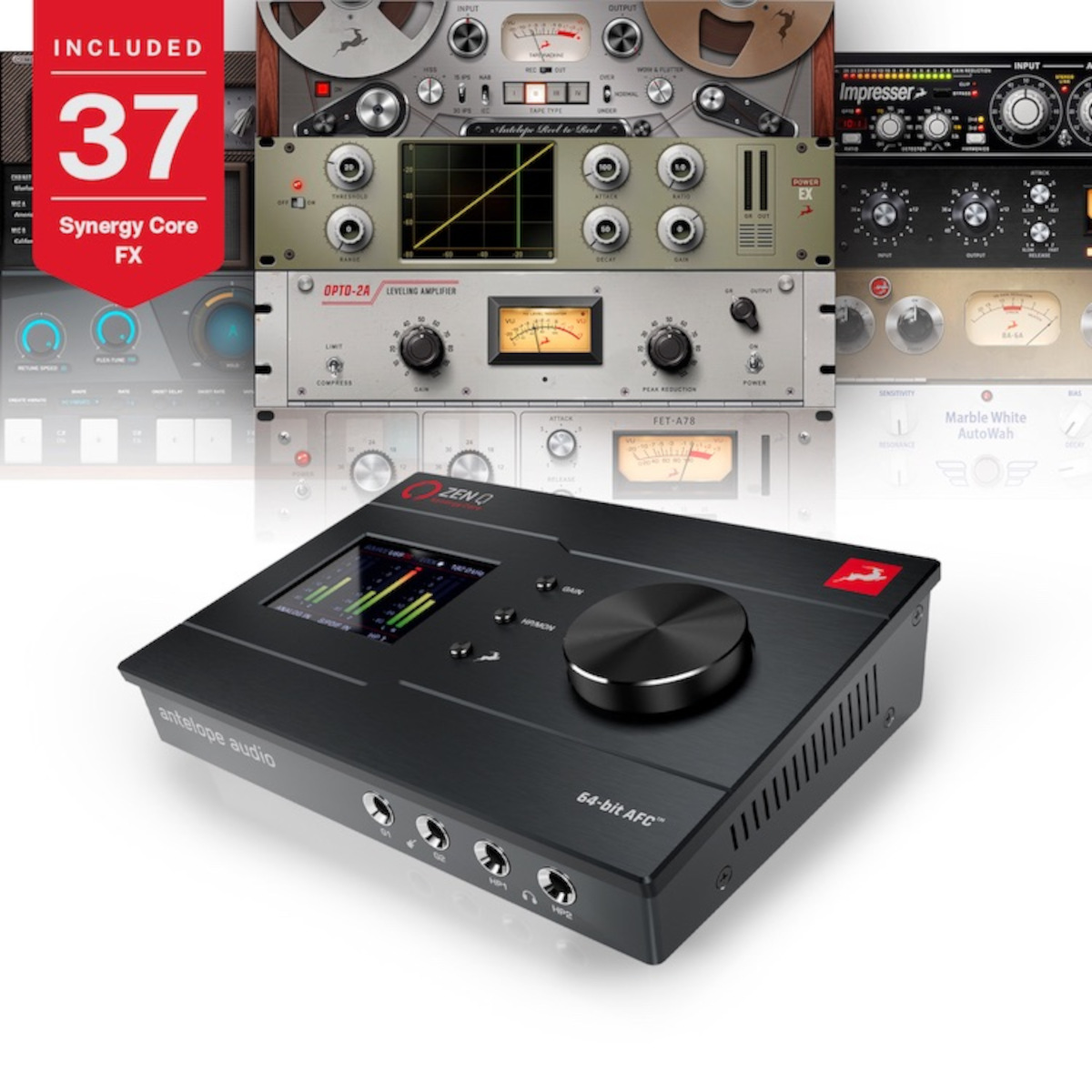 Unrivaled sound
Antelope Audio's signature sound quality comes from professional AD/DA conversion, discrete ultra-linear preamps, and 64-bit AFCTM. The Zen Q Synergy Core 14 x 10 bus-powered USB-C audio interface incorporates those same core technologies that drive its high-end siblings, such as the rack-mountable Orion Studio Synergy Core and Galaxy 64 Synergy Core flagship. This powerful blend facilitates home music creators with the means to raise their productions to a new level — and all without necessarily needing to leave the comfort of their home-based studio setup:
Class-leading — MONITOR and LINE OUT — AD/DA conversion with a dynamic range of up to 127 dB (A-Weighted)
Recording, mixing, and playback at up to 24-bit/192kHz
Proprietary 64-bit AFCTM technology and Jitter Management algorithm delivering increased sound width, separation, and detail 
Synergy Core effects to fuel creativity
The professional studio sound-enabling Zen Q Synergy Core comes complete with 37 bundled analog-modeled effects, emulating a studio stocked with the rarest analog gear. Indeed, its Synergy Core platform offers immersive control of iconic equalizers, dynamic processors, guitar amps, reverb, and more — including Gyraf Gyratec IX (tube mic preamp) and Stay-Levin (compressor) — with over 50 optional expansions available through Antelope Audio's well-stocked Software Store, where all available Synergy Core effects for Zen Q Synergy Core can be explored.
Diverse I/O with room to grow
Zen Q Synergy Core's connectivity centers around two Combo XLR jacks with switchable modes to toggle between the discrete console-grade preamps, LINE level, or HiZ, while the front panel provides two switchable line/Hi-Z inputs — G1 and G2 — for added flexibility. For monitoring, there is a stereo MONITOR output and a separate LINE OUT pairing to connect another set of studio monitors or external outboard gear, both backed by a mastering-grade D/A converter. There is also a separate DAC for the HP1 and HP2 (independent headphone) outputs. A simple desktop setup can easily be transformed into a multichannel configuration, thanks to the SPDIF IN/OUT and ADAT IN connections:
2x discrete ultra-linear preamps with 65 dB of gain for studio-quality recordings, both working as MIC/LINE/HiZ inputs on Combo XLR jacks, with 48V of phantom power and independent preamp gain for each input
2x Hi-Z/line instrument inputs over TRS ¼" jacks
2x signal-balanced, DC-coupled LINE OUT (outputs) over TRS ¼" jacks (+20 dBu max)
USB-C port carrying up to 16 input and 16 output channels in any popular DAW with custom macOS and Windows drivers
Digitally expandable over SPDIF IN/OUT, with two channels available
Digitally expandable over ADAT IN, with eight channels available (at 44.1/48kHz)
1x stereo signal-balanced, DC-coupled MONITOR output on TRS ¼" jacks (+20 dBu max)
2x stereo headphone outputs with separate volume control
Fast and efficient workflow
Users of Zen Q Synergy Core can reap the benefits of a USB-C interface with an optimized audio driver for low-latency playback, streaming, and recording paired with onboard software. It allows for seamless control over essential parameters such as signal routing, sub-mixes, and monitoring, while applying Synergy Core effects without overburdening their system — all integral to enhancing workflow at every stage of the production process: 
Bus-powered, compact (W: 198 mm/7.8", D: 137 mm/5.4", H: 57.5 mm/2.3") interface without the need for a dedicated power source
Direct monitoring with Synergy Core effects, processed in real-time with imperceptible latency
Simplified I/O routing with preconfigured settings, allowing immediate recording and playback
Easily accessible front panel-positioned controls for input and output levels, as well as other settings
Customizable presets with settings for signal routing, level adjustments, mixer, and effects
Customizable monitoring mixes with adjustable volume, pan, and reverb