INTRODUCING SCORPIO

Scorpio is a next–level modern motion synth ready to push the boundaries of your music and inspire you  in ways you have never imagined. Whether you want to keep things simple with the hundreds of  presets or dive deep beneath the surface to sculpt something that's all your own, this instrument is  packed with high definition sounds that are sure to inspire your creativity.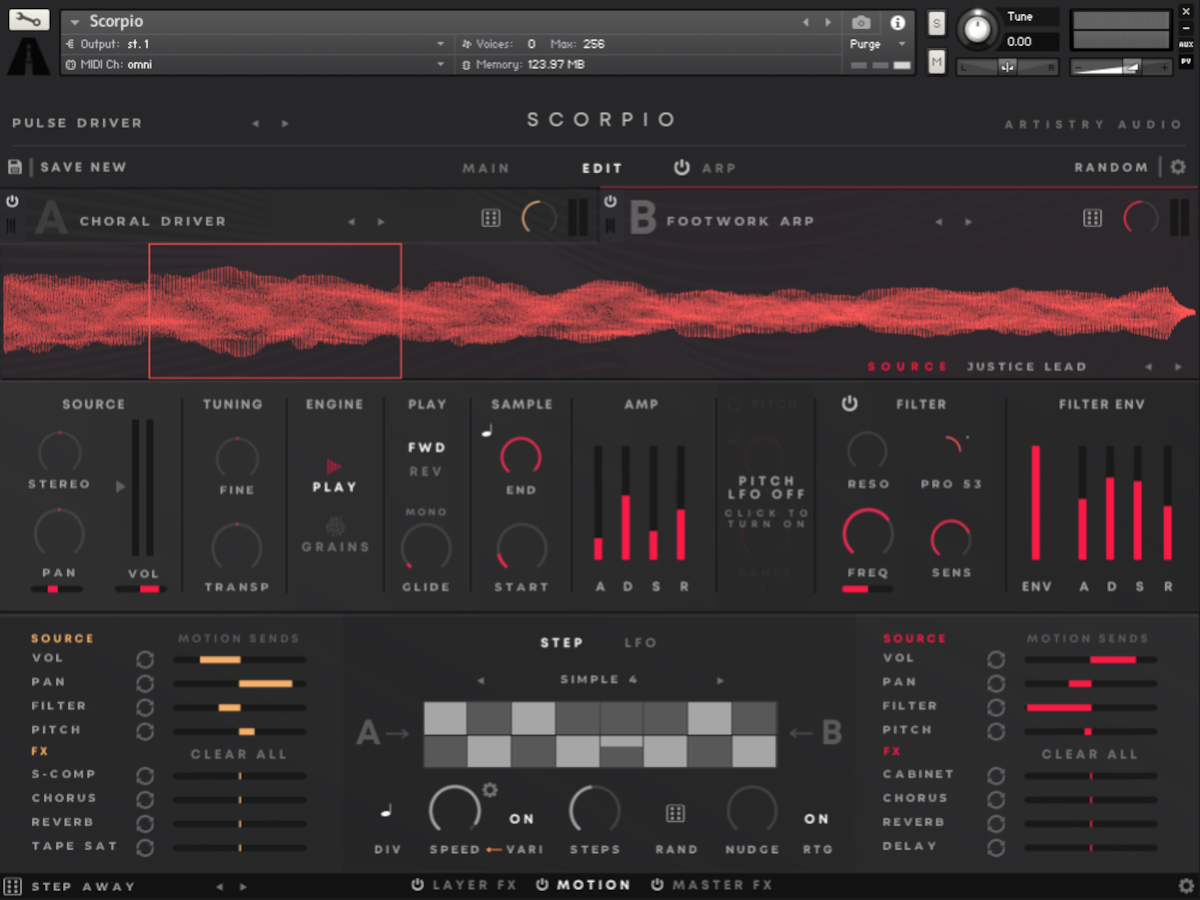 BESPOKE BROWSING
Built in Kontakt, Scorpio loads up as one monolith instrument with a fully tagged onboard browser for its 
presets, ef
fects and source sounds. It's simple to choose
from the master preset
tags and then quickly 
navigate to the type of sound that's perfect for your project. It's never been easier to create your own 
bespoke instruments and save them for one
–
click recall as y
ou can name, tag and save your creations 
with just a couple of clicks.
PULSE POTENTIAL
Despite the simple concept of this dual
–
layer instrument, S
corpio
features a web of complex systems
behind the hood
, all working together to provide the most ground
–
b
reaking pulse modulations and 
complex transformations that you've ever heard.
The Main page is where
it all begins
, with access to the creative XY macro controller, smoothly 
modulating the sound with a kaleidoscope of effects that you can record and playb
ack on demand.
If you prefer to
dig deeper,
Scorpio allows you
to manipulate multiple layers of parameters, from 
tempo
–
synced sample looping to granular playback
,
with ease
. This section also houses a huge collection 
of hot
–
swappable effects, in addition
to a powerful LFO/step animation matrix. Link almost any playback
or FX parameter to this programmable sequencer
to quickly
create
lush soundscapes of
complex 
rhythmic motion.
ACTION ARPEGGIOS
As if this wasn't enough, we also researched and implemented a new type of arpeggio engine for 
Scorpio
. This section of the library is perfect for taking
one of the dozens of
deep bases,
screaming 
synths
or short plucks, and pushing them to the next level.
Each arp lane can be set independently between 1 and 16 steps, so that interweaving motifs and 
polyrhythms can be played
with ease
.
Employ per
–
step triggering for controlled playback, or turn on 
randomization and retriggering so that you'll never hear t
he same sequence twice.
With dynamic playback that locks to tempo
and
a wide variety of scale types and preset
banks
, the 
intelligent engine
can quickly
create arpeggio sequences
and breathe new life into your productions.
ROLL THE DICE
Our newly d
eveloped engine encourages you to randomize any level of the instrument, from master 
sound sources right down to macro FX. Just
choose from the
multiple
randomization filters and click the
dice to transform the playback in big (or small) ways
–
it's up to
you.
Our intelligent randomization
features
ensure that your results are musical and genuinely useful, without wasting precious time.
Go here for more infos.