French hardware & software visionaries Arturia have released a tutorial video series focusing on DX7 V, their recently unveiled recreation of Yamaha's iconic FM synthesizer; the instrument that changed the face of pop music in the 1980s.
---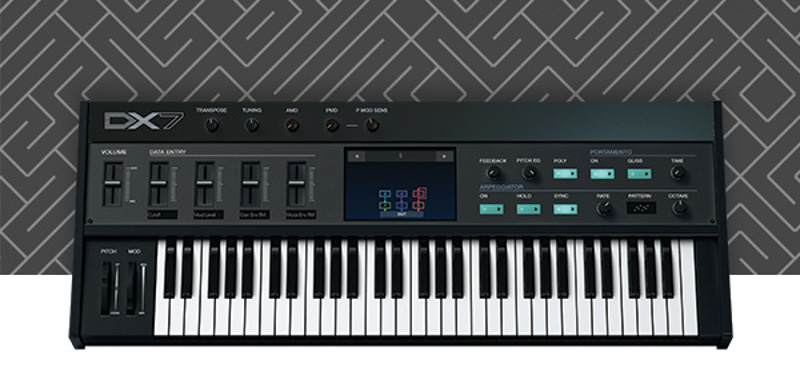 Hosted by Glen Darcey, the 3-part series covers all of the familiar features that DX7 enthusiasts will know and love, but also goes over the exciting new features that transform DX7 V into a true icon in its own right. The easy to follow series covers the Overview, Modulation, Envelope, Effects, and MIDI mapping options.
While recreating the sound of a digital synth in a digital world may seem like a straightforward process, the nuances of the original's instantly recognizable sound are often overlooked. Through Arturia's extensive track record of creating award-winning vintage synth recreations, their revitalized DX7 emulation not only reproduces the instrument's sound, but also the sonic subtleties that truly define it.
Expanding on the potential of the original, DX7 V adds exciting new sound-shaping features that weren't possible with hardware. Offering extra 'operators' – the DX7's innovative sound-shaping tools – as well as improved filters, an inspiring modulation matrix, customizable envelopes, extra waveforms, a 2nd LFO, lush effects, a step-sequencer, multi-mode arpeggiator, and more.
While many musicians were originally intimidated by the DX7's complex FM synthesis mechanics and tricky interface, Arturia's recreation makes things simple. Arturia enlisted some of the finest FM sound designers in the world, including synthesists who developed the original instrument, to create hundreds of incredible presets for you to enjoy. These sounds, including all of the presets that appear in the original synth, cover the DX7 V's full potential as a truly revolutionary synth, and will provide endless inspiration for musicians looking to capture that iconic 80s sound.
DX7 V is one of four new stunning vintage instrument recreations that are included in V Collection 6 – Arturia's groundbreaking retro synth and keyboard package. Containing 21 instruments, each modeled after a keyboard that changed the face of music as we know it. Within V Collection, you'll find meticulously modeled analog synths, digital powerhouses, incredible performance keyboards, acoustic and electric pianos, organs, a string machine, and even a sampler.
Breathing life back into the most iconic keyboard instruments of all time, V Collection is the ultimate creativity launchpad, and an essential studio tool for the modern music producer.
To see the new Arturia DX7 V in action, hear it alongside the original synth, and get a fast-paced rundown of the features, check out this fun, informative overview
video

.
https://youtu.be/BeEIRpssIGk