Bremmers Audio Design aus den Niederlanden hat sein Multitrack Studio jetzt auch für das iPad vorgestellt. Damit kann man bis zu 16 Audio- und oder Midispuren aufnehmen. Hier ist die Mitteilung des Herstellers :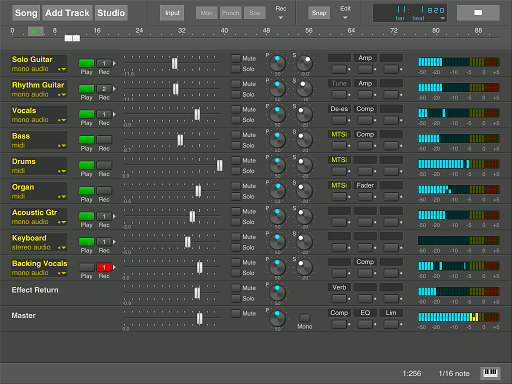 MultitrackStudio for iPad
MultitrackStudio for iPad is a streamlined, simplified version of MultitrackStudio. It's even easier to use, even more straightforward and even more fun. Think MultitrackStudio but leave out the computer problems and distractions… that's MultitrackStudio for iPad!
Key Features:
Up to 16 audio/MIDI tracks, audio tracks can be mono or stereo.
Editors: audio, pianoroll, drum, score, MIDI controllers, timesig/tempo and song.
One effect return section.
One master section.
Three effect slots per mixer section (two for MIDI tracks).
Effects: Automated Fader, Chorus, Compressor, DeEsser, Echo, EQ, Flanger, Guitar Amp, Master Limiter, Noise Gate, Phaser, Pseudo Stereo, Reverb, Saturator, Tremolo, Tuner and Vibrato.
MIDI instruments: MultitrackStudio Instruments (General MIDI compatible) and one CoreMIDI output device.
MIDI sources: onscreen keyboard (keyboard, drum and various string layouts) and one CoreMIDI input device.
Audio sample rate: 44.1 or 48 kHz.
Imports .wav, .aif, .mp3, .mid and various other audio file types.
Exports .wav and .mid files.
Exports .zip file containing all files needed to open song in MultitrackStudio for Windows/OS X.
Die Software kann im App Store erworben werden. Der Preis liegt derzeit bei 18,- USD, ab 21.01.2014 dann 30,- USD.
Weitere Informationen gibt es hier: Link