RIGA, LATVIA: having successfully showcased MOTOR Synth as the world's first electro-mechanical desktop synthesizer at SUPERBOOTH19 in Berlin, May 9-11 — wowing well-known attendees like legendary French electronic music pioneer Jean-Michel Jarre and Atlanta-based American electronic musician and acclaimed sound designer Richard Devine in doing so, uncharted music electronics territories explorer Gamechanger | Audio is proud to announce that its IndieGoGo crowdfunding campaign starts on Tuesday, May 28 (at 4PM GMT)…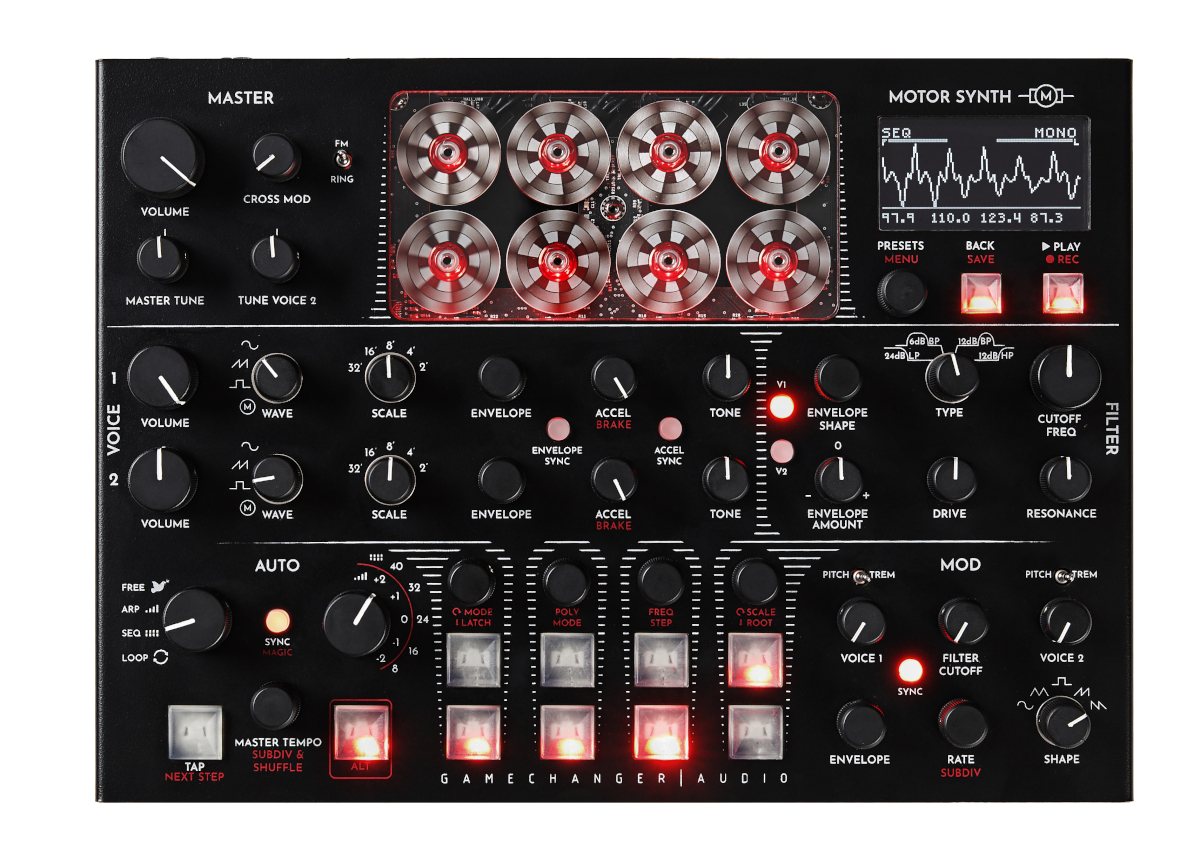 Once its IndieGoGo crowdfunding campaign commences, MOTOR Synth will be available to pre-order — prices starting at $749.00 USD — for 30 days. After the crowdfunding campaign closes, MOTOR Synth will only be available for online and in-store purchase at an MSRP (Manufacturer Suggested Retail Price) of $1,299.00 USD when shipping starts, scheduled for around November/December 2019.
As the world's first electro-mechanical desktop synthesizer, MOTOR Synth really represents a new method of analogue audio signal synthesis since digitally-controlled electromotors (used to convert electrical energy into mechanical energy) have never before been used as the principal sound source for a commercial musical instrument. In a nutshell, MOTOR Synth produces sounds by accelerating and decelerating eight electromotors to precise RPMs (revolutions per minute) that correspond with specific musical notes. Each electromotor is fitted with a magnetic pickup/inductor and an infrared photosensor that reads a spinning optical disc with printed sine, sawtooth, and square wave-shapes. Besides using motors as oscillators, the rest of the synth's features are designed in the best tradition of analogue gear.
Extraordinarily employing electromotors alone are enough to make MOTOR Synth sound like nothing else out there — think eight harmonious revving engines pumping out an intimidating noise! "Nowadays we can find so many synthesizers on the market more or less based on the same system," says Jean-Michel Jarre, before continuing, clearly impressed with what he first saw and heard at SUPERBOOTH19: "I've been really blown away by MOTOR Synth by Gamechanger | Audio. It's an analogue, electro-mechanical synthesizer. The little discs all turn. It's very cool — very nice and very different from a visual point of view. And, of course, the sound is quite extraordinary."
Such sentiments certainly ring true with fellow celebrity SUPERBOOTH19 attendee Richard Devine: "It's really one of the most unique synthesizers I've seen in a long time. It's like a playground of really fun, interactive function controls — a really unique way of playing pitches and morphing the envelopes. The entire system has this really interesting, organic sound to it. The interface is super-easy to get around — the arpeggiator and sequencer. On the first day of not even seeing the manual, I was able to fumble around and get into some interesting, strange things. I've got to say, it really surprised me — really, really interesting, and I want to get one! I love mechanical things. I love things that are actually mechanical in nature — especially when you mix it up with electronics. I love its mechanical machine aspect; my music already kind of sounds like that, so it spoke to my heart, instantly. I just love stuff that looks cool, that's interactive with sound. So the mechanics and the architecture of this synth — everything about the aesthetics, all the way up to the sound, just blew me away on every level!"
Little wonder, though, that Jean-Michel Jarre and Richard Devine — definitely no strangers themselves to just about every synthesizer ever made — were both blown away by MOTOR Synth, since nothing like it has ever been built before! But far from losing its users in totally unknown territory, MOTOR Synth still features familiar analogue audio processing circuits — filters, envelopes, et al — alongside arpeggiation, cross-modulation, sequencing, and multiple polyphonic mode facilities, as well as an innovative looping system that allows adventurous users to layer rhythm and melodies, just like when using a loop station.
On a not so musical — though no less extraordinary — note, MOTOR Synth's see-through protective glass cover above its core sound system of eight electromotors enables users to receive visual feedback from the instrument itself by being able to see those spinning electromotors in action. But better still, the visual experience is enhanced still further by the also-visible set of reflective optical discs attached to the electromotors' shafts being coupled to a set of eight mini strobe lights, so those spinning discs themselves turn into a hypnotic light show! Showman Jean-Michel Jarre should surely be blown away again. After all, he is also known for staging large-scale outdoor spectacles.
Meanwhile, MOTOR Synth has also been on the receiving end of some welcoming words from Girts Ozolins, visionary founder of fellow Lativian company Erica Synths, with whom Gamechanger | Audio closely collaborated on the PLASMA Drive module for the ever-popular Eurorack small-format modular system: "I'm creatively envious for the second time about what Gamechanger | Audio has done. First was PLASMA Drive; second is this — such a different instrument."
Indeed it is. Sonic enthusiasts who — like Richard Devine — cannot wait to get their hands on the world's first electro-mechanical desktop synthesizer should seriously consider taking an online trip to its IndieGoGo campaign (https://www.indiegogo.com/projects/motor-synth/coming_soon)  as their go-to destination for landing a limited early bird bargain buy-in.
The IndieGoGo campaign for Gamechanger | Audio's MOTOR Synth starts on Tuesday, May 28 at 4PM GMT (Greenwich Mean Time), 7PM EEST (Eastern European Summer Time)/UTC (Universal Time Coordinated) +3, 5PM BST (British Summer Time)/UTC +1, 12PM EDT (Eastern Daylight Time)/UTC -4, 9AM PDT (Pacific Daylight Time)/UTC -7, 2AM AEST (Australian Eastern Standard Time)/UTC +10, 1AM JST (Japan Standard Time)/UTC +9, and 4AM NZST (New Zealand Standard Time)/UTC +12; explore and support the IndieGoGo campaign for the project — pre-order prices starting at $749.00 USD — here: https://www.indiegogo.com/projects/motor-synth/
For more in-depth information, please visit the dedicated MOTOR Synth webpage here: https://www.gamechangeraudio.com/motor-synth/
Watch legendary French electronic music pioneer Jean-Michel Jarre, Atlanta-based American electronic musician and acclaimed sound designer Richard Devine, and Erica Synths' visionary founder, Girts Ozolins, talking MOTOR Synth here: https://youtu.be/1YTAYIjbwxo
See and hear MOTOR Synth in action in its inaugural overview video here: https://youtu.be/sru4f4AJ0zI
Watch Gamechanger | Audio's automotive-assisted trailer video for MOTOR Synth here: https://youtu.be/AaIhBu4adZ8