Letzten Samstag Abend, 07.12.2013, in Neuruppin: Gegen 21 Uhr betraten Lord Bishop (Gitarre), Mr. Tide (Drums) und Cecil Drackett (Bass&Vocals) die Bühne des ausverkauften Kulturhauses. Das Trio trat als Supporting Act für Eric Burdon and the Animals auf. Doch das war nicht das Besondere an diesem Abend.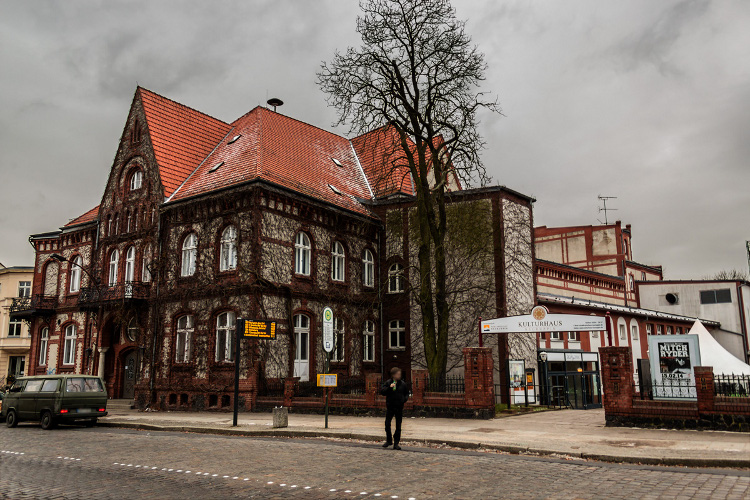 Das Kulturhaus in Neuruppin (Brandenburg)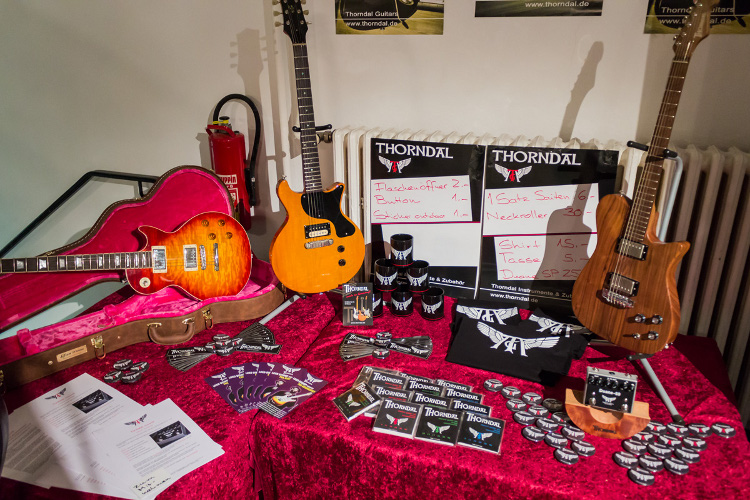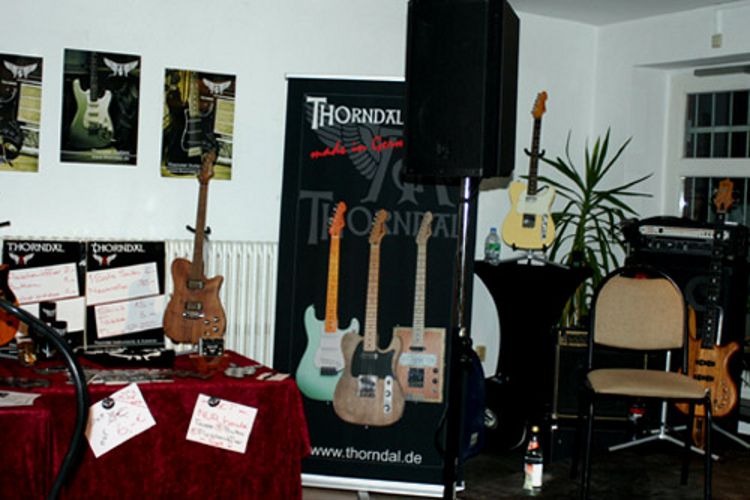 Thorndal Gitarren und Zubehör im Foyer
Schon im Foyer des Kulturhauses wartete eine Austellung der Firma Thorndal auf die Besucher. Das Thorndal Team um Gregor Olbrich zeigte hier eine breite Palette an Gitarren. Und Lord Bishop stellte seine Thorndal HENDRIXIAN Signature Gitarre zum ersten mal der Öffentlichkeit vor. 
Ich hatte schon im Vorfeld Gelegenheit ein "Ferninterview" mit Dagmar Mühleisen (Geschäftsführerin von Thorndal) und Lord Bishop zu führen:
Frage an Dagmar Mühleisen: Wie haben Sie Lord Bishop kennen gelernt und wie kam es zur Zusammenarbeit?
Antwort von Frau Mühleisen: Wir kennen uns aus der Zeit, als ich noch eine Bookingagentur hatte und Tourneen für ausländische Bands hier in Deutschland organisiert habe.  In dieser Zeit hatte ich öfters Kontakt mit Lord Bishops damaliger Agentur. Als nun bei Lord Bishop der Wunsch nach einer Signaturegitarre aufkam, stellte Andreas Vockrodt, sein damaliger Agent und Freund, den Kontakt zu uns her.
Fragen an Lord Bishop:
1.) You was on tour across Germany with some Thorndal guitars. What do you like most about the instuments?
Antwort LB: WHAT I LIKE  ABOUT THEM IS THAT  THEY ARE  MADE FROM THE HANDS  OF A GENIUS, AND THEY ARE MADE WITH LOVE IN THEM .. WHEN   YOU PICK THEM UP  THEY  ARE SOLID  AND YOU  FEEL  ALREADY LIKE YOU  HAVE A REAL  INSTRUMENT IN YOUR HANDS .. AND THE  TONE  IS  REALLY .. INTERESTING  AS SOMEHOW  THEY  HAVE THE THORNDAL  TONE.. WHICH  COMES FROM THE  HANDS  OF GREGOR .. I LOVE THEM
2.1) What makes the Hendrixan guitar different to other Thorndal guitars?
Antwort LB: ITS   SIMPLY  PUT TOGETHER WITH ALL MY SPECS  AND HOW I WANTED THE GUITAR  TO SOUND .. AND HAVE  THE  ABILITY  TO  SOUND LIKE THE  HIT MAKER  STRAT OF  NILE  RODGERS  AND THE FREAKED OUT  BLUES ROCK  STRAT OF  STEVIE RAY  VAUGHN.. AND THE BITE  OF THE  THE JIMI HENDRIX  STRAT.. and of course  its  up side down   for a right handed player so its already  weird for most players and it gets  some getting used too.. but when you  get it you love it and  these  are my  specs below:

Body Alder, Neck Maple, Pickups:  1 x Double Blade Singlecoil HB/ 1 x Thorndal Custom Mojo Blues/ 1 x Thorndal Custom SRV, fixed lefthand tremolo, pickguard white pearl, Thorndal AVX circuit
2.2) ….and also to guitars from other brands?
Antwort LB: THERE  ARE  FOR SURE  ALOT OF GREAT  GUITARS  OUT THERE.. AND  IM NOT KNOCKING THEM BUT AGAIN I WANT  TO  EXPLAIN IN ALL THORNDAL  GUITARS HAVE A RED LINE OF TONE  AND THAT  COMES FROM GREGORS EARS AND THIS  MAKES HIS GUITARS VERY  SPECIAL..  YOU  CAN BUY  A BRAND  NAMED GUITAR  BUT  YOU  WILL NEVER  GET A REDLINED TONE  BECAUSE THEY ARE MADE BY MACHINES IN COLD FACTORYS  AND  MAYBE 1 OUT OF 1000  HAS  GOOD TONE .. WHEN ITS NOT PLUGGED  IN.. all THORNDALS  HAVE KICK  ASS TONE..
3.) Can we aspect, that we'll see some more LB signature guitars in the future?
Antwort LB: I HOPE  SO  I WANT  TO LAUNCH  THIS ONE
AND I HAVE  ALSO  ANOTHER IDEA  COMING  IN THE FUTURE CALLED  THE  "BOKILLER".BUT  LETS GET 1000  HENDRIXIAN  SOLD  FIRST!!!
Das offiziellen HENDRIXIAN Fotos: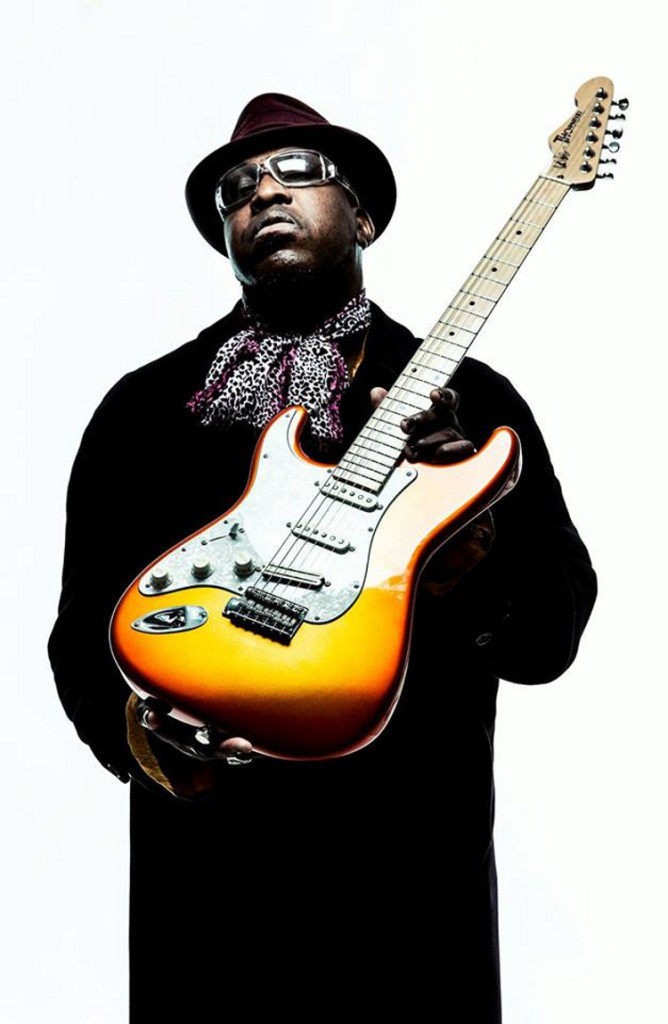 Lord Bishop mit seiner Thorndal HENDRIXIAN Signature Gitarre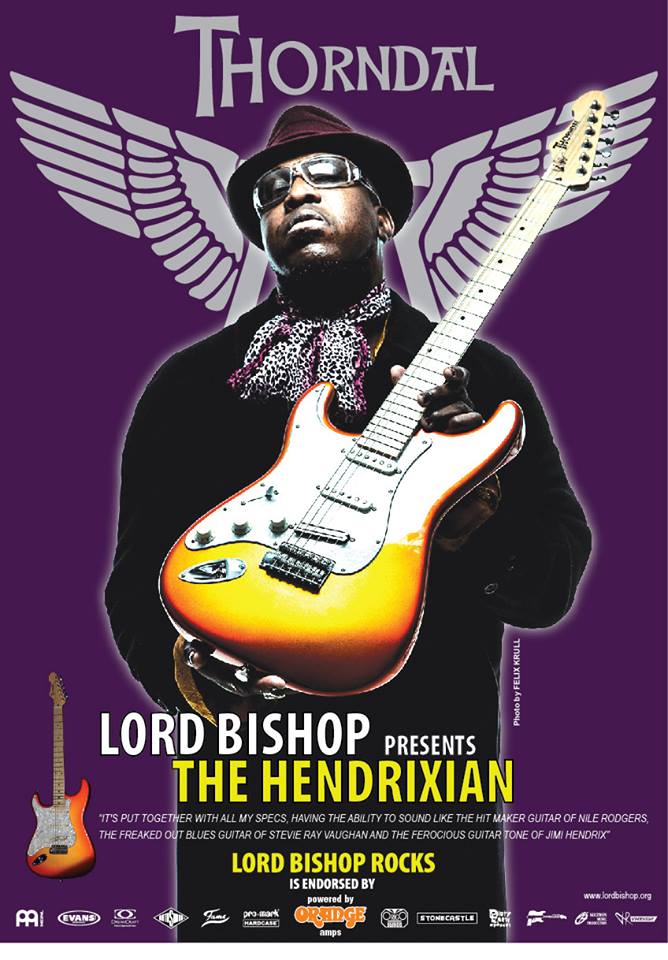 Ohne Worte
Lord Bishop mit seiner HENDRIXIAN auf der Bühne:
Bildergalerie Neuruppin:
Es gab aber noch eine Überraschung. Der Gitarrist von Eric Burdon fand Gefallen an der Thorndal "Virginia" Cigar Box Gitarre: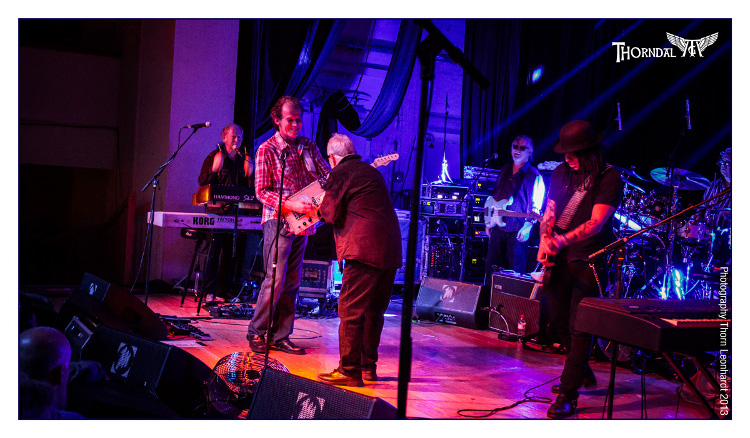 "What the hell is this?" fragt sich Eric Burdon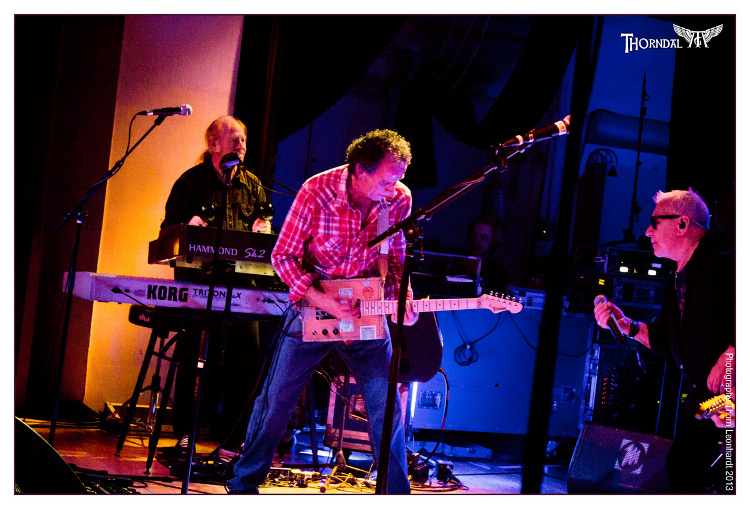 Das ist die Thorndal "Virginia" Cigar Box Gitarre!
Noch einmal zurück zur Thorndal HENDRIXIAN Gitarre. Lord Bishop hatte im Interview ja schon die Einzelheiten zu seiner Signature Gitarre genannt:
Korpus aus Erle
Hals aus Mahagony
Pickups:  1 x Double Blade Singlecoil HB/ 1 x Thorndal Custom Mojo Blues/ 1 x Thorndal Custom SRV
festehender Linkshänder Tremolo
Pickguard: Perlmut weiß,
Thorndal AVX circuit
Wie der Name schon sagt, ist die Gitarre ein Tribut an Jimi Hendrix, der bekanntlich Linkshänder war, aber sein Leben lang auf Rechtshänder Gitarren gespielt hat, was daran lag, das es in seiner Kindheit, als er anfing Gitarre zu spielen, keine Linkshänder Gitarren von der Stange und zu erschwinglichen Preisen gab. So war auch bei ihm der Pickguard, die Poties und der 5 Wege Schalter immer oben und die Tuner an der Kopfplatte zeigten immer nach unten. Allerdings waren bei ihm auch die Saiten "verkehrt" herum aufgezogen. Die tiefe E-Saite unten und die hohe E-Saite oben. Das ist bei der HENDRIXIAN natürlich nicht der Fall.
Nach dem Konzert gab es noch eine "After Show Jam Session" der Thorndal Band und Lord Bishop:
Wer das Konzert in Neuruppin verpasst hat, kann Lord Bishop am 07. Februar 2014 im "Tante Ju" in Dresden live erleben.
Weitere Informationen gibt es hier: Link