November 16, 2023 – IK Multimedia releases the ODS Legends Signature Collection for TONEX. The first in a new series of Signature Collections, ODS Legends offers guitarists instant access to 4 priceless Dumble Overdrive Special amplifiers. Found behind many of the world's best players including Robben Ford, Stevie Ray Vaughan, Larry Carlton, David Lindley, John Mayer and more, the Overdrive Special easily fetches 6 figures when a rare example goes to auction. Also included as a bonus are Tone Models of 2 legendary overdrive pedals: a Silver Klon Centaur and an early '80s Ibanez TS808.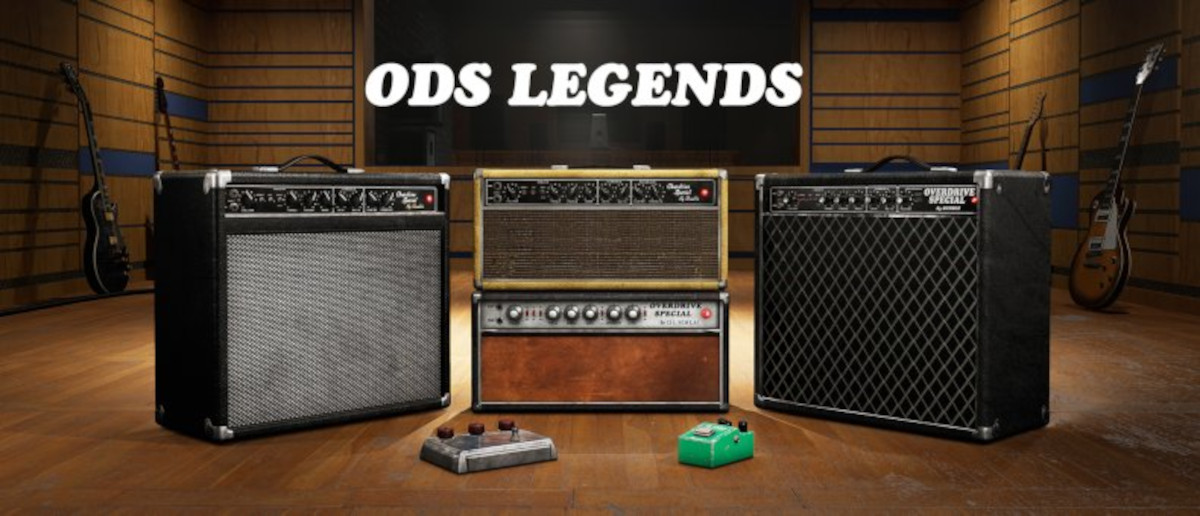 IK had the exclusive opportunity to capture each of these incredible amps while they passed through the world-famous Ocean Way Studios in Nashville, Tennessee, a studio renowned for its superior recording facilities and long history of hosting legendary musicians. All amp and pedal settings were dialed in by tone experts to a variety of sweet spots from clean to overdrive and meticulously captured in between recording sessions.
This collection of 20 Tone Models recreates the very essence of these vintage treasures and makes them finally accessible to all discerning tone aficionados. Utilizing IK's cutting-edge AI Machine Modeling Technology in conjunction with the Ocean Way's sonically perfect environment has produced incredible results available now for purchase and download.
Showcasing an Artist's True Talent
The all-tube Overdrive Special is Howard Dumble's most prized model and was produced in very limited numbers, each one hand-wired and custom-built for a particular artist to suit their playing style and tone requirements. Known for its inspiring harmonic richness in the overdrive channel and transparency in the clean channel, the ODS is extremely versatile and can be used for a variety of genres including blues, rock and jazz, rewarding the player with unmatched headroom and responsiveness.
The 4 Overdrive Specials in this collection are pristine examples and were purchased from their original owners with their original tubes still mounted. They include a 1979 Dumble ODS 50-watt head, a 1983 Dumble ODS 100-watt head, a 1984 Dumble ODS 50-watt combo and a 2004 Dumble ODS 50-watt combo. Because the circuitry was tailored to suit a specific player, each amp offers a distinct and exciting tone that TONEX fully captured with multiple settings, letting users find the Tone Models that sound best for each situation.

Two Legendary Pedals
The ODS Legends collection includes an original Tube Screamer TS808 from 1981, a brilliant distortion and overdrive box from Ibanez. Still highly in demand today, vintage units easily trade above $1,000. Also included and fetching high prices is the legendary Silver Klon Centaur overdrive, which holds a mystique for its unique overdriven tones and boosting capabilities. Both pedals add a new dimension to the organic and fantastic tones in this collection.
State-of-the-art Captures
All Tone Models in the ODS Legends Signature Collection were captured by Audio Engineer and Operations Manager, Austin Atwood at Ocean Way Studios, a world-renowned recording studio located in Nashville, Tennessee. Housed in a 100-year-old Gothic revival grey stone church, Ocean Way Nashville provides an exceptional acoustical space and has recorded some of the biggest names in music including Willie Nelson, Sheryl Crow, Steve Martin and Paul Simon.
Living the Legend
The ODS Legends Signature Collection offers a once-in-a-lifetime opportunity to experience the exact tones revered by countless guitar legends live on stage and comes bundled for a limited time with new purchases of TONEX Pedal. Whether seeking the creamy overdrive of a Dumble amplifier, the harmonically rich overdrive of a Klon or that timeless Tube Screamer tone, this collection gives users exclusive access to record and perform with these celebrated tones at any time.
Instant Access
Signature Collections can be browsed and purchased via ToneNET, IK's online tone-sharing and social platform, or within any version of TONEX Mac/PC including the free TONEX CS. After purchase, Signature Collections become activated inside TONEX software by selecting "Restore Purchases" in the Account panel, which instantly downloads all collection Tone Models to the user's local library ready to play.
For AmpliTube Too
Signature Collection Tone Models work seamlessly inside AmpliTube 5. The TONEX amplifier and pedal gear models function just like other AmpliTube amps and pedals. They can be used together to build custom signal chains and save as presets for easy recall. The combination of TONEX ODS Legends and AmpliTube 5 lets users experiment with mid-stacking several ODS Tone Models together to create their own signature dream tones.
Pricing and Availability
ODS Legends Signature Collection is available now to purchase via ToneNET and within any version of TONEX for Mac/PC for a limited-time introductory price of $/€49.99* (reg. $/€99.99). The collection is also included with new purchases of TONEX Pedal made from November 01, 2023, through December 31, 2023, for $/€399.99.
*All pricing excluding taxes.
For more information about ODS Legends Signature Collection and to hear the tones, please visit: