AmpliTube Orange ist eine neue Kollektion von 17 authentisch klingenden Amp und Cabinet Modellen für AmpliTube3 (PC/Mac). Orange ist bekannt seit den Londoner "Swinging 60th" für einen warmen und crunchigen Röhrensound. IK Multimedia ist die einzige Firma, die von Orange offiziell für die Emulation zertifiziert wurde. Und so stellt AmpliTube Orange die definitive Kollektion dar.
In der Kollektion sind enthalten: Der Tiny Terror, ein 15 Watt Head mit 2 Stage Preamps, der Dual Terror, welcher den Tiny Terror und einen crunchigen Fat Channel beinhaltet. Die OR50 und OR120 Heads mit HF Drive Kontrolle. Ein Thunderbird 200, der sich sowohl für Gitarre, als auch für Bass eignet. Der AD30TC, ein 30 Watt Class A Combo und der Rockverb 50 MK2.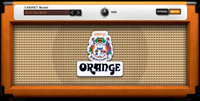 Die AmpliTube Orange Cabinets enthalten: 1×12 PPC112, the 2×12 PPC212 Open-Back, PPC212, and AD30T, the 4×12 PPC412, the 4×10 OBC410, the 8×10 OBC810, and the 1×15 OBC115. Alle können untereinander kombiniert werden.
Die Amplitube Orange Kollektion kann im IK Multimedia online Shop, oder im Custom Shop bestellt werden. Im Custom Shop sind die Amps und Canbinets auch einzeln erhältlich. Zudem kann man sie für 72 Stunden kostenlos testen.
Weitere Informationen gibt es hier: Link
Audiobeispiele gibt es hier: Link
Video gibt es hier: Link