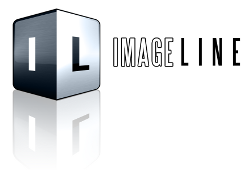 Image Line has announced the release of FL Studio 12 and Groove Mashine Mobile. Theres a lot of new features and improvements. See the list below. As always, the Update is free for existing users.
Notable new features:
Vectorial UI – FL Studio is now 100% vectorial allowing it to be used on 4, 5 or even 8K monitors with pin-sharp fidelity.
Mixer – Completely redesigned mixer, dynamically resizable with 6 layout styles plus 3-user configurable docking panels (left, centre and right) for track management. Multi-fader selection and adjustment. Improved mixer track grouping. Multi-touch support. 10 FX slots per track. Many new multi-track routing automated options. Enhanced grouping and submix functions. The dedicated 'Send' channels have been replaced with general purpose send tracks and added to the overall track-pool.
Updated plugins – 3xOSC, Edison, Formula Controller, Peak Controller, Keyboard Controller gain vectorial UIs. Envelope Controller (8 articulators, Mod X/Y envelopes & vectorial UI), Send (can now send to any mixer track & vectorial UI), Hardcore (new tube distortion effect & convolution based cabinet simulation), Patcher (Plugins open outside patcher. Auto patcherizing of existing plugins & multi-touch support). Fruity Convolver new impulse library by Soundiron. Finally, the Channel Settings are now integrated into the Wrapper. ZGameEditor Visualizer – Loads all popular video formats and gains 4K+ rendering.
Piano roll – Time markers added for labelling and looping purposes. Auto-zoom can now be switched off in the General Settings. Stamp tool replaces chord tool and allows users to click in chords from a selector. Macro to find overlapping notes.
Playlist – Drop multiple stems or Audio Clips on the Playlist from any Windows file browser.
Browser – Improved layout with user configurable category tabs (name and icon). The default categories include Files, Plugins and Current Project providing key content at a glance. Improved file management with Right-click delete options for most content.
Multi-touch support – Multi-touch has been extended to Mixer functions, Channel settings and Control Surface. Swap between Windows Multi-touch and FL Studio Multi-touch modes.
Improved 32 & 64 Bit VST plugin support – The wrapper has been redesigned to improve stability and compatibility. The FL Studio Plugin scan tool now allows unlimited VST search locations and quick favoriting.
…and many more. See the 'WhatsNew.rtf' document in the FL Studio 12 installation folder.
FL Studio Groove is now on Google Play and Apple iTunes under the new title Groove Machine Mobile. Click above to see why it's already one of the top grossing music apps on the Windows App store.
For more informations go here: LInk