Baton Rouge, Louisiana—January 2018…

 

Known for meticulously hand-built guitar amplifiers and cabinets featuring no-compromises quality, supremely musical sound, and attention to detail, Komet™ Amplification has never been a "me-too" company. Designed in collaboration with Scotty Smith of ProAnalog Devices, the company's new Komet OverDrive Amplifier pedal, or K.O.D.A., continues the company's tradition of unique designs: a full-featured "amp-in-a-box" with a discrete preamp, active tone control section, and a switchable power amp output stage.
---
​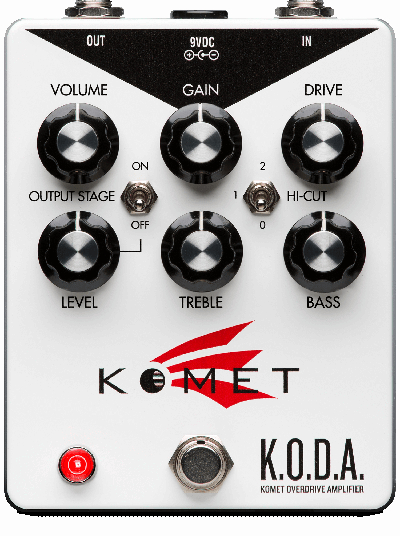 Komet's first pedal, the K.O.D.A. can be operated with the output stage switched on or off for distinctive tone and response characteristics, delivering a level of versatility not found in other "amp-like" pedals. A three position hi-cut switch enables you to fine tune K.O.D.A.'s treble content to your amplifier, and you can EQ the low and high ends separately.
The result is a massive sounding, versatile pedal that's remarkably tunable and offers an amp-like overdrive structure. Gain staging can be controlled anywhere in the circuit, allowing for anything from a fat, clean boost to edge-of-breakup overdrive—or go all in for searing, high-gain distortion.
K.O.D.A.'s natural response is full of rich harmonics, yet the unique characteristics of your favorite instrument are never masked. The pedal has a remarkable amp-like feel and response and reacts well to changes in picking dynamics and guitar volume. And like everything from Komet, it's made in the USA with top-quality parts and workmanship. For more information, please visit Komet Amplification at Winter NAMM booth 3346 or go to