Bristol, UK – 30.September 2022. Modal Electronics, a leading global synthesiser manufacturer, has just released an all-new firmware update for their feature-packed COBALT8-Series synthesisers. COBALT8-Series firmware v2 redefines the sound and functionality of Modal Electronics' extended virtual-analogue synths by adding various new forward-thinking features to inspire the creativity of musicians, producers and sound designers.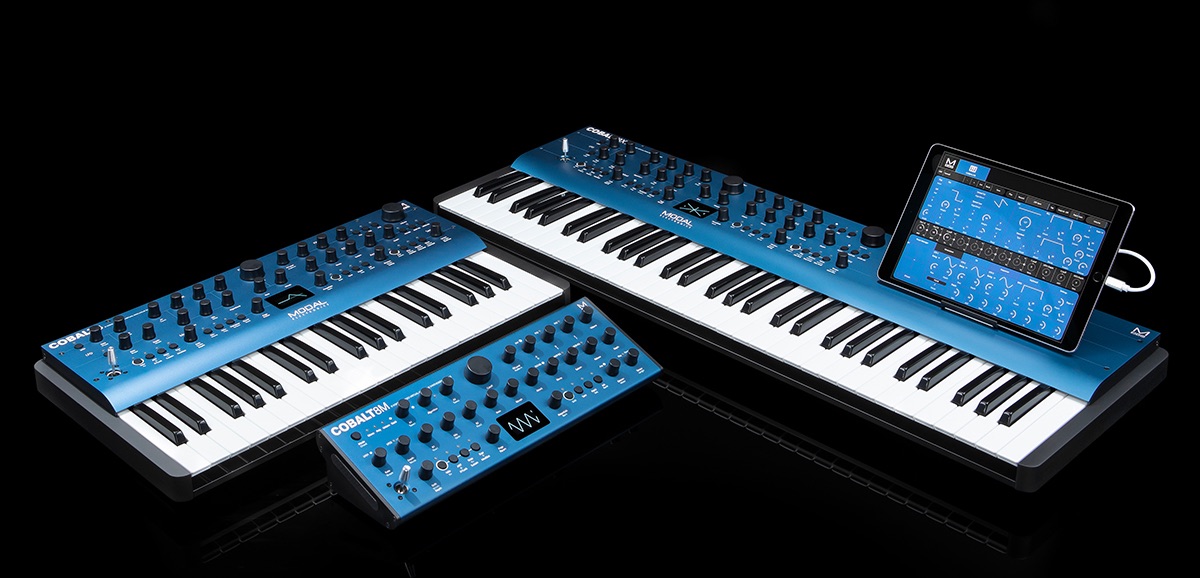 New in Firmware v2
With the brand-new Vintage parameter and Oscillator Free Run, COBALT8 adds more vintage and classic synth capabilities. The Vintage setting alters the organic fabric of the advanced virtual-analogue algorithms by emulating the behaviour of vintage synths' technical imperfections, where certain tuning and other variations were introduced into the sound generation. Oscillator Free Run is a feature known from analogue synthesisers and, when activated, adds to the sonic flexibility of COBALT8. 'Classic' Synth sounds are so much more alive with the vintage, and free run parameters ensuring every key press is slightly different than the one before.
A whopping 27 new filter types increase the already impressive arsenal for creative sound design with COBALT8 Firmware v2. The list includes 2-Pole State Variable Filters, various Lowpass, Bandpass and Highpass Ladder Filters with drive, combinations of traditional filter types with Notch characteristics, and much more. The new filters unlock even more classic synth tones and expand COBALT8's experimental capabilities with the more complex filter outputs to create sounds that no one could imagine before. For all new filter types featuring Drive, the Morph control allows for dialling in the right filter drive amount to taste. 
The new Cutoff Scaling patch parameter unlocks improved filter cutoff behaviour with three distinctive modes to increase creative performance and sound design options. 
Note-to-Cutoff Scaling can now track with full accuracy in one of two new modes; Relative, and Bipolar. These modes can be tailored to match your preferences on a per-patch basis. The original note-to-cutoff characteristics remain available in Legacy mode. 
Additionally, COBALT8 Firmware v2 includes 14 powerful new effects. Harnessing our flexible processing distribution system, some of the new additions harness the power of two effects slots for more sonic power and depth. The V2 Reverb is great for adding a little bit of space to a sound, huge near-infinite reverbs, and everything in-between. Creative sound gourmets will also enjoy the new Phaser v2, Compressor, Three-Band EQ, Unisoniser, Utility and additional Drive effects, giving enough options to give custom patch creations a final, production-ready touch
With the new firmware, the programmable Arpeggiator receives new Arp Directions to inspire musicians and producers. Firmware v3 also improves the capabilities of the OLED display, the Audio In quality, the gain staging of the audio output and much more. For a full list of new Features and Improvements, we recommend the Release Notes, available on the product's web page.
Firmware v2 is available as a free update via our MODALapp software.  
About the COBALT Series 
Building on the tradition of warm and punchy analogue-style synth sounds conceived by legendary synthesisers from the past, COBALT8 unlocks the full creative potential of analogue waveforms. This powerful, inspiring instrument reinvents the aesthetics of analogue sounds and invites musicians, producers and sound designers to explore a new era of virtual-analogue synthesiser textures far beyond the limits of its analogue forefathers. 
On top of the innovative oscillator engine of COBALT8, we added a new morphable 4-Pole Ladder Filter. Combined with Modal's unparalleled modulation options, an inspiring real-time / step sequencer, the energising arpeggiator, the Premium FATAR 37-note keyboard, MPE, studio-quality effects and MODALapp integration, COBALT8 is the perfect synth for everyone who wants a versatile electronic music instrument to play vintage synth sounds and is eager to enter new sound dimensions.
Eight true polyphonic voices tempt players to lay out wide string or rich synth pad chords, while a monophonic bass or lead patch, played with 64 oscillators can shake the walls of every stadium. And with the avant-garde sound forming features, every synth enthusiast can refine his performance with sounds that no other synthesiser is able to generate.
The free MODALapp brings the comfort of screen-based editing of all COBALT8 Series parameters to your computer or mobile device. Available as a standalone app for macOS, Windows, iOS, iPadOS or Android systems and in VST3 and AU plug-in formats, it is the perfect companion for synth enthusiasts looking to deep dive to all sound forming and performance parameters to create their own signature sounds – not to mention a fantastic tool to backup and manage patches and sequences. In tandem with the release of the COBALT8-Series' v2 firmware, MODALapp has also been updated to v2.8.5 to reflect the latest changes in ARGON8's synth engine. 
The COBALT8 Series are available in 3 models, each tailored to suit your workflow – the COBALT8 37-key variant, the COBALT8X 61-key variant and the COBALT8M desktop module.
For more informations go here.