Das koreanische Unternehmen Luxonix hat den Pop Keys Sampler für Kontakt 5.3 herausgebracht. Darin enthalten sind neben einem Bechstein MP192 Flügel, finden sich diverse E-Pianos und Synthesizer darin. Das schreibt der Hersteller: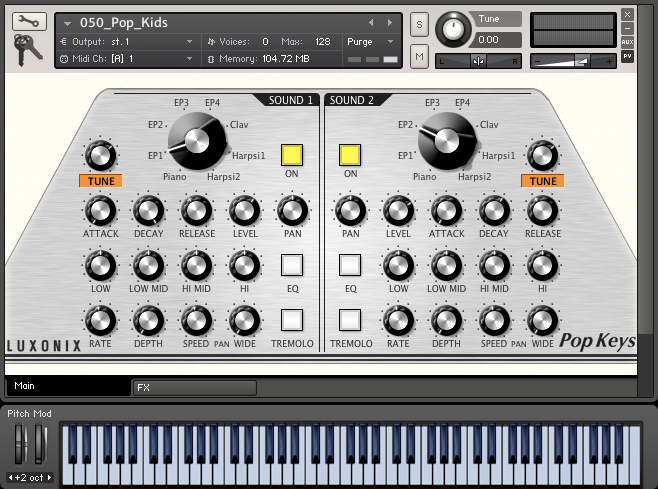 Pop Keys:
Pop Keys is a sample library for Kontakt of a useful keyboard sounds package.
Pop Keys has basically standard acoustic & electric piano sounds, moreover it has various keyboard instrument sounds total 150 presets. Just one Pop Keys will solve your keyboards part in your various music genres.
New style:
We put various keyboard instruments sound from our various sampling sources. Furthermore, we made more unique keyboard instruments sound through 2 Layers Mixing style. Therefore, you can easily make own sounds on this style. This layering system will be innovative instrument structure, because player's easy getting variety & richness.
Pop Keys has effectors to make various moods of keyboard instruments. And it has digit display knobs for accurate effecting. You will be satisfied by easy & accurate effecting.
Acoustic Pianos:
There are a lot of piano libraries on the market. Most of the libraries are Steinway (Hamburg or New York), Bosendorfer and Yamaha sounds.
We had recorded Bechstein MP192 Grand Piano which is made in Germany, to differentiate between other libraries with analog equipment in good sound concert hall. But distinction just has not many merits. Maybe you will need various colors of acoustic piano every songs mood. Pop Keys's acoustic piano sounds were based on Bechstein, but Pop Keys got various style presets.
About sample reality:
The problems with extremely real sample libraries are difficult to mixing or ensemble. Rather, suitable real samples are more helpful when making music. We gave a lot of thought to the matter, so made Pop Keys sounds for musicians. User just enjoy and make songs.
Electric Pianos etc:
We make unique hybrid keyboards sound through vintage instruments recording and our synthesizing technology. Have you ever worried about selecting E.P. sounds? Pop Keys has all styles of E.P. sounds.
Features:
– Various acoustic piano sounds
– Various electric piano sounds
– Various keyboard sounds for all music genre
– Innovate instrument structure by 2 layers mixing style
– Can easily make unique user sounds
– Easy and accurate digit display FX knobs
Tech Specs:
– 150 .NKI Kontakt instrument presets for Kontakt 5.3+
– 1,451 samples
– 24 bit / 44.1 kHz .NCW format samples (Lossless compression)
– About 900 MB installed (Compressed down from 2 GB)
Einführungsvideo:
Der Einführungspreis liegt bei 29,99 Euro. Dieser gilt noch bis Ende Februar. Danach kostet die Software 59,99 Euro.
Weitere Informationen gibt es hier: Link