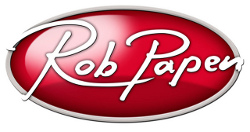 Rob Papen hat seine Punch Software jetzt auch als Rack Extension für Propellerhead Reason 6.5, oder höher, herausgebracht. Bis zum 01. Januar 2014 gibt es sie zum Einführungspreis von 39,- Euro, danach kostet die Software 49,- Euro. Die Rack Extension kann direkt im Shop auf der Propellerhead Webseite erworben werden. Es gibt auch eine Testversion. Hier ist die original Pressemitteilung: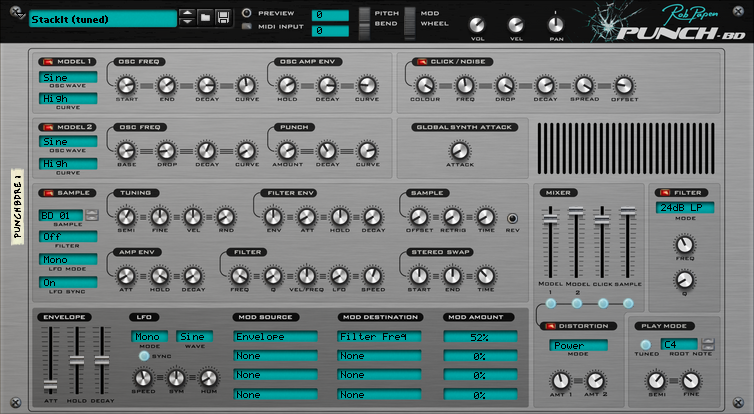 Rob Papen Soundware is proud to announce availability of PunchBD-RE, a versatile and easy-to-use bass drum synthesizer Rack Extension for Propellerhead Reason 6.5 (or higher), as of December 19…
When Swedish music software application, interfaces, and technology standards specialist Propellerhead Software first unveiled its revolutionary Rack Extension — an ever-expandable, freely-routable rack of instruments, effects, and sounds — for its well-received Reason music-making and recording studio software solution, namesake company founder and synthesizer developer Rob Papen promptly pronounced it as being "…a brilliant concept." Continuing, he then summarised its advantages as follows: "What we face as a developer is having to have a PC version and a Mac version, and if you run them in your regular host, you can crash your host. That's a real, big battle. People, if they use Reason, learn that things are connected. It's cross-platform; everything works. It's a major leap forward for Reason, and productions coming out of Reason will sound totally different. Reason remains Reason, but, now, it's open."
Open to the likes of Rob Papen to develop distinctive and desirable third-party Rack Extensions for Reason. Little wonder, then, that Rob Papen was amongst the first to do just that, starting by porting over its popular, 'phat'-sounding soft synth Predator as Predator-RE, rapidly followed by its SubBoomBass-RE dedicated virtual bass synth and self-explanatory PR-Verb RE and PR-Distort RE virtual effects.
Now, with the timely introduction of PunchBD-RE, Rob Papen's persuasive Rack Extension offerings are more enticing than ever before. Based upon its award-winning Punch drum synthesis/sampler software instrument's kick-ass bass drum module, the Rack Extension version features the same high-quality algorithms attributed to Punch's punchy sound. Saying that, other 'models' from Punch have been cleverly combined so users can stack them together to create hitherto unheard bass drum sounds. Take the SAMPLE module (including various samples, plus Rob Papen Library samples) and mix in a synth bass drum module, for example… what a beautiful combination!
Better still, there are actually two synth bass drum modules within PunchBD-RE: MODEL 1 and MODEL 2 are already positively powerful in their own right, but an additional CLICK/NOISE module is also available to add clicks (based on a sinus waveform) or noise. Using pink noise, this can create an awesome room sound! Stereo room/noise effects can be easily added to the bass drum sound using the SPREAD and OFFSET controls.
Similarly, the SAMPLE module not only includes sample-based bass drums, but bristles with an assortment of creative controls helpfully broken down into more manageable sections — TUNING, FILTER ENV, AMP ENV, FILTER, STEREO SWAP, and more — to help modify those samples.
All of those superlative sound sources are blended together in the MIXER, though they can first be sent to the dedicated DISTORTION module where 19 different distortion algorithms are available to treat them as appropriate. Moreover, modulation options are well catered for, courtesy of a free ENVELOPE, LFO, and all-embracing modulation matrix. Also, an analogue-modelled FILTER can capably change whatever composite sound is being routed from the MIXER.
It's also worth noting that PunchBD-RE can play at a fixed pitch or 'tuned' over the complete keyboard range — a useful feature for many modern-day music stylings.
Finally, 'flipping' the PunchBD-RE Rack Extension around reveals a back panel packed with CV inputs and gate trigger options, separate audio outputs, and all manner of other connections for creative connectivity. Cable those kick-ass bass drum sounds to wherever you want to take them, routing-wise… within Reason! Reasons Rob Papen, positively: "I'm totally amazed that it all works." We're sure you will be, too!
Weitere Informationen gibt es hier: Link