PreSonus hat das 2.6.2 Update für die Studio One Software angekündigt, mit dem auch einige neue Erweiterungen vorgestellt werden. Außerdem wird der neue Temblor T10 Studio Subwoofer gezeigt, der bestens mit den Eris, oder Sceptre Lautsprechern zusammen arbeitet. Hier sind die Pressemeldungen:
Studio One 2.6.2: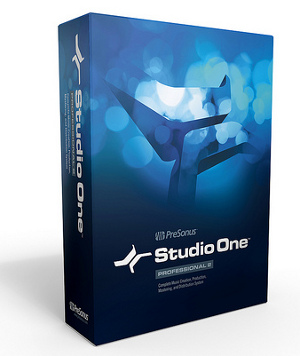 PreSonus is now shipping Studio One 2.6.2, the latest update to its award-winning DAW software. The company is also shipping three new Add-ons for Studio One: Ampire XT Metal Pack Extension, Goldbaby Essentials Vintage Drum Machines, and Studio One Artist MP3 Converter.
Studio One 2.6.2 introduces support for Add-ons, which are program extensions, soundsets, plug-ins, and other assets exclusively for Studio One 2.6.2 and higher. Add-ons are available for purchase directly from the PreSonus online store. The update also fixes a few known issues.
The Ampire XT Metal Pack is an extension for PreSonus' Ampire XT Native Effects™ plug-in that includes six new amp models and six new speaker-cabinet emulations designed specifically for metal guitarists. It also includes a brand-new Metal Drumkit for the Impact virtual drum instrument.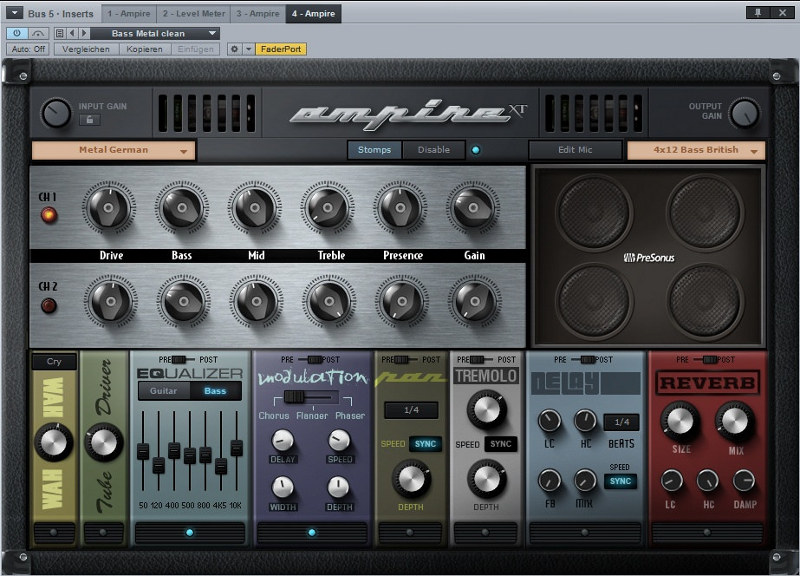 Goldbaby Essentials is an exclusive soundset for PreSonus' Impact virtual drum instrument that features a collection of 500 vintage analog and digital drum machine and beatbox samples. Designed by acclaimed producer and sound designer Goldbaby, the sounds in this set have been meticulously sampled, edited, and post-processed using analog tape machines and studio tools. Goldbaby Essentials comes with 32 ready-to-play Impact drum kit presets and 124 new Musicloops.
MP3 Converter is an extension that adds professional-quality (up to 320 kB/s) MP3 encoding and drag-and-drop MP3 decoding to Studio One Artist 2.6.2 and higher.
 PreSonus Studio One Add-ons can be purchased directly online and are installed by dragging-and-dropping on the Studio One application icon or window.
 Expected U.S. pricing: Ampire XT Metal Pack $29.99, Goldbaby Essentials $29.99, and MP3 Converter $9.99. The Studio One 2.6.2 update is free to all registered users of Studio One 2.
Temblor T10 Subwoofer:

PreSonus® is shipping its new Temblor T10 subwoofer. Designed to complement full-range studio reference monitors-including the PreSonus Eris™ and Sceptre™-without overshadowing them, the T10 is intended for serious personal studios and professional music-production environments, offering a tight low end due to fast and accurate transient response and providing user controls not normally available in this price range.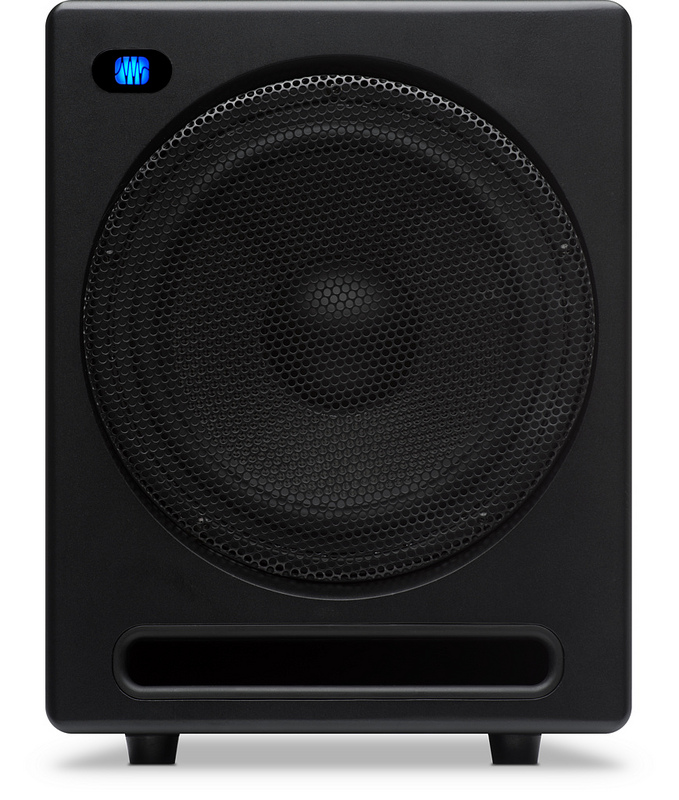 The T10 features a 10-inch glass-composite woofer, driven by 250 watts of Class AB power; a front-firing, bass-reflex acoustic port; optimized, resonance-suppressing internal bracing; and internal damping and heat sink. Frequency response ranges from 20 Hz to 130 Hz.
The new subwoofer sports left and right, balanced XLR and ¼" TRS and unbalanced RCA main inputs; if both XLR and TRS inputs are connected, the TRS input takes precedence. The T10 has left and right balanced XLR and ¼" TRS outputs and an extra subwoofer output for connecting a second T10.
Extensive user controls include input gain (-30 dB to +6 dB, continuously variable) and a continuously variable lowpass filter (50 Hz to 130 Hz) that allows users to create a seamless crossover transition between their full-range studio monitors and subwoofer for a more accurate listening environment. A switchable highpass filter removes frequency content below 80 Hz from the full-range signal sent from the T10 outputs to the main monitors, avoiding destructive cancellation and reinforcement in the T10's upper range.
The T10 also features a momentary footswitch (included) that bypasses the subwoofer, highpass filter, and Sub Out. This allows the audio source signal to pass directly through the Temblor T10 to the full-range studio monitors, enabling you to compare your mix with and without subharmonic frequencies to ensure your mix will sound good on a wide variety of systems.
You also get polarity invert and a ground-lift switch. The 15.75″ x 15.75″ x 12.6″ (400 x 400 x 320 mm), 39.5 lb. (17.9 kg) enclosure has integrated, gravity-calibrated rubber feet for stable placement.
The Temblor T10 is available immediately. Expected MAP/street price is $399.95.
Weitere Informationen zu Studio One gibt es hier: Link
Weitere Informationen zum Templor T10 gibt es hier: Link