DANA POINT, CA, USA: world-class sound collections developer/licensor Q Up Arts is proud to announce availability of Benny Rietveld Bass: Latin Fusion vol. 1 — an Apple Loops-based smokin' spin on Latin fusion and pop/rock basslines by Benny Rietveld — as of April 18…
---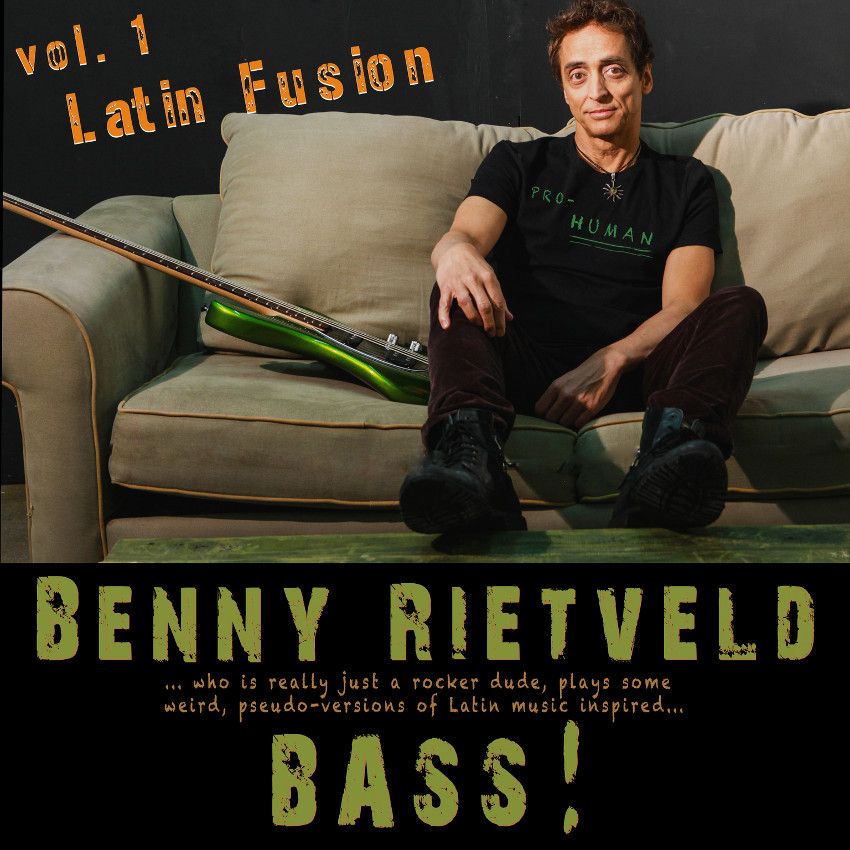 As implied by name, Benny Rietveld Bass: Latin Fusion vol. 1 is Q Up Arts' first collaborative collection with Santana musical director and bassist Benny Rietveld. The product itself is offered up as Apple Loops and also WAVs (Waveform Audio Files), and additionally arranged in Apple Logic Pro X session files for creatively sparking song-starters, jamming, or just getting going with new bass ideas.
As musical director and bassist for rock and Latin American jazz fusion-pioneering musician Carlos Santana for 25 years, Benny Rietveld is clearly no slouch when it comes to navigating the fretboard's lower regions. Résumé registers playing and recording with many more musical greats, including Miles Davis, Sheila E, John Lee Hooker, Dave Matthews, Rob Thomas, and Michel Legrand, to name but a notable few. He also features in concert video performances with Santana and Miles Davis and on live network TV shows such as Letterman, Dancing With The Stars, Jay Leno, Jools Holland, and George Lopez. A former composition major at the University of Hawaii, Benny Rietveld is an eight-time GRAMMY Awards® winner and also the recipient of three Latin GRAMMY® Awards — for performances par excellence on Santana's Supernatural and Shaman albums, having played on the hit songs 'Smooth', 'Game Of Love', and others.
No wonder Benny Rietveld proved to be a perfect musical fit for the latest Latin fusion-leaning Q Up Arts Apple Loops treatment for the namesake Benny Rietveld Bass: Latin Fusion vol. 1. The talented bassist played against Q Up Arts' award-winning Latin Groove Factory, featuring files encoded to be used as WAVs and Apple Loops, so that they will work in all DAWs (Digital Audio Workstations). The namesake resulting release really hammers home the simple fact that nothing beats the real thing when it to comes to the masterful feel and driving intention that only a world-class bassist can bring to the production table. This, in turn, means Benny Rietveld Bass: Latin Fusion vol. 1 bringsanyone's productions to life. Featuring full-length and short loop-able sections, it also includes standalone basslines and mixes with percussion.
Ultimately, users can even add their own loops and rhythms to those basslines for added flexibility. Still better, Benny Rietveld's bass-playing prowess was duly captured for Benny Rietveld Bass: Latin Fusion vol. 1 by GRAMMY Awards®- and Emmy™-nominated veteran recording and mix engineer Bill Malina at his California studio in Sherman Oaks. His exceptional engineering and production credits are almost endless, transcending genres to encompass the likes of Van Halen, Ringo Starr, Santana, Lady Gaga, Pitbull, Flo Rida, Quincy Jones, Katy Perry, Charlie Wilson, and many more Platinum-selling recording artists. As such, both Benny Rietveld and Q Up Arts are inevitably in good hands here.
Helpfully, whether seriously studying an instrument or just jamming along to loops like those found in Benny Rietveld Bass: Latin Fusion vol. 1, Q Up Arts highly recommends Anytune, a consumer iOS and Mac app allowing musicians to control tempo and pitch to act as a powerful learning aid. Adjust the tempo to hear every note and nuance in perfect pitch. Use the loop trainer feature to gradually increase playing speed or even perfect playing overspeed! Or create original arrangements of Benny Rietveld's smokin' basslines. Learn a song or practice a set in a different key or tuning with pitch adjustments to cents recallable for each song. Simply plug in an instrument and play along with using LiveMix to effectively jam with a genuine bass-playing legend like no other! Use ReFrame to isolate or mute instruments, scroll text TABS or lyrics, and much more. Moreover, Q Up Arts drum and bass loops like those found in Benny Rietveld Bass: Latin Fusion vol. 1 can even be downloaded directly from within iTunes itself.
By buying Benny Rietveld Bass: Latin Fusion vol. 1, Apple Logic Pro X and Garageband users alike can benefit from Apple Loops of Benny Rietveld basslines and mixes with percussion from Q Up Arts' Latin Groove Factory in more musical ways than one. One thing's for sure, though: whatever way Benny Rietveld Bass: Latin Fusion vol. 1 is used, its users will be playing with one of the best bassists to put fingers to frets, so no need to fret over sounding substandard! Indeed, it does what it says on the tin: "BENNY RIETVELD … who is really just a rocker dude, plays some pseudo-versions of Latin music inspired … BASS!"
Benny Rietveld Bass: Latin Fusion vol. 1 can be purchased and directly downloaded (as Apple Loops, Logic Pro X session files, or WAVs) for a time-limited introductory promo price of $39.00 USD until the end of May 2018 — rising thereafter to $49.00
USD — from here: http://www.quparts.com/Benny-Rietveld-Bass-Latin-Fusion-vol-1-p/brblogic1.htm (Please note that Q Up
Arts' end user license agreement prohibits the use of these loops for inclusion in production music or sample/loop libraries.)