ECHT, THE NETHERLANDS: virtual instrument and effect plug-in developer Rob Papen Inspiration Soundware is proud to announce availability of eXplorer 5 — furthering the creative scope of its inspirational plug-in bundle by adding Go2, MasterMagic, and RAW-Kick to the all-encompassing musical mix — as of October 16…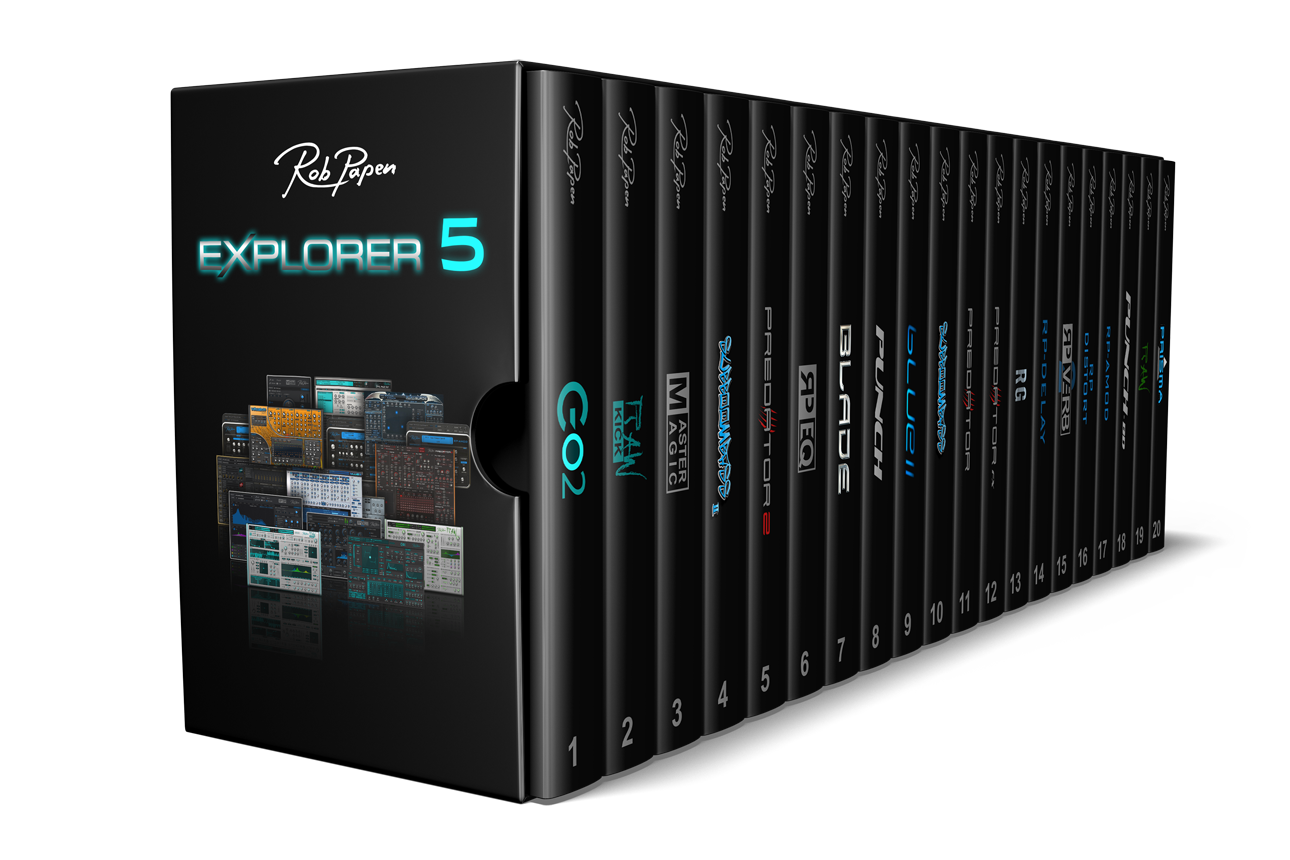 Now numbering no fewer than 20 highly-versatile virtual instruments and extraordinary effects, eXplorer 5 pushes Rob Papen's plug-in bundle beyond belief by including three new additions that more than live up to its Inspiration Soundware slogan. MasterMagic is an aptly-named effect plug-in with which to improve mixes or final masters alike. Anyone placing MasterMagic at the very end of their virtual master effects chain can easily experience how much it can help improve their tracks. The MONO/STEREO SPLIT FILTER section will make the low end much tighter while the AIR function — even applied at a liberal level — is sheer magic.
Make no mistake: there's no mystery about this magical musical tool! The name maybe gives the game away, as RAW-Kick represents Rob Papen's cutting-edge kick drum-creation tool! The perfect weapon of choice for those hard-sounding electronic dance music styles — such as Hardcore, Hardstyle (mixing influences from Techno and Hardcore), and Industrial — and also EDM and House. Here RAW-Kick creatively enables the use of three layers, each of which can be either modelled or sample-based at source. Rob Papen being Rob Papen, RAW-Kick has some refreshingly resourceful features with which to create unique-sounding kicks up its virtual sleeve! Still better, RAW-Kick comes complete with a varied selection of original presets from a long list of respected DnB, Hardcore, and Hardstyle producers, including Caine, DJ Mad Dog, DJ Promo, Orphidian, Sinister Souls, Tha Playah, The Outside Agency, and Wavolizer, to name but a notable few.
Finally, Go2 is an appropriately-named, go-to synthesizer, set apart from its award-winning software siblings by virtue of all its controls and features always being in plain sight and always available to access onscreen, so simplifying usage for the average user. Ultimately, though, this is far from being a simple-sounding virtual instrument. Its Morph feature and XY section serve to make for a powerful software synthesizer, one with which users — average or otherwise — can create unique sounds speedily and easily! End game? Go2 surely shows that there is power to be had in the 'less is more' maxim… and all without sacrificing audio quality!
Quality, of course, shines brightly through all 20 of eXplorer 5's highly-versatile virtual instruments and extraordinary effects. Established Rob Papen classics such as Blade (quite literally a cutting-edge software synthesizer), BLUE-II (self-styled 'Crossfusion Synthesis'), Predator2 (software synthesizer to die for), Punch (speaker-busting, body-rattling virtual drum synth), Punch-BD (Punchbased bass drum module), RAW (software synthesizer specialising in 'distorted' sounds specifically suited to EDM and beyond), RG (unique electric and acoustic guitar groove virtual instrument), and SubBoomBass 2 (groove bass software synthesizer) — not forgetting an array of effects, including RP-AMOD (uses modulators to alter audio in different ways), RP-Delay (six delay lines, eight filters, four LFOs, a reverser, and more), RP-Distort (designed to destroy, distort, or more subtly alter any audio), RP-EQ (silky smoothsounding channel and mastering EQ), and RP-VERB 2 (advanced, transparent, and musical-sounding algorithmic reverb) — sit comfortably and creatively alongside those three additions to collectively push Rob Papen's prized plug-in bundle beyond belief.
But hearing is believing; best put this way, eXplorer 5 is the all-encompassing best that you can get from Rob Papen — all the more so since it also includes PRISMA, easily enabling users to layer multiple Rob Papen virtual instruments into a creatively stacked sound like no other!
eXplorer 5 can be purchased in a boxed edition — featuring 20 AAX (32-/64-bit), AU (32-/64-bit), VST (32-/64-bit) compatible audio software plug-ins for Mac OS X (10.6 or higher) and Windows (Vista, 7, 8, and 10) — from authorised Rob Papen dealers worldwide or as a download directly from Rob Papen for €499.00 EUR/$499.00 USD from here: https://www.robpapen.com/eXplorer-5.html
Several options to upgrade to eXplorer 5 are also available, attractively priced as follows: €299.00 EUR/$299.00 USD (available to owners of one purchased Rob Papen product); €199.00 EUR/$199.00 USD (available to owners of two purchased Rob Papen products); €149.00 EUR/$149.00 USD (available to owners of three purchased Rob Papen products); €99.00 EUR/$99.00 USD (available to owners of eXplorer4); €49.00 EUR/$49.00 USD (available to owners of eXplorer4 + Go2); and €149.00 EUR/$149.00 USD (available to owners of eXplorer III).
Watch Rob Papen's promo video for eXplorer 5 here: https://youtu.be/bSxC5zu7Mt4