LINKÖPING, SWEDEN: Swedish high-end plug-in developer Softube is proud to announce availability of the Drawmer 1973 Multi-Band Compressor plug-in, providing the latest in precision compression and dynamic control with the unmistakable sound of a modern Drawmer classic.  Micro-manage your dynamics  Get deep into the details with independent control over three frequency bands; pull out and fine-tune individual instruments; tame low frequencies while leaving the top end shimmering; tweak the details to get a bigger picture and your mixes wider and louder. The original Drawmer hardware and then some! 
---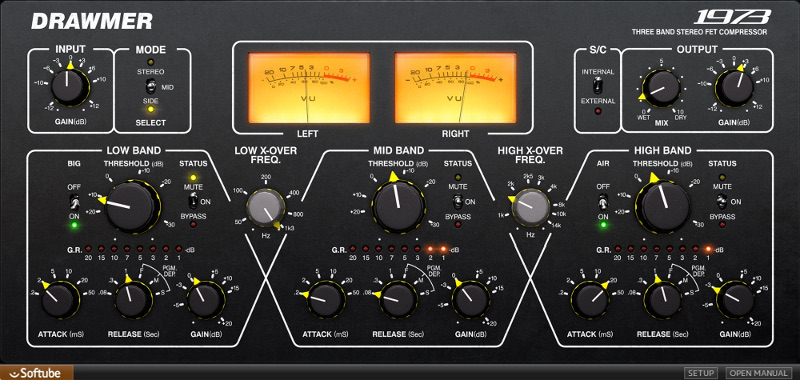 Carefully modelled on the original hardware in collaboration with Drawmer themselves, this ultra-versatile new plug-in brings an iconic compressor bang up to date with added Mid-Side processing and sidechain option.  The Drawmer sound and Softube science solution  The Drawmer 1973 Multi-Band Compressor has a great-looking GUI echoing the hardware original, is CPU friendly, and comes with useful presets. Sleek precision control with the sound quality of an analog classic: an indispensable tool for today's studio.  In short:  Ultra-versatile compression and dynamic control.  Zoom in to control the finest of details in your mix.   A plug-in with a true analog feel.  Carefully crafted with the design team at Drawmer.  Additional Mid-Side processing and sidechain not available in the original hardware.  Low CPU usage.  No USB iLok dongle required.
The Drawmer 1973 Multi-Band Compressor is available to buy from authorized dealers and Softube's web shop from March 8, 2016, priced at $249. (An introductory price offer of $199 runs until March 31, 2016.) 
Please visit the Drawmer 1973 Multi-Band Compressor product page for more information and a demonstration video;
A free 20-day demo license can also be downloaded from here: http://www.softube.com/index.php?id=drawmer1973 
All Softube plug-ins, including the Drawmer 1973 Multi-Band Compressor, use iLok's machine-based license system, which is entirely free, meaning a USB iLok dongle is optional.