WESTLAKE VILLAGE, CA, USA: powerful processing effects developer Strymon is proud to announce availability of Iridium — pushing pedal design to wrap world-class amps driving perfectly-matched speaker cabinets in great-sounding rooms by providing easy access to three iconic amplifiers with loadable impulse response speaker cabinets that compliment the tonality of the amp and lush room ambience aimed at pedalboard-based performance directly into a recording interface or PA (public address) system — as of October 23…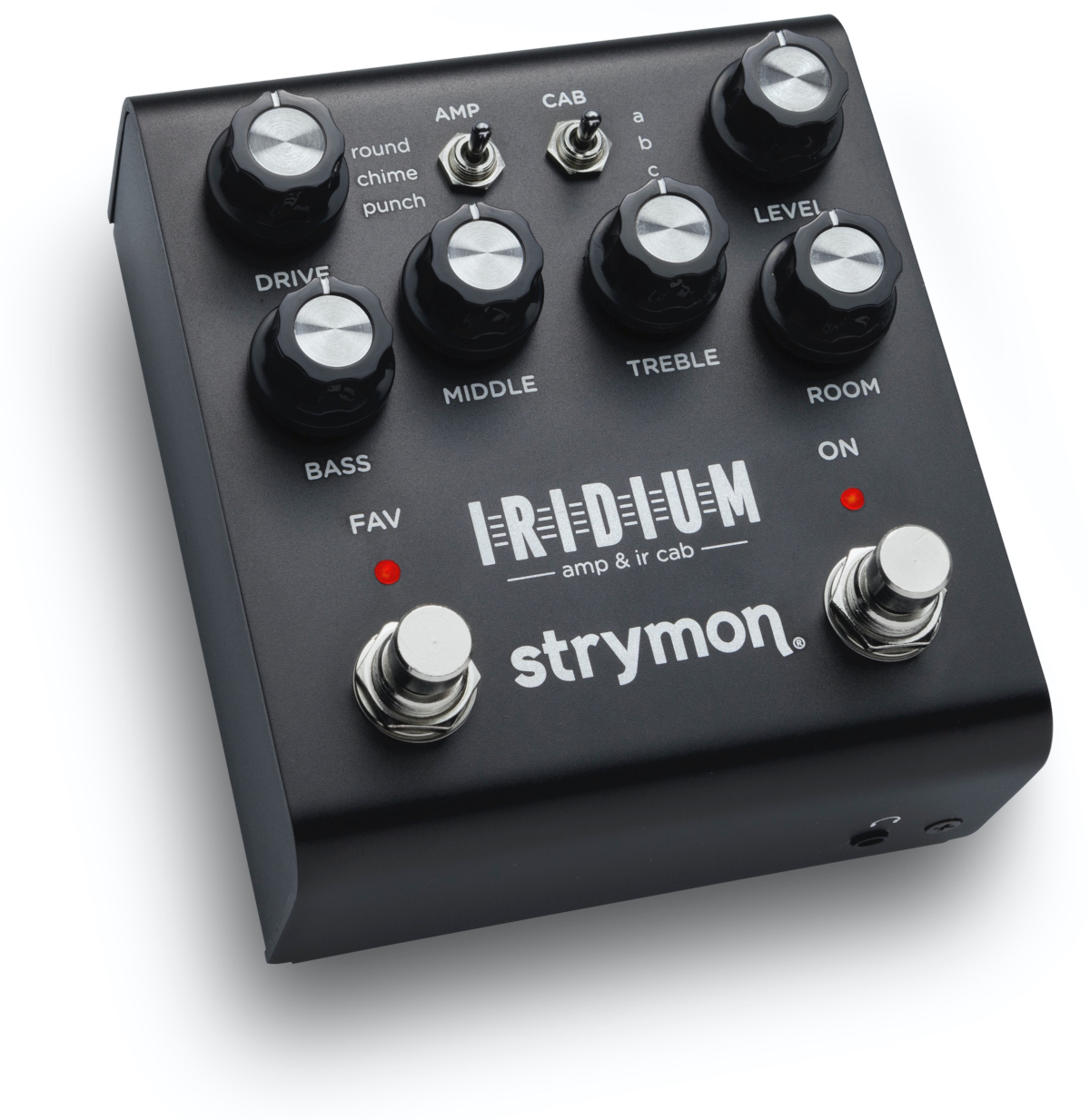 Nothing quite compares to the true nature of a guitar and its playing like a world-class tube amp driving a perfectly-matched speaker cabinet in a great-sounding room. With Strymon's timely addition of Iridium to its ever-expanding line of pedals pushing the limits of what is possible with music gear using exceptionally great components and ridiculously powerful processors to make gear that sounds better than anything, now there is a pedal that truly delivers that sound and feel, with simple controls for effortlessly dialling in the perfect amp tone when going direct. Discover inspiring tube amp responsiveness, unprecedented impulse response speaker cabinet realism, and controllable natural-sounding room ambience — as implied by the amp & ir cab wording subtly splashed across its foot-friendly top panel.
Behind the scenes, Strymon's Matrix ModelingTM process captures all the subtleties and unique tonal qualities of each amplifier — from the unique composition of each tone stack to component values, bias levels, corner frequencies, and tube stage gain, all of which affect the way a note or chord reacts and evolves over time. Taking three iconic tube amps with distinct characters, the powerful processing effects developer has mathematically modeled every aspect of their circuitry with absolute precision to deliver the response, feel, and inspiring experience of playing through the original amps at their best. But taking that process a step further, each AMP — round, chime, and punch — has been hot-rodded to provide an extended range of tonal options above and beyond what was available from the original designs. 
Digging deeper, those tube amps everyone has always craved after are available in Iridium. First up, by being based on a Fender Deluxe Reverb® — one of the most recorded amps in history for good reason, round is clean, bright, and mid-scooped, with plenty of headroom. At higher DRIVE settings it delivers an overdriven sound unique to its architecture. As such, Strymon chose the Deluxe's Normal channel for its round tone that plays well with pedals. Put it this way: while preserving access to all the tones originally available with this channel, Strymon's model provides something extra — namely, a MIDDLE (midrange) control. Positioned at noon, it delivers the original fixed-resistor value and standard tonal characteristics of the Deluxe; turn it down for a more scooped sound, or turn it up for tweed-era tones.
The chime AMP is based on the Brilliant channel of a Vox® AC30TB, the amp that defined the guitar sound of the British Invasion. Strymon's model of the AC30TB Brilliant channel — Top Boost — is jangly, bright, and chime-y, providing air for subtle passages with a light touch, and bite when digging in is needed. This time, the MIDDLE knob acts as a tone cut control, providing high-end rolloff just before the power tubes, as per the original AC30TB design. In addition to the full available gain of the original amp, Strymon saw fit to add a frequency-shaped front end boost towards the top end of the DRIVE knob's range of travel to tighten the low end while driving the amp further into saturation.
Last, but by no means least, the powerful punch AMP is based on a Marshall® Plexi (Super Lead model number 1959). This is meatier, with higher gain than the other two amps, and has a powerful midrange response. It also features a buttery, smooth overdrive. At higher DRIVE settings it will deliver all the high gain distortion and growl that this amp is known for — and then some! Setting the DRIVE control at around 2 o'clock results in the maximum gain the original Plexi design allowed. But beyond that, Strymon's model has some additional gain on tap, allowing access to custom hot-rodded Plexi high gain tones.
True to the tone stacks of the classic amps that Strymon meticulously modeled, Iridium's tone controls have the same interdependences as those found in the original circuit designs. Indeed, Iridium provides amp EQ that is a joy to use, yielding a wide variety of great tones in any which way its users choose to go with it. It is, quite simply, a snap to dial in a direct tone that will truly inspire and sound great, whether monitoring through in-ears, floor wedges, reference monitors, or studio headphones.
Iridium's speaker cabinets offer a level of realism and responsiveness unprecedented in outboard effects. Iridium delivers full-stereo 24-bit/96kHz resolution for the entire 500 milliseconds of its speaker cabinet impulse responses. IRs of this resolution have hitherto only been available for use within studio recording software. So Iridium's breakthrough technology means that users can access the very best impulse responses available, bringing maximum realism to their pedalboard.
Preloaded with a carefully curated collection of premium cabinet impulse responses — namely, Deluxe Reverb® 1×12" by OwnHammer (impulse of a vintage Fender® Deluxe Reverb open back 1×12" combo with a 1978 Fender CTS ceramic 12" speaker); Blues Junior® 1×12" by cabIR (impulse of a 1×12" Blues Junior cabinet with a Jensen® C12N speaker); Vibrolux® 2×10" by cabIR (impulse of a 1965 Fender Vibrolux with Jensen C10NS speakers; AC30 2×12" AlNiCo by OwnHammer (impulse of a Vox® AC30/6 open back 2×12" combo with 2001 Celestion® T0530 Blue AlNiCo speakers); 1×12" AlNiCo by Celestion (impulse of a Celestion Blue AlNiCo speaker in a closed back 1×12" cab); Mesa® 4×12" by Valhallir (impulse of a 4×12" Mesa Boogie halfback with two Celestion Black Shadow® MC-90 and two ElectroVoice® Black Shadow EVM12-L speakers); GNR 4×12" by OwnHammer (impulse of a 1971 Marshall® 1960B 'basketweave' 4×12" cabinet with 1971 Celestion T1221 G12M-25 speakers); 2×12" Vintage 30 by Celestion (impulse of a Celestion Vintage 30 in an open back 2×12" cab); and Marshall 8×12" AlNiCo by cabIR (impulse of a 1965 Marshall 8×12" reissue full stack cabinet with Celestion T652 AlNiCo speakers) — it is, nevertheless, easy to replace Iridium's IRs with custom IRs from the user's own collection by using Strymon Impulse Manager software.
Speaking of IRs, Iridium's hybrid ROOM reverb combines a 256 millisecond stereo impulse response with Strymon's reverb tank algorithm for extended decay. This beautiful combination places the AMP and CAB chosen in a natural-sounding room — small, medium, or large — to create a space for the AMP to open up and breathe.
Strymon strived to push pedal design to wrap world-class amps driving perfectly-matched speaker cabinets in great-sounding rooms; introducing Iridium, it has certainly succeeded, and — in doing so — added another inspirational tool to its ever-expanding line of pedals pushing the limits of what is possible with music gear using exceptionally great components and ridiculously powerful processors to make gear that sounds better than anything. Better still, skip the hassle of lugging around or mic'ing amps in favour of placing Iridium on a pedalboard and sending gorgeous amplifier tones, stunningly realistic cabs, and lush room ambience to a recording interface or PA system.