Los Angeles, CA – Triple A Audio, a startup software instrument company, is excited to announce their first release, Folk Noir: Qanun for Kontakt. This meticulously recorded virtual instrument brings the mystical melodies of the Middle East and the Caucasus to your digital studio.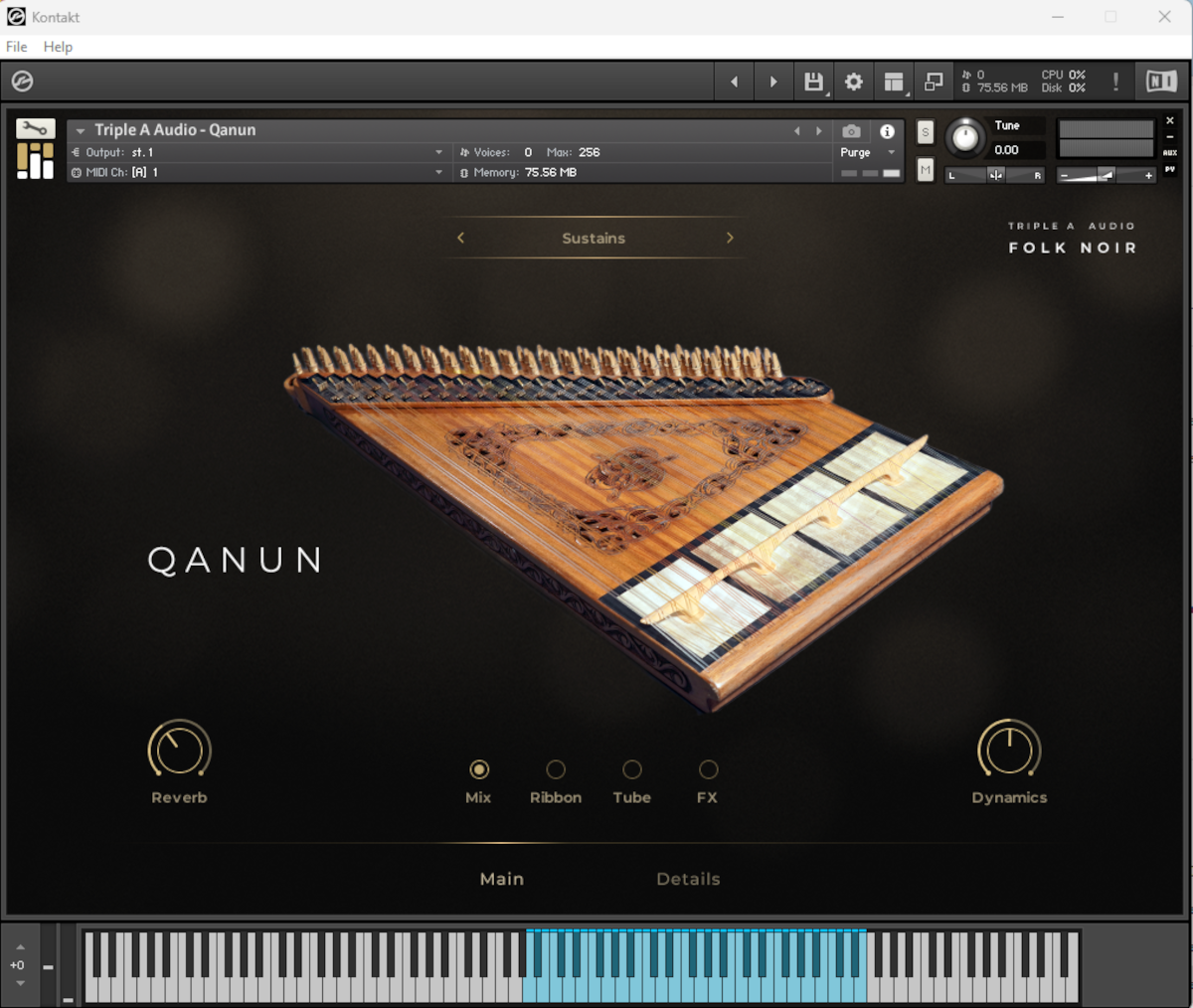 The Qanun opens the slate of the fledgling company's upcoming products. Founded by famous rocker Serj Tankian and recordist and composer Olajide Paris together with Gevorg Mnatsakanyan in 2023, the company aims to tell a story with every product. A story about the musician they cooperate with, the recorded instrument, and ultimately the experience of the user.
"We wanted to open with the Qanun because it can easily relate to Western music tradition, bridging the gap between the East and West, a function that Armenia also gracefully serves," says Paris.
Triple A Audio sampled an Armenian Qanun hand-made in a small village in Armenia in the Southern Caucasus. With metal levers and wooden tuning pegs to alter the pitch of the note, it can play a range of up to 3 and a half octaves. The recording player wore the traditional silver thimble and pick made of bull horns on both index fingers to resonate the sounds.
"We wanted to create a virtual instrument that would allow musicians to explore the rich, beautiful tones of the Qanun like never before," said Paris. "This Armenian Qanun has an entirely different structure and sound than other variants of the instrument. It's an equal temperament that extends the musical range of the instrument beyond the mughams of the Middle East onto Western-style concertos, symphonies and even jazz."
The Qanun virtual instrument for Kontakt is deeply sampled using multiple mics, catching every pristine pluck by qanun master Mayranush Rubenyan in delicate perfection. With up to 5 round robins and 5 velocity layers on each of the 8 articulations, it's a professional-grade tool for composers, producers, and musicians.
The Qanun opens the series Folk Noir, which is the Triple A Audio designation for instruments that fit in the more traditional folk categories. But always with a twist.
The Qanun virtual instrument for Kontakt is now available for purchase on Triple A Audio's website.
Learn More:
Website: www.tripleaaudio.com
Trailer: https://youtu.be/-0O4Z8MNikA?feature=shared
Walkthrough: https://youtu.be/yx4SMrmfKfc?feature=shared
Mini Doc: https://youtu.be/cRc7Q8Hhudc?feature=shared
Blog: https://tripleaaudio.com/blog/
Product Specs:
Articulations
Long 5 Dyn Layers, 5 RR
Short 5 Dyn Layers 5 RR
Tremolo Short 3 Dyn Layers
Tremolo Long 3 Dyn Layers
Vibrato Long 1 Dyn Layer 1RR
Trills 2 Dyn Layers
Clusters Long 2 Dyn Layers 5RR
Clusters Short 3 Dyn Layers 5RR
Mics:
Mix
Ribbon
Tube
6708 Samples
3GB 5.84GB Uncompressed)
Requires Kontakt 6 Full Retail – Latest Version
(Does Not work In the Free Kontakt Player)
Prices And Availability:
Folk Noir: Qanun is available at a regular price of $99.00 / 99.00€ and a discounted price of $79.00 / 79.00€ for the first two weeks after release (Intro pricing ends Nov 1)