Der finnische Monitorhersteller Genelec stellt auf der Winter NAMM Show 2014 den neusten Spross der 8000er Monitor Serie vor, den 8010. Er rundet die Serie nach  unten ab und ist durch seine kompakte Bauweise besonders für kleine Studios, oder zum mitnehmen geeignet. Hier die Mitteilung von Genelec: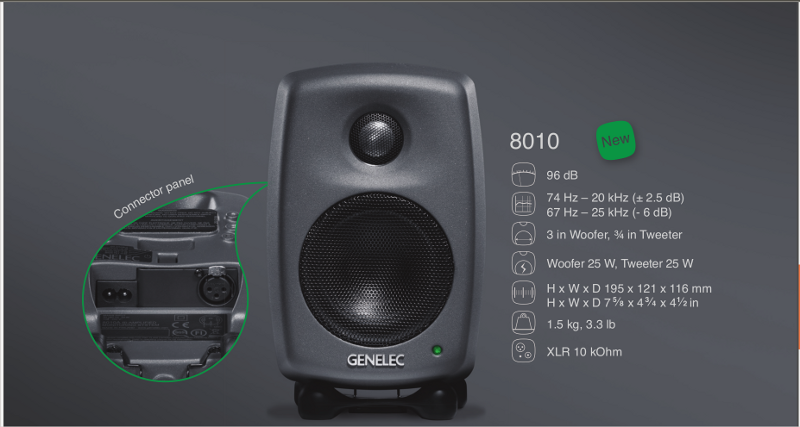 The new Genelec 8010 is the smallest member of Genelec 8000 product range. The 8000 Series is widely used in broadcast, music and post-production studios across the world. Its professional heritage is reflected in the compact-sized 8010. Suitable for professional work in small studios it offers accurate monitoring capability with ease of installation. The outstanding sound quality makes 8010 ideal for small studios, OB vans, and a perfect companion for portable recording devices and other mobile production work.
Featuring a balanced XLR input, 3-inch bass driver, 3/4-inch tweeter and efficient Class D power amplifiers – one for each driver – 8010 produces more sound pressure level than you might expect from a monitor of this size. The Intelligent Signal Sensing ISS circuitry saves energy by automatically putting the monitor to sleep when the audio signal has been absent for a while. Once a signal is detected again, the monitor wakes up automatically. This circuitry can be bypassed when automatic standby function is not desired.
A full range of versatile accessories is available for 8010, which cover all mounting needs. For example, an elegant L-shaped table stand can be used to optimise monitor orientation toward the listening position and to minimise undesired sound reflections. Thanks to its exceptional sound quality, small size and universal mains input voltage, 8010 is the perfect monitor companion for music production on the move.
Der UVP liegt bei 440 USD pro Stück. Die  Monitore sollen im ersten Quartal 2014 im Handel sein.
Weitere Informationen gibt es hier: Link