Das eXplorer Software Bundle von Rob Papen geht mittlerweile in die fünfte Runde. Mal sehen, was sich in dieser neuen Version getan hat. Einen Testbericht zur Version 4 gibt es hier. Das neue Bundle beinhaltet 20 Einzelprodukte. Hier eine Übersicht:

Go2: The power of limitations.
RAW-Kick: Edgy Kicks for contemporary music.
MasterMagic: Adds a touch of magic for your Mix or Master.
SubBoomBass 2: Ultimate bass synthesizer.
Predator 2: The Synth that hunts your tracks!
BLUE-II: Cross-fusion synthesis at its finest.
RG: Electric and acoustic guitar grooves.
RP-Verb 2:  Most intriguing in RP-VERB 2 – alongside the to a great sound – is the new 'Reverser' section!
RP-EQ: Silky smooth sounding channel and mastering EQ. 
Blade: The cutting edge of today's synthesizers!
Punch: Speaker busting and body rattling drum machine.
Punch-BD: Based on the BD module of the multi-award winning Punch virtual drum synth.
RP-Delay: Delay insanity. Reverser, 6 lines, 8 filters, 4 LFOs and more.
RP-Distort: Wicked FX unit that will distort or alter your tracks.
RP-Amod: Spice up your vocal track, liven an instrument and even beef up your drums.
RAW: Cutting edge EDM synthesizer with the focus on 'distorted sounds.
SubBoomBass: Ultra-deep groove bass synth with a built-in step sequencer.
Predator: Phat analog style synth with killer presets and first-class features.
PredatorFX: Filter, modulation, vocoder and effects plug-in.
Prisma: Get creative using Rob Papen's take on instrument layering.
NOTE: inside the bundle are also the original Predator, SubBoomBass and BLUE to be compatible with your older songs.
Die oberen 3 Produkte sind neu hinzu gekommen.

Download und Installation:
Das eXplorer 5 Bundle hat eine Größe von 1,9 GB und bietet die Formate AAX, AU, sowie VST 32/64 BIT. Wer ein Keyboard von Native Instruments benutzt und NKS Unterstützung haben will, der muss das NKS Bundle mit einer Größe von 3,8 GB dazu installieren.
Wer eine Vorgängerversion des eXplorer Bundles auf dem Rechner hat, muss zunächst die im Download enthaltene RP_Un-Authorizer Routine starten und danach den Rechner neu starten. Nun kann die Software installiert werden. Um sie dann zu registrieren, muss der Rechner mit dem Internet verbunden und der eigene Account bei Rob Papen geöffnet sein. Jetzt kann in einer DAW der BLUE 2 Synth gestartet werden. Es erscheint ein Fenster, in das, im oberen Teil, zunächst die Seriennummer eingegeben wird. In der Mitte findet sich die Mashine ID, welche nun in das leere Feld im Account eingegeben wird. Ebenfalls im Account muss nun die Activate Fläche angeklickt werden. Daraufhin wird der Activate Code generiert, welche dann wiederum in das Eingabefeld im BLUE 2 eingetragen werden muss. Danach kann die Registrierung abgeschlossen werden.
Die Benutzeroberflächen der neuen Produkte: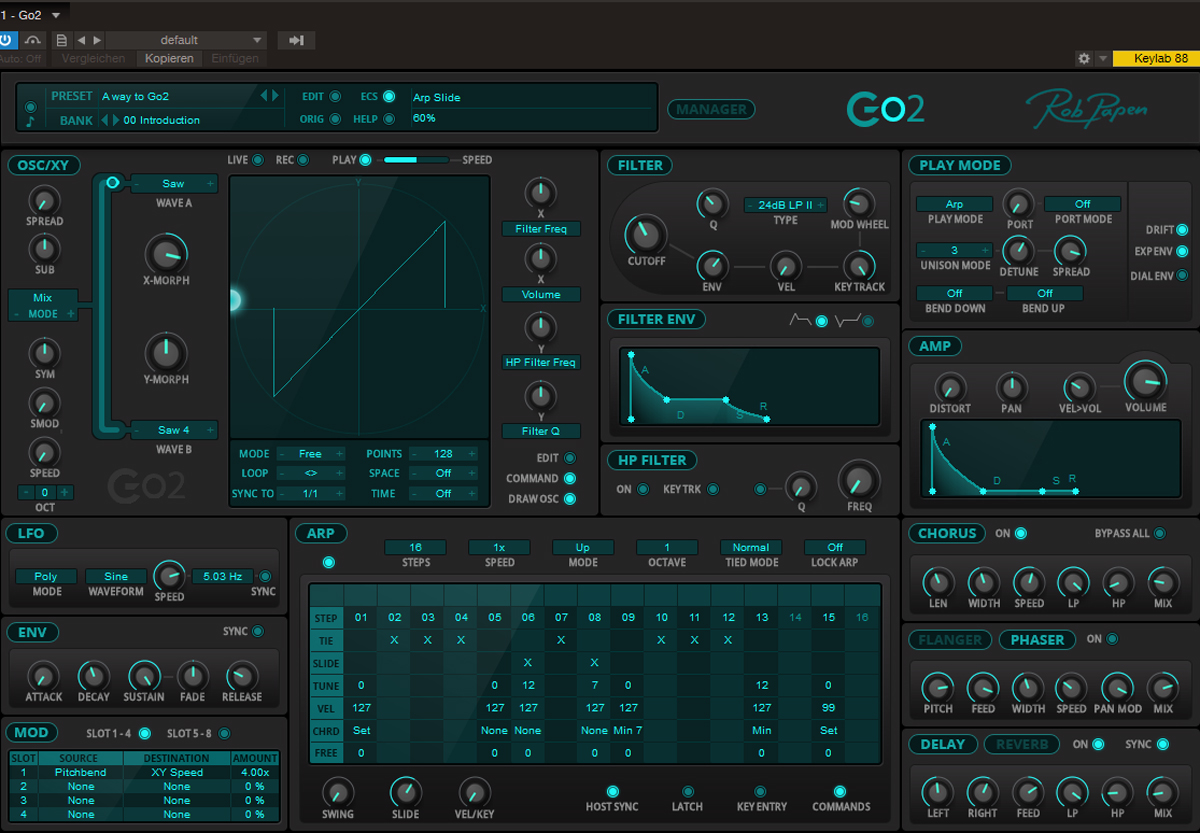 Der Go2 ist ein einfach zu bedienender, aber trotzdem leistungsfähiger Synth, bei dem alle Bedienelemente sofort ersichtlich sind. Er kommt mit einer Reihe von Presets daher. Eigene Presets lassen sich in verschiedenen Bänken speichern.
Der RAW KICK eignet sich für Kicks in den Bereichen Industrial, Hard Core und House. Auch hier gibt es eine Reihe von Presets und die Möglichkeit, eigene Presets zu speichern.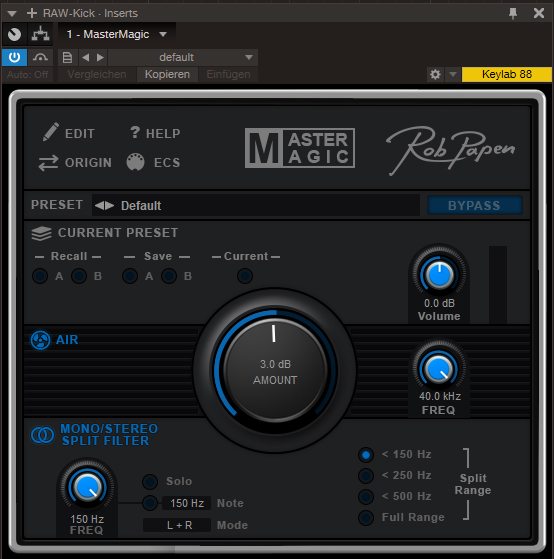 Als FX Plugin ist das Master Magic hinzu gekommen, ein einfaches Mastering Werkzeug.
Klangbeispiele:
Hier ein paar Klangbeispiele, die zum Teil alleine mit dem Go2, bzw. mit dem RAW KICK erstellt wurden. Dann noch ein Stück, in dem mehrere Instrumente aus eXplorer 5 vorkommen.
RAW KICK:
GO2:
eXplorer 5 Multi Instrumente: Darin enthalten sind der Go2, RG, blue2, SubBoomBass. Ausserdem noch die Rock Standard Gitarre von Orange Tree Samples und die Addictive Drums von XLN Audio.

Fazit:
Das schlagende Argument für den Kauf der eXplorer Bundle von Rob Papen war und ist der günstige Preis, gegenüber dem Kauf der Einzelprodukte. Was die Neuen im eXplorer 5 Bundle angeht, so können sowohl das GO2 und das RAW KICK Plugin überzeugen. Weniger begeistert hat mich das FX Plugin Master Magic. Insgesamt sind die enthaltenen Komponenten sicherlich ihr Geld wert, denn sie decken so ziemlich alle Belange im Bereich elektronische Musik und darüber hinaus ab.