We sample mostly acoustic instruments, but we also love our vintage organs, and the VOX continental is one of them. We found a rare VOX Super Continental with a dual keyboard, a percussion system and a pedal keyboard, so all of the feature you can have considering the number of different models available. We sampled every drawbar from every keyboard both with and without the highly recognizable vibrato to get you the widest sound palette you can get. We also loaded it with effects, especially cabinet simulations, spring reverb and distortion which adds to the large amount of effects available in our player. You can also play bass with it and play it the way it was intended with the "sustain" and "legato up" features.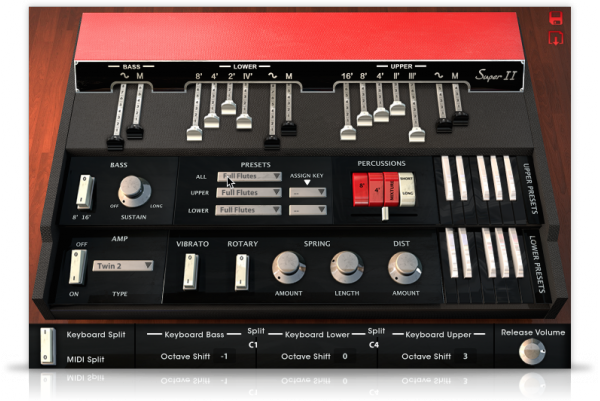 Main features:
Here are the main features of the Super II library.
Keyboards and drawbars: We sampled all 3 keyboards and all drawbars for each of them.
FX Section: We sampled the original Vibrato and also added an amp simulation as well as 25 cabinet / microphones combinations, a rotary speaker effect and also a spring reverb and a distortion effect.
Bass Simulation: You can play bass with the "sustain" and "legato up" features.
Presets: You can browse through a large selection of presets, save your own and share them with other users.
MIDI Separation: Each keyboard can be set to respond to different MIDI channels or you can play them all by splitting them across the keyboard.
Lossless compression: The Super II is using the popular flac lossless compression format (UVI Workstation 2.5.12 is required to use it) to increase the streaming performances and loading time without loosing any audio quality. You also save space, the library goes from more than 500Mb uncompressed to 250Mb.
You can learn more about the Super II, listen to audio demos on the Super II page.